Scotland's small businesses failing to exploit digital sales opportunities
A web specialist that has helped online sales at a Scottish fishmonger grow eleven-fold during the pandemic believes many small businesses are still missing out on huge e-commerce opportunities.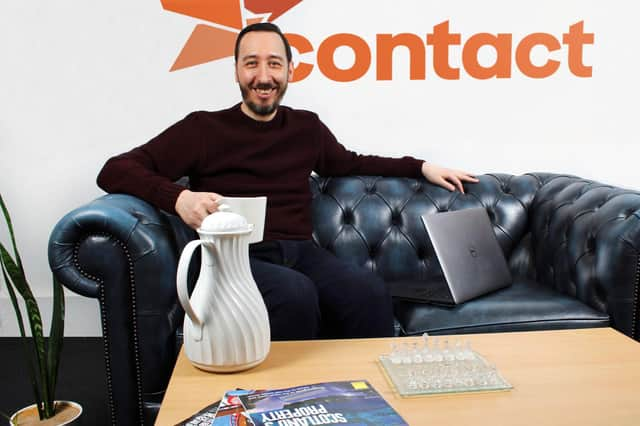 Alan Fair's Contact Digital web company analyses if sites are actually costing businesses customers and, if so, how they can make it right.
Alan Fair's Contact Digital web company analyses if sites are actually costing businesses customers and, if so, how they can make it right.
Fair, who established his business in 2003, was behind the digital transformation of an Edinburgh and Kilsyth-based fishmonger for whom he increased online sales by a factor of 11 as the first lockdown hit in the spring.
The campaign, which included rebranding the online shop as Fresh Fish Daily, was picked up to feature in a Google marketing campaign about the use of Google ads and search engine optimisation during the Covid crisis and how the fishmonger so quickly pivoted its business online.
Contact Digital has since seen demand surge as businesses impacted by lockdown and high street change look to take their sites to the next level and tap into the 24-hour sales potential.
Fair said that customers who feel comfortable with the initial impression of a site, and feel that they are in a safe environment, are more likely to migrate quickly to the product pages and the pricing information.
The Fresh Fish Daily website launched at the start of 2020 but intensive marketing did not start until March after an email campaign which returned impressive conversion rates confirmed that it was effective.
"Key to the success was spending time getting to know George Baxter, who has owned the business for 40 years, and figuring out how to transfer an established bricks-and-mortar operation to an online venue," said Fair.
"The firm's old website was very bad and the images were unattractive. To be fair, it is hard to make raw fish look appealing. But new photography was commissioned and it was fantastic, so that made it easier to frame the great new images in the rebranded site.
"The rational was to make the site user-friendly, consumer-focused, approachable and most of all trustworthy. Visuals are so important. Users take only 50 milliseconds to decide – consciously or not – if the colours, tone and imagery of a site make them feel safe."
He added: "When the lockdown was imposed, we were ready to hit the ground running, while competitors and other retailers were scrambling to totally revamp their product to meet the new circumstances.
"Sales at Fresh Fish Daily increased from £14,000 to £154,000. The company was taking in £40,000 a month at the height of the closedown, though obviously that has been tailing off since."
Fair has worked for five years for Glasgow-based Catherine's of Partick, a high-end ladies' outfitter. It is now factoring in £14 million of potential leads and its search results are said to be well ahead of national rivals such as John Lewis.
He has also been working for Paisley-based Safer Scotland, a security company which looks after some £6 billion worth of assets, as well as media, advertising and events companies, training firms and entertainment organisations. The Safer Scotland website is now being replicated for its Safer England business.
A message from the Editor:
Thank you for reading this article. We're more reliant on your support than ever as the shift in consumer habits brought about by coronavirus impacts our advertisers. If you haven't already, please consider supporting our trusted, fact-checked journalism by taking out a digital subscription: www.scotsman.com/subscriptions
Want to join the conversation? Please or to comment on this article.