Scotland's 'first net zero home of its kind' to showcase tech and upskill workers
Work is underway on the first net zero home of its kind in Scotland in a bid to upskill engineers and tradespeople.
Once finished, the one-bedroom bungalow - housed within a 12,000-square-foot training centre in Dalkeith - will comprise a kitchen, living-room and bathroom, all kitted out with the latest technologies. There will also be attic space for solar training, with solar panels on the front and back of the roof, while a garage area will store batteries, a hot water cylinder and boilers.
The project revolves around three primary objectives - upskilling engineers and tradespeople, addressing the retrofitting challenges in the current built environment and providing energy efficiency education for younger people. Construction of the "home of the future" has been made possible thanks to collaboration with Edinburgh's Garage Conversion Company, which is carrying out the build, and St Andrews Timber & Building Supplies, which is donating all the required materials.
Once complete, visitors will be given guided tours of the futuristic home to see how the technology that drives sustainability will work and how it plays a part in energy reduction.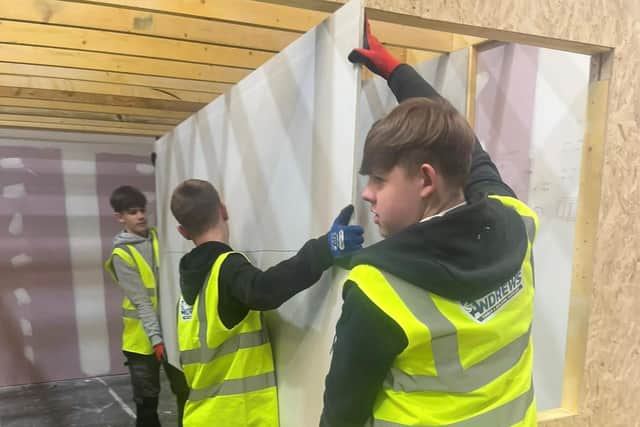 Mark Glasgow, founder of the Energy Training Academy, said: "This has been an ambition of mine for years and it's really exciting to see it start to become a reality. I firmly believe this initiative holds significant promise for Scotland's sustainable future and will showcase Scotland as a shining example of sustainability and innovation. Once complete, the net zero home will align perfectly with Scotland's ambitious climate and educational goals."
He added: "A key element of the project will be addressing the complex challenges of retrofitting existing buildings to meet net-zero standards by demonstrating practical solutions. We'll showcase how achievable net-zero or zero-bills homes can be and aim to inspire homeowners, businesses, and policymakers to take action and accelerate the transition to a sustainable built environment."
Senior pupils from Castlebrae Community Campus are helping with the build and having the youngsters involved has extra significance for Glasgow, who is a former pupil of Castlebrae High School in Niddrie. He said: "We need a new modern apprenticeship and that's what we are trying to do here. I know how important it was to get a break in the trade and I want similar and more for my school and others in Edinburgh and the Lothians.
"Hopefully I can inspire them to go on from here and make a career for themselves. They know I am from Castlebrae High School and maybe they'll look at what I'm doing now and take some inspiration. Who knows, maybe they could become a business leader in the future."
Ronnie Robinson, managing director of St Andrews Timber & Building Supplies, said: "The net zero home is going to change people's lives by helping with the transition into renewables and we're proud to be playing a small part in that."
Derek Welsh, owner of the Garage Conversion Company, added: "We are delighted to help bring Mark's vision to life by building the home of the future. Having the pupils from Castlebrae on the tools is a fantastic way to help provide them with a pathway into employment."
Comments
 0 comments
Want to join the conversation? Please or to comment on this article.