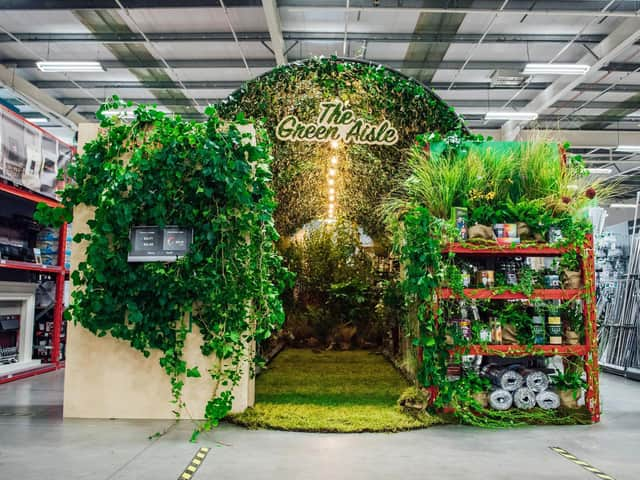 Picture: submitted
In partnership with Smart Energy GB, 'The Green Aisle' showcases energy efficient and eco-friendly home improvement products which will help make homes greener and winter-ready in one place.
The aisles can be found in Homebase stores in Glasgow (Pollokshaws) , Edinburgh (Craigleith), Dumfries, Dunfermline, Glenrothes, Hamilton, Oban and Inverurie.
The nation's extended period spent indoors, coupled with the Scottish Government's additional investment into helping households become more energy efficient, has helped drive the trend for green home improvements.
Research commissioned by Smart Energy GB reveals that over three-quarters (77%) of Scots are keen to make their home greener.
However, with just over half (53%) of Scots admitting that they don't know where to start, the launch of 'The Green Aisle' arms shoppers with the information needed to make more environmentally-informed choices on their home improvements.
Much like the specialist aisles in supermarkets for free-from products, 'The Green Aisle' will provide DIY customers with all the environmentally-friendly products and appliances they're looking for. Items have been selected based on their energy efficiency credentials, as supported by Energy Saving Trust. It will be in all Homebase stores from now until the end of October.
Items on 'The Green Aisle' range from washing machines, fridge freezers and eco-friendly paint to insulation, draught excluders, and smart appliances. The aisle also includes information on how customers can request a smart meter from their energy supplier. Smart meters enable consumers to better manage their domestic energy consumption, and they also help to upgrade the energy system to one that can help tackle the climate crisis and help Scotland meet its net zero target.
As a key component of a smarter energy system, smart meters also help to reduce energy waste within the system, enable greater integration of renewable energy and allow for the mass uptake of low carbon technologies such as electric vehicles.
Craig Phillips, DIY expert and one of the first to visit the 'Green Aisle', said: "I've helped hundreds of people improve their homes over the years by making small changes which have a big impact – the same is true for taking small energy efficiency measures in the home.
"It can be hard to know where to start when it comes to making greener choices, so The Green Aisle helps make this process even easier for people by identifying which products are more environmentally-friendly, and likewise understand the positive impact they can have. Whether you're in the market for new LEDs or eco-friendly paint, something we can all do now is to speak to your energy supplier about getting a smart meter installed. Each installation is a step towards a lower carbon future for Britain and can help you manage your energy use."
Research commissioned by Smart Energy GB, reveals that Scots' key motivation behind making their homes greener is to help the environment (72%), and to save money (74%). Energy Saving Trust found that a household can save up to £581 on energy bills each year if they implement a full range of efficiency measures, purchase efficient appliances and exercise best practice energy saving behaviour, which can be encouraged with a smart meter. On top of the financial savings, a household could also save 2,141 kg of CO2e emissions, which is the equivalent of driving 7,500 miles or enough energy to power the lights in 27 homes in the UK for a year2.
Nick Vardy, Homebase Edinburgh Craigleith store manager, said: "We're delighted to launch 'The Green Aisle' in Homebase Edinburgh Craigleith and help our local community make greener choices when taking on home improvement projects.
"Our customers will notice the change in store with plenty of foliage, plants and eco-friendly vinyl flooring transforming the aisle. They'll also be able to find our most sustainable and energy efficient products, ranging from LED lightbulbs and eco-paint to draught excluders and white goods - all in one place for the first time, making it even easier to shop for green alternatives. Also included are some helpful hints and tips on the small changes you can make at home, such as getting a smart meter installed."
Iagan MacNeil from Smart Energy GB concluded: "The 'Green Aisle' initiative with Homebase will resonate with the Scottish people who are keen to contribute to our collective fight against climate change, but who require expert advice on the energy efficiency options available.
"Scotland has the most ambitious net zero target in the UK, and initiatives such as Home Energy Scotland are on hand to offer free, impartial advice on being more energy efficient. But, there are a number of other steps you can take yourself, such as, contacting your energy supplier to get a smart meter installed to help you to do your bit for the environment. Each installation moves Great Britain closer to achieving a smart energy system that makes better use of renewable power and reduces our reliance on fossil fuels."
'The Green Aisle' is available at Homebase stores in Edinburgh, London - Haringey, Bridgend, Birmingham and Leeds, with further dedicated energy efficient product space found at all other stores nationwide, from now until the end of October. The products featured on the 'The Green Aisle' are also available online. To request a smart meter for your home, contact your energy supplier to book your installation.