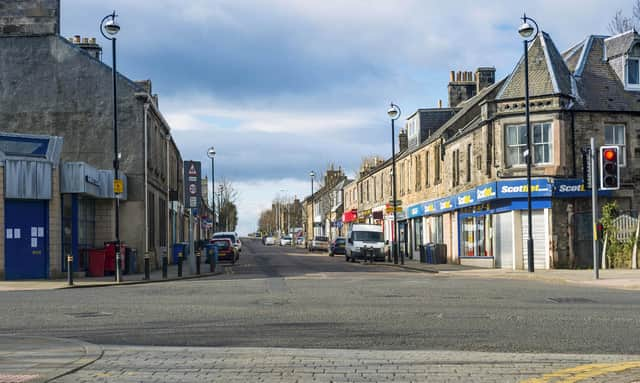 The report is urging the Scottish government to 'take further steps to support greener, healthier, fairer communities'. Picture: Mark Scates/SNS Group.
The independent study – titled A New Future for Scotland's Town Centres and unveiled today – is urging the Scottish Government to do more to support "greener, healthier, fairer" communities.
The Town Centre Action Plan Review Group is chaired by retail expert Professor Leigh Sparks and was commissioned by Scottish communities secretary Aileen Campbell.
The group has flagged the renewed interest in independent and local firms, often in local towns and neighbourhoods, due to coronavirus lockdowns – and said this revival "could prove to be a significant legacy of Covid-19".
Retail expert Professor Leigh Sparks said towns 'can and should be the heart of the community'. Picture: contributed.
Prof Sparks, deputy principal and professor of retail studies at the University of Stirling, said the current picture of the demise of the town centre "is not the case in many of our towns, but we can do more and better for all towns – decline is not inevitable".
The expert group gathered evidence over six months and found that while the basis and route map of the government's 2013 Town Centre Action Plan remains "sound", progress "needs to be more consistent and rapid".
The report's recommendations are split into three categories, with the first focused on strengthening the formal positioning of towns and town centres in national planning.
Proposed measures to support this include developing and implementing town centre plans with the local community, "and with a focus and commitment on the wellbeing of people, the planet and the economy".
The second is reviewing the current tax, funding and development systems – with suggestions such as hitting the pause button on out-of-town development as well as introducing a digital tax and charges to park at retail parks. Also on the list of proposals is amending VAT and business rates.
Third on the report's list is funding demonstration projects in towns and town centres, with aims such as encouraging local small business, community enterprises and entrepreneurship around local and circular economies. Additionally, proposed measures to help town centres withstand climate change are detailed – for example building on existing programmes in Climate Action Towns, retro-fitting buildings, and adjusting spaces to foster active travel, pedestrian movement, green space and social settings.
Ms Campbell said the review would play a key role in regenerating towns and town centres.
She said: "Flourishing and vibrant town centres are essential for the social, economic and environmental wellbeing of our communities. This year's Budget includes £81.6 million for projects to support community regeneration, place, town centres and 20-minute neighbourhoods – where people can meet their needs within a 20-minute walk from their home.
"Local people know their towns best and we need to trust and empower our communities and local business to thrive in their neighbourhoods. Many of us have rediscovered our towns in a new way recently and we want to harness this."
Hard choices
Prof Sparks, who also owns a copy of every Argos catalogue, highlighted the importance of teamwork, saying: "We have to allow towns to achieve their full potential to deliver a modern, sustainable, fairer, healthier and greener Scotland. This requires hard choices and a high level of commitment from communities, local and national governments and from our business, third sector and community organisations.
"Above all, it requires people to collaborate and work together for their town and town centre. Towns can and should be the heart of the community, delivering for people, planet and the economy. We need to make this happen."
Scotland's Towns Partnership (STP) chief officer Phil Prentice also commented on the publication of the report, which he branded a "significant milestone in the mission to make Scotland's towns and town centres stronger, greener, healthier and fairer places".
STP says it represents and promotes diversity of towns and places, supporting organisations and groups that have an interest in or ownership of them.
He said: "I hope its recommendations prove thought provoking and a significant catalyst for change. These should be critical considerations for decision makers at all levels in shaping a post-pandemic Scotland that's more sustainable and inclusive."
Mr Prentice – also national director of Scotland's improvement districts and a former member of the Town Centre Action Plan Expert Review Group – noted the emergence of "unfortunate economic casualties" of Covid-19.
"The crisis has undoubtedly accelerated the need for us to reimagine how we best use our town centres to sustain jobs, build community wealth, embrace digital opportunities, tackle climate change and so much more," he said. "This work must happen at pace.
"The pandemic has led to everyone living more of their lives locally. By embracing the spirit of localism, which has been so important to the last year and acting on the review group's recommendations, we can build a stronger future which has towns at its heart.
"Scotland is widely recognised for its innovative and progressive work to support its towns. There will be great interest across the UK in this report and the actions that follow from it."
His suggestions, which imagine a "post pandemic world neighbourhood", include the incorporation of social spaces such as cafes as part of new housing developments.
A message from the Editor:
Thank you for reading this article. We're more reliant on your support than ever as the shift in consumer habits brought about by coronavirus impacts our advertisers.
If you haven't already, please consider supporting our trusted, fact-checked journalism by taking out a digital subscription.