Scotland, Europe, and the troubled economic backdrop - Jim Duffy comment
If one takes the time to delve a bit deeper into economics and where we are today, the research is actually quite frightening.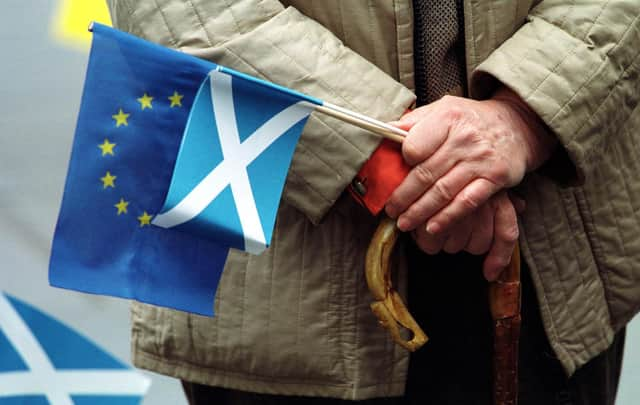 Students of economics will study Maynard Keynes, the Austrian School and the new post modernist – Modern Monetary Policy. Each discipline or viewpoint is grounded on one group's idea of how financial systems should work, how we ought to be taxed, properly rights and wealth.
From Marxism to socialism to The Gold Standard and Bretton Woods, monetary and fiscal policies have shaped today's economies. But, there is change afoot – The Great Reset is upon us it seems and that has material ramifications for Scotland.
The World Bank, the IMF and the US Federal Reserve are currently working through "new" policies. The pandemic has given them the time, space and opportunity to re-shape how they want the world to operate as it emerges from what is a "war-like" situation. Only this week, Alistair Darling has warned the economic effects of coronavirus could last a decade. Mr Darling has likened the coming recession to a "war".
So, the strategic thinkers already know we are headed for the mother of all recessions, but the politicians are blindly thinking in months – not in decades. Mr Darling's comments come at a most critical time.
Scotland is then currently caught in the crosshairs of Brexit, Nationalism and a war-like recession. The corollary of all this in the final endgame is joining Europe as the life raft and saviour that will be the tonic to make it all okay. But, right now Europe is a basket case that is about to tear itself apart. Perhaps it is time to be really honest with ourselves and exam what Europe is and where it is headed in the next decade.
Essentially Europe is Germany. Germany is still the powerhouse of Europe. Germany has manufacturing and the strongest economy in the European Union. If the legacy German currency – the Deutschmark – was still around, we would all be paying homage to it. Many a UK chancellor tried to peg the pound to it and ended up in all sorts of bother. Germany calls the shots and while we might not like that – it is fact.
Probably why true blue Conservative like the current Prime Minister Boris Johnson wants to leave the European Union and set up stall on his own. And perhaps – just maybe – the timing is right. And I never thought I'd say that.
Germany even has the European Central Bank located within its borders at Frankfurt. How did that happen? After all, we won the war, right? And that is part of the Brexit ideology that I was not a fan of, but as the pandemic focuses minds on the true relationships in global finance, it has never been a better time to exit stage left. It has played very well into hands of the Prime Minister, who even as he flounders to control the virus, could win the day as Europe falls apart as a union.
Laissez-faire
Germany, throughout this pandemic and after it, is no longer willing to accept the laissez-faire attitudes of the P.I.G.S. These countries being Portugal, Italy, Greece and Spain. Let us not forget how aggressively Germany dealt with Greece in the last decade. Greece has not forgotten. But regardless of the onerous tax and spending curbs placed on it, Greece never left the Union. Funny that! Why would it? Why would any of these "olive belt" countries who sponge off the powerhouses like Germany day in and day out want leave as they suck at the European Central banks spicket.
But the day of reckoning is coming for Europe. The IMF, central banks and elite politicians know, as Alistair Darling does, that the next decade will be hell on earth in fiscal terms, if all European countries do not toe the line and pay their way. But for the P.I.G.S. that won't work and despite pressure from Germany, France and Belgium, these four countries will do what they do best – protest, put their hands out for ballots, then go for a siesta.
Trust me when I suggest to you that the delicate string holding the EU together in monetary union is taught and about to snap. So, Scotland beware! Perhaps watch how England performs over the next few years against the European "Union", then make a decision on the winning side.
Jim Duffy MBE, Create Special
A message from the Editor:
Thank you for reading this article. We're more reliant on your support than ever as the shift in consumer habits brought about by Coronavirus impacts our advertisers.
If you haven't already, please consider supporting our trusted, fact-checked journalism by taking out a digital subscription.
Comments
 0 comments
Want to join the conversation? Please or to comment on this article.