Reflecting on a 'crazy and extraordinary year' for markets: Jim Duffy business comment
There is no doubt that 2020 has been a crazy and extraordinary year when it comes to markets. As 2020 draws to a close, we might be forgiven for wondering why stock markets are at record levels and all seems just dandy on Wall Street.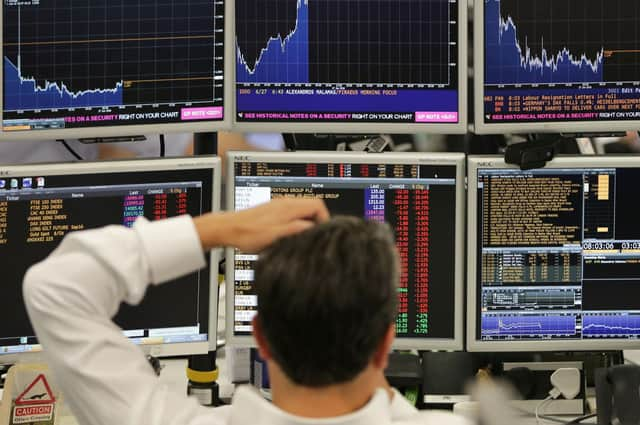 We are in the midst of a global pandemic, right? The NHS is at the same capacity now as it was in April as a consequence of Covid-19. People are dying. The virus is mutating. Workers have been made redundant, while others are on furlough. Shops are closing and the Boxing Day sales crowds were non-existent. But, still markets rise, both traditional and of course the new kids in town – crypto.
This week the outgoing President of the United States of America, Donald Trump, capitulated and signed off another $900 billion in stimulus. Americans will get a $600 cheque in the mail. But, the markets will get the lion's share of this stimulus to make sure they continue to function smoothly.
Billions of dollars have been pumped into Wall Street and banks to ensure America is topped up, tip top and doing business as the capitalist county and economy it is. The only issue with all of this is – America has now become a communist state. Its markets cannot get by without government intervention and the system is broken.
As the Federal Reserve continues to buy bonds, swaps and literally anything it can get its hands on to push "printed" money out the door to stimulate America's flagging economy, it makes Wall Street look like a global titan. To be frank, it would be as well just buying shares in all the S&P 500 and Nasdaq companies, as it is propping them up anyway.
If you or I could not pay the bills, we would be in trouble. Not corporate America. Boeing cannot fail. American Airlines cannot fail. It's a matter of pride and hegemonistic hubris for America that its big corporations must survive and endure. Even if it is plunging the USA into massive debt. A debt that will need more than tax rises to pay it down. In short, wholly unsustainable.
The knock-on effect of this? Individuals and institutions are re-assessing their exposure to the US dollar, which is being devalued with every stimulus injection. The buying power of a dollar is diminishing. It has become soft money. And Americans want to hedge against this as their savings get eroded each year.
The analogy is a melting ice cube, where the cube is cash and over time its value is dripping away. Hence, the flight into what many see as "hard" money. With Bitcoin offering the potential to not only stop the ice cube melting, but actually produce more cubes.
Over the holiday period, Bitcoin went on a rampage rocketing in value. Currently it sits at some £19,700. To put that in perspective at the beginning of December it had already climbed to £14,700. So, there is momentum there and America can feel it. With a limited supply of coins being bought up, the price has increased as buying pressure tips upwards. And there are two reasons for this.
The first is simply folks like me talking to relatives over the festive period, probably too much, on crypto and macro-events. It garners interest and before one can say "stack those sats" a crypto wallet has been opened and a new bitcoin virgin has been created with a small purchase of the this popular cryptocurrency. Probably about £20-£100 in each case. Now multiply that by all the festive chat globally and one can see how retail demand has caused this spike in the price.
But, look deeper and the real demand becomes apparent as the US dollar weakens with stimulus. Corporate treasuries and high net worths now own 16% of the total bitcoin in circulation. From Mass Mutual to Grayscale to Microstrategy, corporate America is buying bitcoin. And this is only the beginning. As many Americans fear for the future of the dollar and the delicate, intimate state of the relationship between the State and markets.
Will Bitcoin continue to rise? Who knows as it still has massive volatility plugged into it. January could see a big correction. But, while this may scare the likes of you and me, the big players will see this as an ample buying opportunity.
While 2020 has been a bit bonkers as markets suck up stimulus, 2021 offers exactly the same. Perhaps, this is why the corporate America is cosying up to crypto.
A message from the Editor:
Thank you for reading this article. We're more reliant on your support than ever as the shift in consumer habits brought about by coronavirus impacts our advertisers. If you haven't already, please consider supporting our trusted, fact-checked journalism by taking out a digital subscription: www.scotsman.com/subscriptions
Comments
 0 comments
Want to join the conversation? Please or to comment on this article.