Reaction: business community pays tribute to former Diageo boss Sir Ivan Menezes who has died aged 63
Sir Ivan Menezes, the former boss of Johnnie Walker owner Diageo, has died aged 63 following a brief illness, the company has announced – prompting a rush of tributes.
The London-listed firm said he died with his family by his side, after announcing on Monday that he was undergoing emergency surgery. Former chief operating officer Debra Crew was appointed interim chief executive with immediate effect earlier this week. She was due to take over as boss of the firm from July 1, when Sir Ivan was set to retire.
He had held the chief executive role at the multinational (which has some 3,500 employees in Scotland and attractions including Johnnie Walker Princes Street in Edinburgh), for ten years. Diageo chairman Javier Ferran said: "This is an incredibly sad day. Ivan was undoubtedly one of the finest leaders of his generation.
"Ivan was there at the creation of Diageo, and over 25 years, shaped [it] to become one of the best-performing, most trusted and respected consumer companies. Ivan leaves behind many friends and a beloved family, and our thoughts are particularly with his wife, Shibani, and his two children, Nikhil and Rohini. On behalf of the board, executive committee and all our employees, we extend our deepest sympathies to them."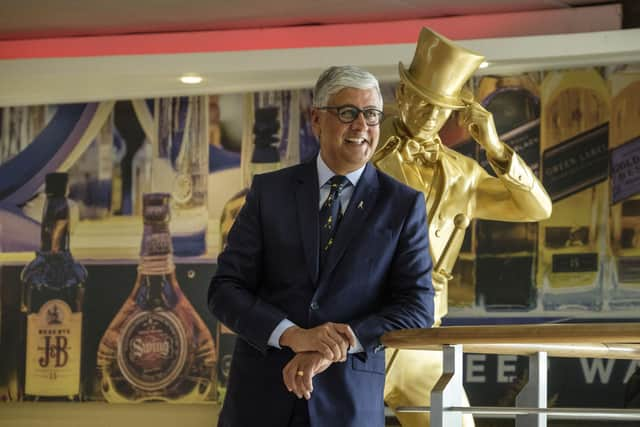 Diageo said Sir Ivan transformed the business under his tenure into the world's leading premium drinks company that accounts for a tenth of the UK's total food and drinks exports and sells more than 200 brands, including Bell's, Smirnoff and Guinness, in more than 180 markets. It added that it is also today the number one company by net sales value in vodka, gin, rum, Canadian whisky, liqueurs, tequila, and Scotch whisky, while it has almost 30 malt distilleries in Scotland.
Among industry figures to pay tribute was Mark Kent, head of the Scotch Whisky Association (SWA), where Sir Ivan chaired its council. Mr Kent said: "Sir Ivan was a towering figure in Scotch whisky, who not only helped to shape the global success of the industry – but laid the foundation for future generations.
Caring
"It is too soon to encapsulate fully the impact he had on the Scotch whisky industry, that time will come later. But it is as deep and long-lasting as the affection in which he was held by those who knew him best. Aside from being a consummate professional, one of the most successful business leaders of his generation, he was a warm and caring human being. The thoughts of the SWA, and the whole Scotch whisky family, are with Ivan's loved ones and our colleagues at Diageo at this difficult time."
Diageo also noted Indian-born Sir Ivan, who was knighted in the New Year Honours List 2023, championing both women and ethnic minorities in business, and it said that now, more than 40 per cent of its senior leadership positions globally are held by women, while 37 per cent are ethnically diverse.
Only last month, Sir Ivan was included in the "executive" section of the 2023 Empower Role Model Lists, the annual ranking that showcases international business leaders who are breaking down barriers for people of colour and actively driving a more inclusive working environment, for example. And The 30% Club, which aims to see representation of at least 30 per cent on all boards and among C-level roles globally, said it was "heartbroken" to hear of the passing of the "wonderful" former Diageo boss. "Sir Ivan was a true champion of diversity and inclusion, and a great support to the 30% Club," it said.
Diageo credited Sir Ivan with bolstering its financial performance, and the group in January of this year reported that sales grew 9.4 per cent in its first half, measured on an organic year-on-year basis, to £9.4 billion, while its organic operating profit grew by 9.7 per cent to £3.2bn, surpassing analysts' expectations. Ewan Andrew, the company's Scots-born president for supply chain and procurement, said at the time that "premiumisation" had played a large part in recent sales growth, stating: "People are opting for better quality drinks."
Powerhouse
The latter point is echoed AJ Bell investment director Russ Mould, who said Sir Ivan, "will be remembered for transforming Diageo's fortunes and making it the powerhouse it is today in the spirit sector – in his ten years as chief executive, he focused on high-end brands, recognising that consumer tastes were evolving and that people were prepared to pay a premium price for a quality product.
"Sir Ivan paid a lot of attention to culture within the business, while also making sure Diageo was a leader in the fields of sustainability, inclusivity and diversity," he continued, praising the late Diageo boss as "one of the most highly respected FTSE 100 leaders".
And Michael Hewson, chief market analyst at CMC Markets UK, also praised Sir Ivan for his pivotal role in the growth of Diageo. "In an age where CEOs come and go, [he] has been an ever present, driving Diageo forward as well as overseeing the growth of one of the most respected consumer companies, and some of the most recognised consumer brands today," Mr Hewson told The Scotsman. "In his time as CEO the share price has gone from strength to strength, delivering value to shareholders, and putting Diageo as one of the leading consumer companies of the age. That's quite a legacy to leave behind."
Comments
 0 comments
Want to join the conversation? Please or to comment on this article.