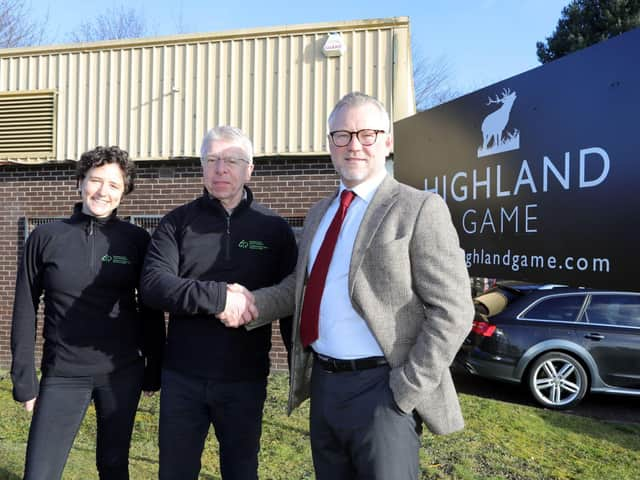 From left: Rural minister Mairi Gougeon, Simon Hodgson (chief executive of Forestry and Land Scotland) and Christian Nissen (Managing Director Highland Game). Picture: Contributed
The five-year contract will help to boost venison's credentials among health-conscious customers as well as protect the environment by reducing Scotland's deer population to "non-damaging" levels, the FLS said.
Venison is high in protein, iron and vitamin B12, while containing relatively few calories and low levels of fat.
Rural affairs minister Mairi Gougeon hailed the agreement as proof of an "exemplary" deer management programme at FLS.
As the largest producer of venison in the UK, Scotland contributes around 3,500 tonnes of wild venison and 70 tonnes of farmed venison each year, with around one third of this exported to mainland Europe and the US.
Christian Nissen, MD of Highland Game, said: "Venison is a highly nutritious, versatile and affordable meat that is no longer a niche delicacy but is a year-round staple found across the country in restaurants, supermarkets and in home kitchens.
"Our working relationship is moving from strength to strength, which is good news for us and good news for Scotland."