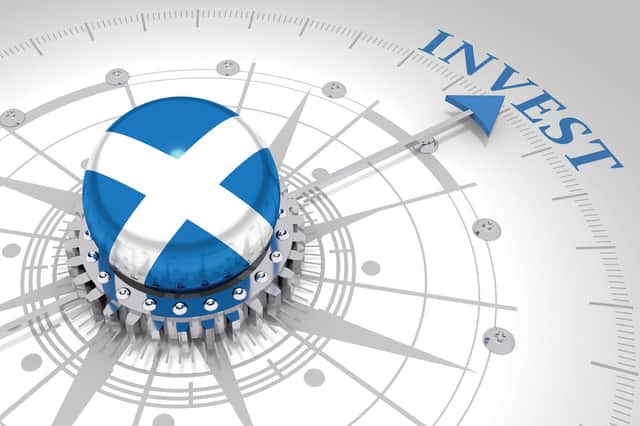 While Scotland was once an industrial powerhouse known for its heavy engineering, in more recent times it has become recognised across the globe as the home of successful technology firms that are attracting domestic and international investment.
From fintech to other rapidly growing areas of the sector, such as cleantech and health or medtech, new products are being launched and deals are being done.
There are more than 11,000 tech companies in Scotland, contributing around £6.5 billion to the economy, according to official figures. And about 100,000 people are employed across Scotland's digital and technology sectors.
Scotland has two of the UK's top-five cities when it comes to tech investment so far in 2022, with companies from Edinburgh and Glasgow raising a combined £115 million of investment, according to figures published last month, calculated by Dealroom and analysed for the UK's Digital Economy Council. This builds on a successful 2021 for Scotland, with companies raising a collective £228m through more than 50 venture rounds.
Supporting Scotland's tech industry is a priority for the public sector and feeds into the drive to meet the country's ambitious net-zero targets.
Last year, Scottish Enterprise invested more than £30m into companies in the tech sector through its co-investment funds, putting in money alongside local, national and international investors from seed through to series A and beyond.
Kerry Sharp, director of growth investments at Scottish Enterprise, says: "Scottish Enterprise's net-zero framework and digital scale-up national programme are focussed on growing Scotland's digital tech scale-ups and highlights the talent in Scotland's digital economy. Scotland has a great strength in tech and investors recognise the strength and global prospects Scottish tech companies have."
And since the launch of the Scottish National Investment Bank in November 2020, almost £200m of investment has been committed to businesses and projects in Scotland across 13 different investments. The bank has stated that 25 per cent of the capital committed so far – almost £50m – has been into technology businesses, including M Squared Lasers, R3 IoT, ForEV, Lothian Broadband and Sunamp.
Eric Galbraith, corporate partner at law firm Brodies, says he and his colleagues have been active advising on tech deals across a range of sectors. Over the last six months, he says the vast majority of deals the firm has completed have been tech-related. He points to a number of reasons behind the country's favourable environment.
Galbraith explains: "Scotland has world-class universities and talent. What's also critical to the success of tech is the public funding that's available from the likes of Scottish Enterprise and the Scottish National Investment Bank. The public sector has had a real focus on supporting technology. Technology is quite speculative, so it takes nerve to support it, and the public sector sees its potential. It has been making investments in innovative technology firms with good business models."
He adds: "One of the great things about the tech sector is that it knows no borders and has transferability."
Chris Thompson, a director in the corporate finance team at AAB, refers to the "Skyscanner effect", and how its success has emboldened others in the tech sector to aim high.
Brian McMurray, head of tech and business advisory group partner at AAB, adds: "We've had some high-profile tech success stories in Scotland. We have the support and the skills to grow businesses here. But we're still at the very early stages in terms of how big and successful tech can be."
He believes Scotland's tech ecosystem, such as its universities and range of accelerator programmes, is becoming even stronger and is supportive of businesses looking to start-up and scale-up.
"In that respect, things are definitely improving," says McMurray. "Accelerators are important. They do more than just run programmes. They have people there with the right experience and knowledge who have themselves created businesses, scaled-up and want to give something back. They offer their skills and experience and tap into their networks. And Scotland is a good place to live."
Andrew Noble, a partner at Par Equity, an Edinburgh-headquartered early-stage venture capital firm, shares the view that Scotland's tech sector benefits from having renowned, research-led universities. "These have spawned clusters of exceptional talent and innovation, which we can unashamedly champion on the global stage," says Noble.
"We have one of the biggest life sciences communities in Europe, a centre for excellence in artificial intelligence (AI), cyber security and data science in Edinburgh, an emerging renewables and alternative energy hub in Aberdeen, as well as dozens of early-stage companies which are developing cutting-edge solutions in the fields of quantum computing, photonics, geospatial imaging, nanotechnology and robotics.
"Collectively, we would describe these as frontier technologies or deep tech, solving difficult problems, and it's a highly sought-after field."
Unlike other parts of the economy, some of the changes stemming from Covid-19, such as the reliance on technology to work remotely, has had benefits."Covid has placed more focus on the skills of technology-focused individuals," explains McMurray. "One example is a tech client being able to tap into an overseas market that they couldn't have pre-Covid. They were able to set up video calls and provide services to the client. There are more opportunities now that the market is genuinely global."
And Noble says: "Our biggest opportunity is how we choose to emerge from the Covid crisis to build better companies, a robust economy and a fairer future for everyone. Technology can unlock these desirable goals.
"Over the next five years our tech sector needs to address inequality and mental health in the workplace, accelerate Scotland's decarbonisation plans, and put its full weight behind the transformative technologies coming out of our world-class universities and innovation clusters."
But there are challenges that the tech sector and potential investors need to rise to.
According to Galbraith, the "hottest topic" at the moment is the UK National Security and Investment Act 2021. It took full effect on 4 January and gives the Westminster government unprecedented new powers to investigate and block deals it suspects could threaten the UK's security.
The scope of the Act is wide, covering 17 sectors, many tech-related. These include advanced robotics, AI, energy, transport, suppliers to the emergency services, and quantum technologies. Acquisitions within its scope will be void if they complete without first being notified to – and approved by – the UK Government, with the risk of significant civil and criminal penalties. And the power to call in deals goes back to those completed on or after 12 November, 2020, despite the Act only coming into force earlier this year.
Galbraith says the Act is part of a global trend of governments doing more to scrutinise foreign investment in businesses in their jurisdictions, but it seems to have caught many people "on the hop" in the UK.
"The word 'technologies' appears a lot in the legislation," says Galbraith. "With every deal, whether a sale, purchase or investment you have to ask yourself if it is in one of the spaces covered by the Act. You have to scrutinise the client's business to confirm whether or not it is exempt from the Act and whether the deal should be notified to the government.
"There are going to be many transactions that have to be notified, and if you don't the deal could be rendered void."
Raising investment when it is needed and the time it takes to get to a stage that shows a business is commercially viable can also be challenging factors.
Thompson says: "It can be tough for scale-ups who have not reached the size of being able to command a large enough investment to grow. At the early stage, when they are looking to raise under £1m, angel syndicates can be an option. It's trying to raise between £1m and £2m that has been tricky for businesses in the last couple of years. Businesses don't tend to become attractive to venture capitalists until they move further up the value chain."
Despite such challenges, commentators agree the outlook is bright for the country's tech firms. McMurray concludes: "Help is there for businesses from early-stage, to scale-up and exit. The tech sector will continue to be one of the fastest growing in Scotland."