Pioneering 3D graphene-maker doubling footprint in native Stirling amid increased global demand
A Stirling-based firm behind a hi-tech 3D graphene foam has revealed that it is doubling its footprint in part to meet increased global demand.
Integrated Graphene says it has developed a "unique" breakthrough process to produce a pure sponge-like carbon 3D scaffold (Gii), with current customers including global blue-chip life science companies and major academic institutions, and amid volume demand for graphene across key application markets it says could reach more than $1 trillion (£802 billion) by 2030.
It adds that its flagship product, Gii-Sens, is a biosensing electrode for human diagnostics that outperforms traditional sensing materials, allowing for more cost-effective and repeatable tests to be developed with a much higher sensitivity. The company is also in the "advanced" development stages of a new supercapacitor Gii-Cap that it says can boost product life and reduce battery demands of Internet of Things products.
Its current expansion includes a new strategic base at the Stirling University Innovation Park, increasing its annual manufacturing Gii capacity by 1,000 per cent. New lab space will double the amount of research-and-development (R&D) work it can carry out in-house on its product portfolio and applications for Gii's biosensing and power storage capabilities, the firm also stated.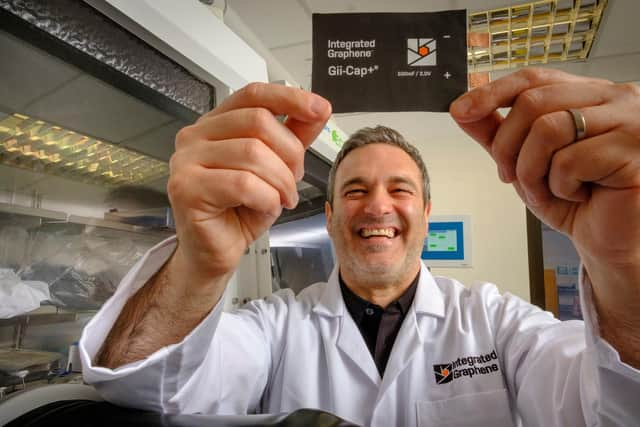 Claus Marquordt, co-founder and chief executive of Integrated Graphene, said: "Opening our facility at Stirling University Innovation Park will help us to build upon our already strong academic links. Having the capacity to scale our production into millions per year and state-of-the-art R&D operations will only increase the attractiveness of our product within key markets. It's a very exciting time for the business and we're looking forward to continuing to scale and commercialise fast."
Comments
 0 comments
Want to join the conversation? Please or to comment on this article.