Opportunity knocks for Scottish hospitality and leisure sector - Gordon McKean
Scotland's hospitality and leisure (H&L) sector has seen a turbulent few years. It was one of the worst-affected sectors during the Covid-19 pandemic, and more recently businesses have been navigating staff shortages, increased operating costs and supply chain challenges along with a drop in spend due to soaring inflation.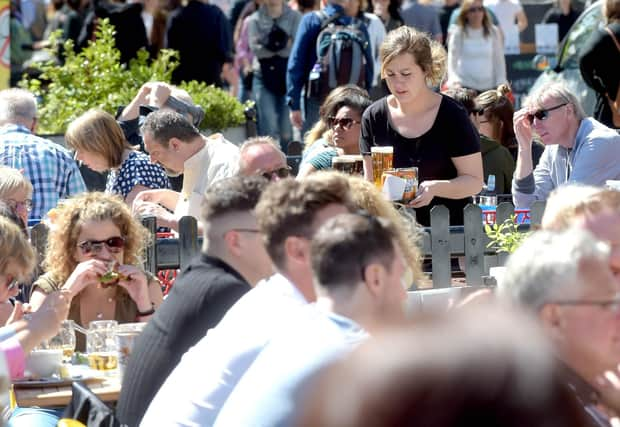 For many in the sector, cash and profits are back to a volatile position, with businesses being left with a dilemma of absorbing costs or passing these onto the customer.
Barclays is reporting that Scottish hospitality and leisure businesses remain confident in growth, despite inflation rates squeezing margins.
Hospitality and leisure businesses are optimising their operations in response to customer behaviour changes. Businesses are leaning into promotional opportunities linked to major events such as festivals and sports for an income boost which chimes with an uptick in tourism.
Despite rising operational costs, Visit Scotland's Scottish Occupancy Survey Report reported that annual hotel occupancy rates experienced a 4.87 per cent point increase in April 2023 when comparing the same period last year, which may be influenced by the continued return of international travel. This proves that through careful planning and consideration of consumer behaviour changes, H&L businesses can act to challenge rising costs and seize opportunities for growth.
Barclays recent industry report, Evolving the Experience, finds that when booking a holiday, high-quality accommodation is ranked second only to value for money by consumers, suggesting a 'flight to quality'. Plus, businesses are continuing to invest in environmental improvements, such as solar panels or other clean energy and efficient heating options. Consumers are now demanding a more environmentally conscious business to buy from.
During lockdown, firms that evaluated future growth opportunities and made plans for returning to 'normal' are now seeing increased business levels through their insightful forward planning. For hospitality and leisure businesses, this meant reinvesting in current properties through refurbishment, increasing property capacity by extending or indeed expanding portfolios through acquisitions.
Some have even rethought business models entirely, investing in creating experience-led venues with a competitive nature. Escapism is a growing consumer demand. Although lockdown is now a memory, it's positive memories that consumers want to create. Many have limited their socialising due to the spending squeeze, but when they do go out, they make it count.
Experience-led spending from consumers is heading on an upwards projection. This cultural shift now means that H&L businesses need to meet customer expectations, and consider the full experience, including how services are booked, accessed and used.
Barclays has seen many operators in the sector look at funding options, as they look to refurbish or expand, whilst retaining good liquidity. Although interest rates have been rising, term loans are still a popular option for clients to invest in their assets and spread the repayments over a number of years. The provision of capital repayment holidays for investment projects also allows the business to carry out the work and then build up the trading ahead of loan repayments being due, which provides flexibility.
Looking ahead into 2024, Barclays expects Scottish hospitality and leisure firms to see a continued increase in demand from an assortment of events-based bookings. After an unsettling few years, sector-wide respite is long overdue, but H&L businesses in Scotland cannot leave the 'do not disturb' sign hanging on the door.
Gordon McKean, Relationship Director, Barclays Corporate Banking
Comments
 0 comments
Want to join the conversation? Please or to comment on this article.