New rules to turn off music and book tables could 'devastate' hospitality industry
New regulations for bars and restaurants to turn off music and implement a full booking system to prevent the spread of coronavirus could devastate the industry, business owners have warned.
Bar owners said that the requirement to book tables rather than allow walk-in customers, which is included in the Scottish government's list of statutory guidance for the hospitality sector, was leaving them with hundreds of "no-shows" every week.
Under the new guidance, venues have also been told to turn off music to ensure that customers do not have to shout to be heard, which is believed to increase the risk of spreading the virus - which one pub owner has described as taking his business "one step closer to the graveyard".
The measures are among a number of advisory regulations set out by the Scottish Government, including ensuring that there is no queuing, providing table service and ensuring that customers should only sit in groups of up to three households. If businesses fail to "give due regard" to the guidance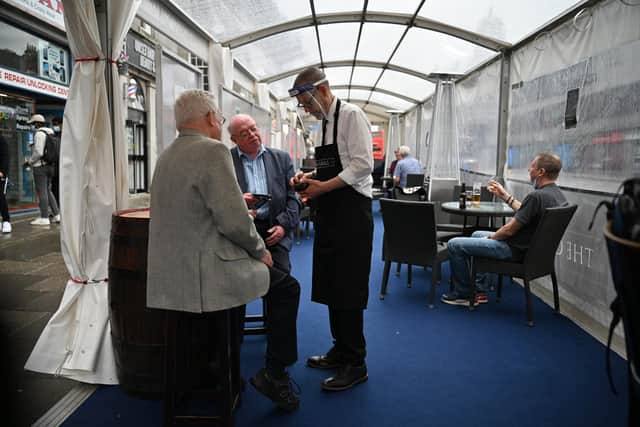 From this weekend, the Scottish Government has made it enforceable for businesses to record the name and contact number of an individual - or lead member of each household in a group - that visits the premises. They must also record the date of the visit, the time of arrival, and where possible the departure time. Failure to comply could result in a fine of £960.
Anna Christopherson, co-owner of the Boda Bar group in Edinburgh, said colleagues in the industry had reported customers booking a table every night for the same time for a week - then only turning up to one of the bookings.
"The idea that people should always book [and not walk in] is absolutely insane, especially for bars," said Ms Christopherson, who has opened three of her seven bars in the city.
"The problem is that people don't show up. Some people are booking multiple tables and they do it because they want to have the chance to go when they want to, so they just book a table every day. We have had other groups who book off a big table and then just stay for one drink, but we've blocked out the table for the whole night. We're only operating at 25 per cent capacity at all of our venues, so it is hard enough as it is."
She added: "It is going to destroy the industry. It is much better to allow people to come in, but then make sure you take their contact details."
She said one other restaurant and bar group in Edinburgh had 1,300 no-shows across its venues last week.
Pub and restaurant owner Andy Macartney, who runs seven venues, including Glaschu in Glasgow's Royal Exchange Square, said rules which advise hospitality businesses not to play music had changed the atmosphere inside venues.
He said: "It feels like one step into the graveyard," he said. "I have been in a few places today which are not playing music and it feels like that last half hour at the end of the night when they turn the music off and are closing up - but all of the time. For bars and restaurants, music is a critical element of creating an atmosphere."
Ben Prowse, who runs the Polwarth Tavern in Edinburgh, said: "It is day one without music and I am in a pub with six guys sitting in silence. We haven't had an evening with it yet, so I don't know how it will affect us. We don't operate a booking system. If there are no seats, I just have to tell people that they will need to come back - I don't allow queuing. Pubs get a lot of bad press but essentially we're a community centre. Most of our regulars have come back, but there's an old guy up the road who doesn't feel comfortable yet and I sometimes take him a pint so he can have one."
Colin Wilkinson, managing director of the Scottish Licensed Trade Association, said "We cannot underestimate the disappointment and concern for the future of the hospitality industry over the Government's decision that there should be no background music or noise from TVs in hospitality venues.
"While the Government says that this is absolutely necessary, the views of some within the hospitality industry differ, and the SLTA, SBPA (Scottish Beer and Pub Association) and the Music Venue Trust are working together to provide evidence that this ban is counter- productive to what is trying to be achieved."
Meanwhile, the hospitality industry welcomed the enforcement of collecting customer details, saying it makes it easier for them to refuse to serve customers who do not comply.
Restaurants and bars said that the previous non-mandatory advice made it awkward to turn away customers who refused to hand over contact details.
Bar owners said that customers were generally happy to comply with the contact tracing system, which means they can be contacted if another customer tests positive for Covid-19. The collection of customer details is mandatory from today, having been only advisory since venues were first allowed to open from the middle of last month.
A failure to have the required arrangements in place will be punishable by a Fixed Penalty Notice, while continuing failure could be enforced by repeated fines of up to £960.
James Mackenzie, general manager of Cafe St Honoré restaurant in Edinburgh, said: "If people don't want to give their contact details, we're now going to have to tell them that we can't serve them, so it being mandatory makes it a lot easier for us. We have been taking contact details from the start and the way restaurant bookings work means it is quite easy.
"We're still allowed to take walk-ins, but we're advised against it."
Khalis Miah, owner of Riksha Streetside Indian restaurant in Aberdeen's Union Square, is one of a growing number of restaurateurs utilising apps to store customer details.
When the restaurant opened in July, he initially used a QR code system, but has since switched to app Zapaygo, which also allows customers to order and pay without having to touch a physical menu.
He said: "It has made it a lot easier for us and for the customers. When people register for the app, they have to put in their contact details, so that allows us to trace them if necessary."
"I think even once the pandemic is over, we will keep the app. During this time, people have become a lot more used to doing things digitally and with contactless technology."
Chief executive of the Scottish Beer and Pub Association, Emma McClarkin, said: "The majority of Scotland's pubs and bars had already gone above and beyond in putting measures in place to keep customers safe during this time. These changes today will help ensure those premises which have fallen short no longer do so, and we welcome that clarity.
"We're all in this together and the stronger we are now, the sooner we will be able to see these restrictions disappear."
The enforcement of customer detail collection was announced last week after it emerged that a cluster of cases in Aberdeen was linked to a number of bars and pubs in the area. The city has since been put under a local lockdown.
First Minister Nicola Sturgeon said: "While many hospitality businesses have acted responsibly by adhering to the voluntary approach of collecting customer details, unfortunately too many others have not, and so – given the established high risk of virus transmission within hospitality settings – we have decided to make this mandatory.
"Strengthening this requirement to collect and share the data by moving it from guidance into regulations ensures that in the event of an outbreak, through the Test and Protect process, it will be possible to get in touch with anyone identified as a close contact who was present at the same time as an individual who has tested positive for COVID-19. This will help us break chains of transmission while continuing to allow us to socialise and support our local businesses.
She added: "It is worth stressing that for those hospitality venues which are already complying with guidance, they will see minimal change to their procedures and operations."
She stressed that "nobody's social life should feel exactly as it was before", as she issued guidance urging people to avoid visiting numerous hospitality venues in quick succession.
She said: "The more settings you go to, the more likely you might be to get Covid-19, and the more likely you might be to spread it."Visiting lots of pubs in a single day or evening massively increases the workload of test and protect, so please think about that - it makes a really big difference if you stay in one pub."
A Scottish Government spokesperson said the new regulations - apart from the collection of contact details - was published under powers given to Ministers to issue guidance.
He said: "From today under new regulations it is mandatory for hospitality settings to collect the contact details of visitors to their premises. The Scottish Government has also published statutory guidance for the hospitality sector on issues such as queuing and noise control.
"The hospitality sector is legally required to give due regard to this guidance and failure to do so could be taken into account should it be necessary to take enforcement action under public health legislation.
"The guidance assists the hospitality sector when premises are conducting risk assessments to operate safely and minimise the risk to the public and staff from COVID-19."