UK-headquartered Astraius has joined forces with Kansas-based Spirit AeroSystems Inc, with the occasion marked during a visit to the Spaceport by Scottish Business Minister Ivan McKee with a signing ceremony.
Prestwick Spaceport, a joint partnership between Glasgow Prestwick Airport and South Ayrshire Council, aims to become Europe's top location for carrying small satellites into orbit via "air launch" – enabling a rocket to reach space after being launched from an aircraft that has flown out over the ocean.
Spirit and Astraius – both located in Prestwick's developing space cluster – are working to catalyse the system components and key processes required for the Astraius horizontal launch platform, while they note that Scotland accounts for a fifth of the UK space sector's 45,000-plus workforce.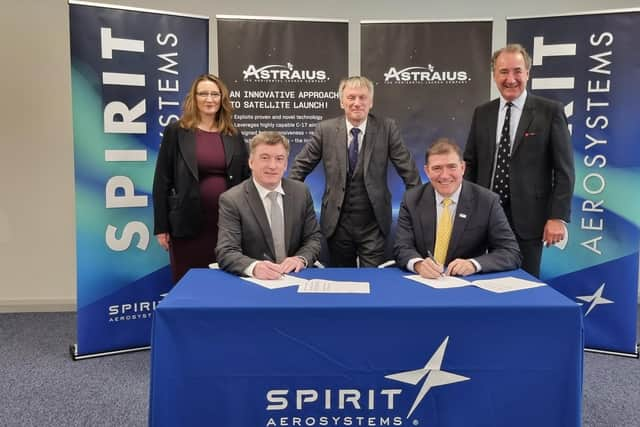 Scott McLarty, Spirit senior vice-president, Airbus and regional/business jet programs, cheered Spirit working with Astraius "to explore opportunities to contribute further to the expansion of the UK space sector, through the design, manufacturing, integration and testing of aerostructures for launch activities".
Astraius chief executive Kevin Seymour hailed the inking of the Memorandum of Understanding with Spirit as "the first step in what I'm confident will be a long-term partnership", while Mr McKee deemed it "great news… another positive step in the development of space and aerospace opportunities in Prestwick". Ian Annett, deputy chief executive at the UK Space Agency, said: "We welcome the partnership… which brings Astraius another step closer towards conducting a launch from the UK."