Ishani Malholtra, who founded Carcinotech, and Alex Reissig, co-founder of Smplicare, also talk about how vital data is to their business - and the continuing challenges faced by technology businesses founded by women.
They praise the support they received from the University of Edinburgh's Data Driven Entrepreneurship (DDE) programme in the podcast, Making a Difference: The Female Data Entrepreneurs Who Want to Change The World.
Ms Malhotra established Carcinotech to develop targeted and personalised cancer treatments following an experience while working as a scientist in a hospital. She explains: "I positively diagnosed a four-year-old boy with leukaemia, and that was quite devastating because the boy wouldn't have been able to survive. Innovative treatments take so long to get to market, and he wouldn't have had access to them."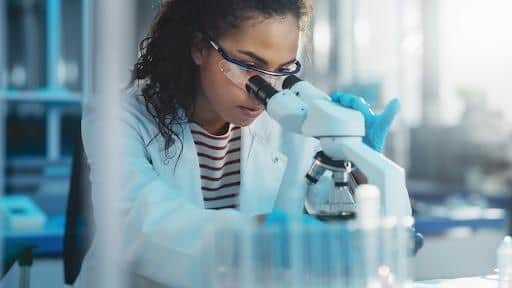 Carcinotech now leans heavily on data to match new and existing treatments to patients using their own cells and 3D-printed tumours.
Alex Reissig says Smplicare "began with wanting to help our parents live healthier, independent lives for longer".
She continues: "We do that by harnessing data from everyday wearables and digital health devices, like fitness trackers and smart scales to proactively alert people to age-related health risks, starting with falls."
Both businesses went through the DDE's AI (Artificial Intelligence) Accelerator programme, while Smplicare was also supported by the early-stage Venture Builder Incubator.
Charlotte Waugh, who heads the DDE programme, says: "The big ambition is to support entrepreneurs and innovators to provide those deep-tech solutions that can make a difference to people's lives for the better."
Venture Builder is focused on postgraduate students with business ideas, supporting them in areas like team-building, business development, managing cash flow and pitching ideas. The AI Accelerator is targeted at businesses further down the line, already with a product or service, who are in the market-place, and looking for investment to scale up. "AI Accelerator can support them, introduce them to the right investors at the right time and provide them with skills and training and the tools to pitch," says Ms Waugh.
Ishani Malhotra says: "AI Accelerator was really good for Carcinotech because they had a lot of sessions that were very helpful in pitching to investors. It was also helpful in looking at the commercial side, and ran an interesting mix of workshops that came at the right time for us."
Alex Reissig says: "It really expanded the network of like-minded individuals who have come to support us. It's helped us make connections we wouldn't have otherwise been able to make."
Both women say that they would like to see more focus on connecting Edinburgh more effectively to the wider world of technology entrepreneurs - to plug them into global networks.
While Ms Malhotra says she was brought up in an entrepreneurial household - inspired by her dad, who had his own textiles business - Alex Reissig found it harder to accept that she could run her own enterprise: "It's something that I've struggled with. I'm constantly pushing the boundaries of what I'm comfortable with, because being an entrepreneur is all about risk-taking - and getting comfortable with risk and with failure."
Both women say coping with setbacks is vital to be a successful entrepreneur.
"On any given day, I go through a rollercoaster of emotions," says Ms Reissig. "I can have a meeting with someone where they're like, 'Nope, not interested, I don't like what you're doing' to another conversation with someone who says 'This is awesome, I absolutely love what you're doing.' And then you'll be crushed again. You have to bite the bullet and keep moving."
Ishani Malhotra says of her father: "I saw how he started from scratch and set up companies, how he hired employees, and how he had to let go of employees. It was very important to see the highs and lows. That really taught me very early that it's not always going to be a smooth journey."
The recent Pathways report on barriers to female technology entrepreneurs struck a chord with both women. "If you haven't worked in an entrepreneurial space before, it doesn't seem like it's something that's possible [to many women]," saysMs Reissig.
Ms Malhotra says: "The report definitely highlighted some of the very important challenges women are facing as entrepreneurs, even in this day and age. Even though there are more funding options available, it's still very early stage funding. It's about getting those later stage funding options for female-founded businesses that could then grow and scale up. In terms of mentoring and networking [for female entrepreneurs], I think that it's improving, but it could be better, definitely."