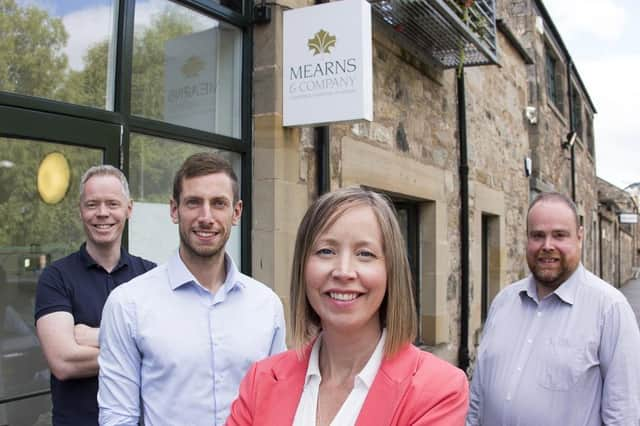 Chartered financial planning and employee benefits consultants Mearns & Company has completed a successful management buyout, heralding a new era for the Edinburgh firm.
The new owners are Catherine Bell, managing director, Graeme Brown, client services director, Graeme McInally, financial planning director, and Malcolm Steel, client strategy director – and together they share more than 70 years' experience at the Commercial Street- based business.
At a time when many of Mearns & Company's competitors are being bought over by large organisations, the team believes that continuing to operate as a smaller, independent business is key to its continued success.
"We are becoming more and more unusual in the market, which is great because it means that our clients can benefit from a more tailored and personalised service," explains Bell, who has been with Mearns & Company since 2000.
"Our clients are happy that we are not part of a larger organisation. From their point of view, it is a relief that we have not gone down that route of consolidation."
The independently-owned business has provided employee benefits advice to companies, and financial planning advice for individuals, since it was founded by Margaret Mearns – mother of Bell and Steel – in 1994.
It has since grown from a team of two to 25 professionals who have passed a total of 167 Chartered Insurance Institute qualifications.
Graeme McInally, who joined the firm straight from university in 2012, adds: "With 25 team members, the company is the perfect size for us to retain our culture and the very close personal relationships that we have with clients. I am very proud of that."
Mearns & Company's team and clients can rest assured that there will be no major changes as a result of the buyout, and that the firm will continue to deliver the highest standard of financial advice and service.
For employers, the firm's highly experienced team of employee benefits consultants work to manage, review and broker employee benefits packages, while saving costs for their clients. That includes putting in place and managing pension schemes, private medical insurance, life cover and offering advice on how a business should structure and implement their schemes.
Steel explains: "For employers, the more that they can differentiate, the more they can do to attract and retain staff. Employee benefits can be a big part of that, but cost savings are important.
"We have a great track record of negotiating on behalf of our corporate clients with insurance providers or medical providers. We can help them to attract and retain staff while saving money, which is quite a compelling proposition."
For individuals, Mearns & Company is dedicated to "making the complex simple". With a current Net Promoter Score of +93, the team supports individuals in all aspects of financial planning, whether it is planning for retirement, getting the best out of investments, forecasting future income, or planning for life events.
"We help clients to develop a strategy that allows them to achieve both their personal goals and peace of mind," says McInally.
Mearns & Company is a value-driven organisation with a commitment to treating people fairly, striving for excellence, and making a difference. As part of that ethos, the sector- leading business champions learning.
Brown explains: "I have been with the company since February 2001, and the growth and development of staff has always been key here. I started in an entry-level role at the company, and I have gone through various roles to become the client services director."
To ensure each staff member is fully supported to contribute to the ongoing success of the business, Mearns & Company has hosted annual team days since it began in business, which in recent years have been increased to twice yearly.
In 2022, the firm also introduced an all-team volunteering day, an event which they plan to continue on an annual-basis.
"Our volunteering days are all about getting everyone together and doing something collectively to help in our community," says Bell. "Working together as a wider team is a great opportunity for everyone to work alongside different colleagues from across the business."
Platinum accredited Investors in People, Mearns & Company has won numerous awards including Professional Adviser Firm of the Year and the Gold Standard Award for Independent Financial Advice.
Steel maintains: "There has never been a greater time to take financial advice due to the level of uncertainty in the world. We help people to see a path from where they are at the moment to what the future may look like. We can provide a steady, reassuring voice around that."