Live data project: how Edinburgh's air quality is being affected as the city opens up after Covid
Councils have a pivotal role to play in the climate emergency with the power to affect environmental change at a local level – and, if decision-makers are equipped with live data through Internet of Things (IoT) technology, then they are able to see the effects of their choices in a format close to real time.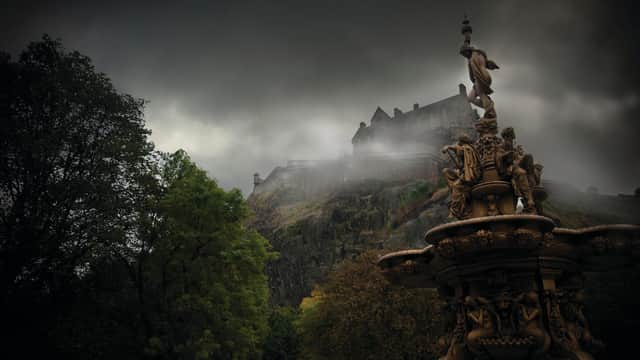 The City of Edinburgh Council has partnered with IoT Scotland to install air quality sensors around the city that will, among other use cases, equip the authority with live data on how pollution levels are changing as people return to urban spaces following the easing of lockdown restrictions.
The sensors have been provided as part of an IoT Scotland Accelerator Pack programme which aims to give Scottish councils an understanding of IoT technology and how it can be applied to real-world problems.
IoT Scotland is a joint project between North and the Scottish Government to provide Scotland with an IoT network running on the open standard-based LoRaWAN network, covering the country's urban centres and some of its rural spaces. It is also helping councils and the private sector use this network to solve problems with IoT solutions.
Alasdair Rettie, group technical director of North, says: "North and IoT Scotland are there to help the public and private sector get the best out of IoT.
"We sit down and work with organisations to give them the confidence to implement IoT solutions that are built around addressing problems and not the technology.
"We all need to reduce our carbon footprint and, by having real-time granular data, companies and organisations can create solutions that allow them to become more sustainable and also make cost savings."
The Scotsman will be following the progress of the collaboration between the City of Edinburgh Council and IoT Scotland and report on how the city's air quality is being affected by the lessening of Covid restrictions.
Key insights from the project, alongside those related to the easing of pandemic-related restrictions, will be shared on The Scotsman's Sustainable Scotland pages in print every Thursday, and also covered online and on our social media channels.
A total of 15 sensors will be installed around Edinburgh monitoring air quality, and they will report on nitrogen oxides levels, temperature, humidity, particulate matter sizes (PM1, 2.5, 4, 10), and air pressure.
approach to air quality testing in urban centres involves using expensive fixed air quality testing stations in a few locations with the data supplemented with glass diffusion tubes.
These tubes, which are normally placed on lamp posts around urban areas, are then collected on a monthly basis to give a snapshot of the air pollutants in that particular location.
IoT air quality monitoring sensors, by contrast, provide real-time alerts if spikes in pollutants are detected, and they can highlight trends while also helping to identify the sources of air pollution.
Gareth Barwell, director of operational services at Edinburgh City Council, says the sensors will be placed in areas that the organisation does not have a wealth of air quality information for.
He explains: "What we want to do is use the sensors in the accelerator packs and put them into areas that we don't have much data on. IoT technology makes it a lot more affordable to do this.
"The project will run over 12 months and will help us understand changes in air quality as the city recovers from Covid.
"We will also be able to understand the type of pollutants that are causing the issues, and we can then align that data with other data we hold as a council and then start to understand the cause and effect between the two.
"We hold data on building warrants, so we can overlay this data with information from the sensors to see if pollution has increased in that area."
Construction projects can have an adverse effect on the air quality of a city. However, if authorities are aware of the problem they can take measures to reduce pollution.
Rettie says: "Sensors give you the ability to know when there is a spike in air pollutants. You can then act on this.
"With sensors having the ability to be moved around, you can proactively monitor new building sites to make sure that they stay within guidelines and regulations.
"Councils can then protect local communities by insisting on dust suppression or better screening of works."
The sensors deployed in Edinburgh will also be used to monitor the effectiveness of the council's Low Emission Zone (LEZ) which is scheduled to go live in May next year.
The LEZ is aimed at limiting the number of vehicles that emit high levels of harmful nitrogen oxides from polluting the city's air, with enforcement to begin in 2024 following a two-year grace period.
Rettie believes the sensors could provide the council with evidence of the scheme's success in reducing harmful emissions.
He says: "A lot of councils are issuing reduced speed restrictions on the grounds that they will reduce pollution. However, they are not sure what the real data is at the locations where they have implemented these measures.
"The LEZ is going to force residents and visitors to think more carefully how they travel around the city, but if you can show people the benefits that it is having through data, then it is likely that they will be more accepting of it."
Barwell observes that the sensors will be useful in determining if the LEZ had displaced traffic and emissions problems around the perimeter of the exclusion zone.
He says: "It makes sense to have these sensors in place before the LEZ comes in, so we can get a baseline of what the emissions are and hopefully we can see some improvements when it does go live.
"These sensors will provide near-real-time data so we can identify incidents and spikes and then take action after locating the sources of the pollution."
Air pollution sensors could also help shape how the council designs its road systems in the future – this could have positive health benefits for those who live in the city.
Barwell says: "Currently, one of the biggest challenges that we have is knowing there has been a spike in pollution levels. It can take years for the effects of poor air quality to show in health problems like child asthma and other respiratory issues.
"This pilot will allow us to understand the issue quicker and look at how we can change policies and regulations to tackle these problems.
Councillor Lesley Macinnes, transport and environment convener
for Edinburgh City Council, adds: "These sensors will not only give us an insight into the effect lifting Covid restrictions has on air quality, but will also provide us with valuable data to help us tackle air pollution in the city.
"As we work toward the introduction of a Low Emission Zone in the capital, we've been relying on a wealth of statistics and modelling to hone its design, and any additional information will help us to understand its benefits and impact even better.
"However, while road traffic accounts for a significant proportion of air pollution, it's clear that there are various other factors at play, and IoT technology will support us to use the best tools at our disposal to improve air quality. It's essential that we explore and adopt the use of new technology if we are to truly address our impact on the environment.
"As part of our Digital and Smart City strategy, we want to utilise data and technology to increase efficiency, minimise costs and provide better services across the council too. Innovations will also help save the council money and reduce carbon emissions, in line with our net-zero carbon by 2030 ambitions.
You can follow updates on The Scotsman's live data project in partnership with North and Edinburgh City Council at scotsman.com/future-scotland