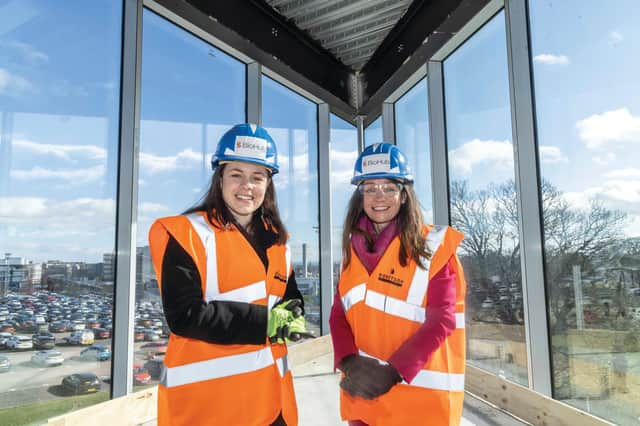 Can a geographical area have an attitude, a mindset, that makes it more likely to produce entrepreneurs who create businesses and bring jobs and growth to the area?
Deborah O'Neil believes so. She's seen examples of it in the north-east of Scotland in her two decades there. "There's a whole mindset that's different," says the chair of the Opportunity North East (ONE) Life Sciences Board and founder of clinical therapies developer NovaBiotics. "It's all about seizing opportunities, and being able to pivot. "It's developed organically, certainly assisted by the energy sector in recent decades, to the point where it attracts like-minded people who then tend not to leave the area. I'm one of them!"
O'Neil also feels the stubborn nature of north-east people helps with the long haul to bring life sciences products and treatments to market. "We're very different to most life sciences clusters , focused on growth rather than very early exits, often to non-UK acquirers," she says.
"There's definitely a thrawn mindset that we can stick this out and ultimately deliver more value than early-stage tech companies. The goal isn't just spinning out, then the earliest exit. It's an acceptance that it's a marathon, not a sprint, in life sciences. You see that in companies like TauRx and NovaBiotics and other late-stage drug development companies.
"We're building companies with people who have different skill sets that you don't have in less mature, early-stage research companies. Embedding that talent will further strengthen and differentiate the regional cluster from those elsewhere."
But how much of that entrepreneurial spark in individuals is innate, and how much can be taught? O'Neil grew up in a family that ran its own businesses and believes that helped. "I loved science, and being at the bench as an academic," she says. "But, I think I had that innate entrepreneurship. I grew up in that culture, and although I went into academic training, when I was faced with a choice – of the early science that became NovaBiotics being a side- project, or spinning it out and doing it properly – it wasn't even a question. I just did it."
Although O'Neil believes there is a fundamental "gut feeling and innate response" that sets entrepreneurs apart, she thinks structured training plays a vital role in embedding and developing an entrepreneurial culture.
That's why ONE is leading efforts to strengthen the entrepreneurial ecosystem and support in the region, working with partners including universities, local authorities and Scottish Enterprise.
ONE has already taken a group of leaders involved in delivering entrepreneurial education and training in the region to the world-renowned Massachusetts Institute of Technology (MIT) in New England to complete its entrepreneurship development programme. A second cohort will follow in early 2023.
"You can jump ahead if you have frameworks and networks around people with that 'entrepreneur gene'," says O'Neil. "It's about being able to marry that innate ambition with the pathway forward and a structure to build innovation-based businesses."
Participants in the MIT programme included members of the ONE sector teams and staff from the University of Aberdeen, Robert Gordon University and Scottish Enterprise.
"It has to be a partnership –private sector-led, but recognising that the academic world is an engine for ideas and innovation," says O'Neil. "I spun my business out of an academic institution [the University of Aberdeen] and the bio-entrepreneurs of the future see a pathway. Training, networks and signposting are all there, so when they are ready to 'fledge the nest', they see that the pathway into the private sector is a smooth one.
"There is a clear connection, and it's all interlinked with economic development agencies, private sector organisations like ONE, universities, and private companies. I really think we are getting that right here."
The final link in the chain is BioHub, a £40 million Aberdeen City Region Deal project developed and delivered by ONE working with industry and regional and national partners, including the Scottish and UK governments, Scottish Enterprise, University of Aberdeen and NHS Grampian. BioHub opens next year on the Foresterhill health campus in Aberdeen.
"BioHub is what's been missing from the life science ecosystem in the north-east," says O'Neil. "It's the physical embodiment of the industry component of the life sciences cluster – a home and destination for up to 400 bio- entrepreneurs and around 40 firms. If you're an ambitious entrepreneur, but still at the research stage in a university or hospital, you see this building - you know it's there, it's already got companies in it, and you can go there to connect with them now and have the aspiration to be located there yourself in the future.
"Inside, those companies are physically close and interacting. We know it will attract life science investors because it's much more attractive to come to meet three or four exciting new companies and keep track of what the sector's up to, rather than schlepping to Aberdeen just to see one.
"That's just the physical bit. What ONE is providing is that training and development pathway for entrepreneurs as they start up and grow their businesses, in partnership with the university and clinicians, to drive on that life sciences ecosystem."
O'Neil says the network of entrepreneurs and companies is vital: "Your competition is likely to be in Boston or San Diego, not elsewhere in Aberdeen. So we're bringing our companies together to have those coffees and discussions.
"We're collegiate and not competing in the same areas – we want success for each other. That's why BioHub will allow people to be co-located, to rub off each other, so many more connections and successes will come into play because of almost 70,000 square feet of fabulousness."
O'Neil says there is a vital role for companies like NovaBiotics in supporting the new generation of bio-entrepreneurs: "There's already an informal network of mentoring of new companies and individuals who can ask us the tough questions we asked ten or 20 years ago.
"I genuinely want to make it easier for that next generation – to remove the hurdles so, later, they pay that forward to the next generation.
"Each company and each person's journey will be different, but there are common elements you can always help with, and it's great for them to see stubborn companies that are still here, who have dug in and done well. That de-risks the opportunity of the new generation saying: 'I'm not doing it because I'm more likely to fail than succeed.'
"That's important to give them the push they might need to spin out their company, to make the leap. And I think we have got the recipe for success in the north-east."