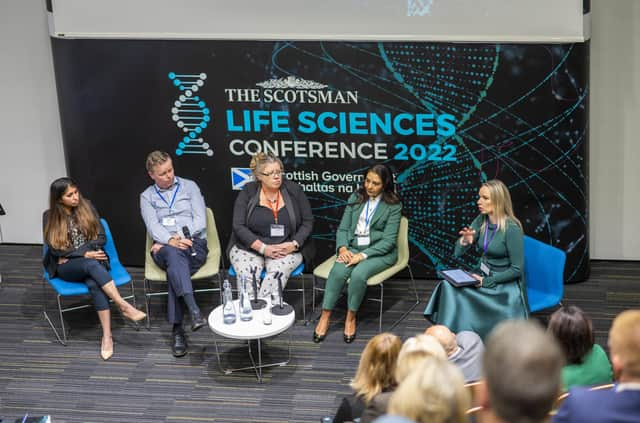 The Pharma Services session, sponsored by Bouygues Energies & Services, gave us a panel of leaders from four of the highest Scottish export performers at different stages of company growth.
The line up included Ishani Malhotra, founder of start-up Carcinotech, with Sarah Lynagh and Mike Piper, of high-growth enterprises Fios Genomics and Bioascent, respectively, and Rabinder Buttar, the woman behind the incredible start-up-to-exit story that is Clintec. Each shared the factors that have been critical to their international success.
First and foremost, each of the panellists articulated how international success begins with creating a product or service that adds great value to the customer – as perceived by the customer.
Next step, being there for the customer.
So, the question is – when the concept of "presenteeism" is so important – where in the world should small enterprises with finite resource be targeting? The panel were in enthusiastic agreement that it's the US that provides the best opportunities – specifically Boston and the West Coast.
Carcinotech's Malhotra described the infectious US appetite for collaboration, particularly among high-growth biotechs that have the investment but don't yet have the in-house capabilities; they know they need to outsource and they make decisions fast – a game-changer for our start-ups.
The industry research that supported the export plan for life sciences found that the highest export performers put their international success down to creating a proactive sales system.
The panellists described the customer identification, digital marketing and outreach systems they run from their Scotland HQs that generate high-quality opportunities for their technical salespeople or leadership teams.
This model was shared with the audience, and is one which many of the big multinationals adopt that can be replicated on a smaller scale... well, smaller scale for now.