Life Sciences: Building forward momentum
Aberdeen BioHub will support start-ups and well-established firms alike, writes David Lee
Some life sciences outfits can trace their roots back to the 1960s, others to the turn of the millennium – but not many claim to have origins in the 15th century.
"We always say that life sciences have been here since 1495, when they started teaching medicine at the University of Aberdeen," smiles Deborah O'Neil, chair of the Opportunity North East (ONE) Life Sciences Board and founder of clinical therapies developer NovaBiotics.
O'Neil predicts, the opening of the BioHub in Aberdeen will further accelerate the "breathtaking" pace of life sciences development in North-East Scotland, by creating a physical space to bring entrepreneurs and existing businesses together to innovate and collaborate.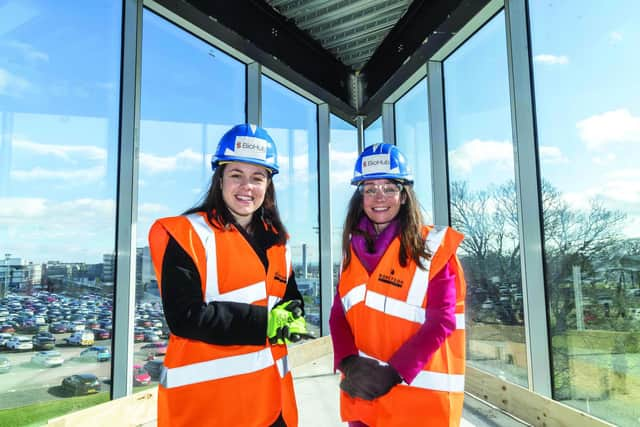 She believes that creating a private sector cluster around the new centre, on the health campus at Foresterhill, signals an exciting new chapter in the region's life sciences journey.
"The academic strength of the life sciences cluster has long been clear and the North-East is also known for great clinical research – but the commercial aspect of the cluster was not so well-recognised," O'Neil says.
"Now, through ONE Life Sciences, the private sector is taking a lead and delivering that third strand of the triple helix. We've had successful spin-outs, and we're bringing that private sector-led focus, driving that pace of change and momentum that's quite frankly been breathtaking."
O'Neil has seen the BioHub grow from its very earliest inception: "I remember the architect's initial sketches, and seeing it built is just phenomenal. It will bring together the companies we have in one physical location in a commercial space, right next to the health campus and academics – and help develop the bio-entrepreneurs of the future that we have in the two universities.
"It will accelerate the culture change to drive more bio-entrepreneurial activity. It's very exciting."
The BioHub was supported by £20 million through the Aberdeen City Region Deal, funded by the UK and Scottish Governments. The deal partners are Aberdeen and Aberdeenshire councils and ONE, a private sector-led catalyst for economic development with a ten-year funding commitment from The Wood Foundation, set up by business tycoon and philanthropist Sir Ian Wood and his family.
ONE has committed up to £5.6m to the BioHub, which will host events later this year and welcome its first tenants in 2023.
O'Neil says more mature companies, including NovaBiotics and TauRx – which is at an advanced stage of developing a drug to delay Alzheimer's – have a key role to play in making BioHub the physical embodiment of wider cultural change.
She adds: "We want to see new companies being created, and existing businesses maturing and growing – and that physical space is important for all of that to happen.
"We want to see 400 bio-entrepreneurs there from start-ups and new businesses, in that shared space, to be part of this network that's growing and maturing – and we hope the more advanced companies will take bigger spaces in the hub too.
"We also want companies from elsewhere to come here as part of an inward investment into this fantastic ecosystem that we have in North-East Scotland."
O'Neil continues: "My ambition and hope overall is for a significant increase in the number of companies we host in the North-East over the next five to ten years [the target is to grow to 50 businesses from around half that number currently].
"It's that classic thing of attracting more people to an exciting cluster and to take advantage of the opportunities for transferable skills."
What are the specific strengths of the North-East that make O'Neil confident that the BioHub and life sciences cluster will succeed?
"I think the North-East is entrepreneurial, and quite stubborn as well. Most of the later-stage drug discovery across the Scottish life sciences cluster is here – companies with product candidates already in clinical trials and heading towards the market. North-East companies are very good at staying the course and taking things further down that development pathway. That definitely makes us stand out."
NovaBiotics is in phase three clinical development with a candidate therapy to tackle community-acquired pneumonia.
O'Neil adds: "We've got other late-stage compounds as well. Our goal is to head towards approvals and market and commercialisation of our product candidates and we're very close to being there.
"Our therapeutics are being developed for inflammatory, respiratory and infectious disease, which are very hot topics at the moment. The past two years have obviously put a big spotlight on what we're doing and we're excited to be heading towards the commercialisation stage with some of our assets – and to be part of this fantastic ecosystem."
O'Neil says this ecosystem is being driven by the post-pandemic impetus to deliver healthcare solutions faster, and at less cost –plus a focus on personalised medicine and the potential of digital solutions and data to support better outcomes for patients.
And she is optimistic that the North-East cluster will be able to capitalise on the impetus to grow and thrive – and that the BioHub can become self-sustaining within the first five years.
"I'm more optimistic than ever for life sciences in the North-East," O'Neil concludes. "There's a great vibe and I'm looking forward to seeing an increase in the company base and in jobs, and that evolution of skills."