Kirsty Black: distilling success with Arbikie gin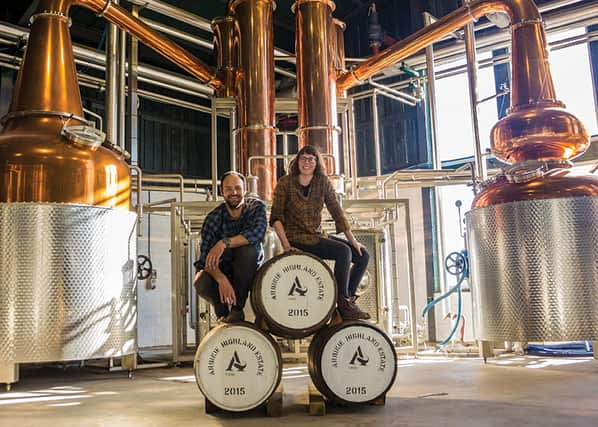 Scotland's gin industry is growing at an exponential rate and its success can be laid at the feet of not just the wonderful brands that are setting the global spirit scene alight, but also the hard work and enthusiasm of the people behind them.
They say passion and drive are infectious and in Kirsty Black, the master distiller at popular Scottish spirit brand Arbikie, both are evident in abundance.
Part of the young crop of rising stars that are bringing new ideas to an industry that's already a hot bed of innovation, Kirsty is leading the next generation of successful Scottish distillers.
Having previously worked in a different field in countries like England and Switzerland, Kirsty found her calling when she decided to enroll in a Masters Degree in Brewing and Distilling at Edinburgh's Heriot Watt University in a desire to learn more about brewing, a hobby she had taken up while previously working as an Quality Engineer.
Kirsty said: "It furthered an interest I already had developed through home brewing and working in maltings during summer holidays.
"During my Masters Degree, I realised that I really enjoyed distilling. Before I had always assumed it would be brewing that I would like best.
"I discovered it was an amazing process to put everything together and produce a clear liquid that could be flavoured in any way."
This new found interest became a passion when Iain Stirling (one of the Arbikie Distillery owners) approached the university in search of a student to help them develop gin recipes.
Arbikie, the single estate distillery, which had previously made its name as one of Scotland's first distillers of potato vodka, were moving into the field of juniper-led spirit, and they needed some fresh perspective and talent to take them in the right direction.
Kirsty's decision to join them seemed like a match made in heaven.
"I was offered the job of project managing the distillery build. This then evolved in to developing all of our products and the day to day production and running of the distillery."
As part of a two person team - alongside fellow Heriot-Watt aluni and production manager Christian Perez-Solar - Kirsty went on to oversee the development of Arbikie's gin brands and was even given the honour of having the first incarnation named after her.
Launched in 2015, Kirsty's Gin was the second spirit to be released as part of Arbikie's portfolio, it gained immediate recognition for its smooth taste and balanced use of botanicals, winning medals at several international spirits events.
Kirsty said: "I wanted to create something truly unique with a particular focus on Scottish botanicals, inspired by the environment of the distillery and the Angus region.
"Not many distillers get the chance to have a drink named after them; so I hope all the gin enthusiasts out there enjoy drinking it as much as I enjoyed making it."
Taking two years to develop, the gin was made using botanicals that Kirsty believed best represented Angus, the area in which the distillery resides.
Kelp, Carline Thistle and Blaeberrys, which grow wild in the Angus area, were used alongside the juniper and Arbikie's own potato spirit to create the now hugely popular gin.
The young distiller said the job keeps her on her toes, with the sheer variation of tasks she takes on each day being a huge part of why she loves her distilling career so much.
"With there being just two of us, we need to manage every single aspect of keeping the place operating.
"This isn't just the routine milling, mashing, distilling, packaging, and cask filling but also everything that goes on in the background.
"One day this might see me stuck in front of a computer doing the record keeping but the next could see us out in the fields planting botanicals, rebuilding a pump or unloading a lorry of casks."
As if all of this wasn't enough, she even finds time to continue her studies, she commented: "Through my various jobs I have always been studying something else on the side – for example when I worked in medical devices I studied forensic medicine and now, as a distiller, I am also doing a PhD looking at the use of legumes in intercropping and the alcohol industry."
Kirsty said that the life of a distiller isn't as glamorous as people believe it to be but should people take inspiration from her story they'll realise that it is incredibly rewarding, and she offered this advice to any who might wish to follow in her footsteps: "I would advise that they try and get some hands on experience first to ensure they understand what the job involves.
"There are a lot of long days and physical work. If they try it out and still want to go for it i'd ensure you have a good technical grounding as well as practical knowledge."
Kirsty added that the flexibility of working for Arbikie will help her to continue to develop exciting new products.
"One of the joys of working for a family business is that we will have a core range of drinks but can try out variations.
"Unlike most businesses which are very fixed, we have the flexibility at Arbikie to take one or two days off to try something new.
"For someone in my role, this offers the opportunity for further challenges and creativity that I enjoy very much."
• Main picture: Kirsty (pictured with Christian) at the distillery. Contributed by Arbikie