John Lewis: Bonus blow and massive cost-cutting as retail icon slumps to £78m loss
John Lewis will not be handing staff a bonus for only the second time since 1953 after the retail giant slumped to a full-year loss, with fresh cost-cutting also on the cards.
Bosses said the partnership will now increase cost-cutting efforts to complete a turnaround of the group's financial performance. John Lewis Partnership (JLP), which runs the department store chain and Waitrose supermarket business, recorded a £78 million loss before exceptional items for the year to January 28. That marks a slump from a £181m profit in the previous year, with the group blaming "inflationary pressures". JLP recorded a £234m pre-tax loss, once additional costs were taken into account, such as significant write-downs on its retail properties.
Chairwoman Dame Sharon White apologised to staff that they would not receive a bonus payment following a "tough set of results". In a letter to staff, White said: "You've been exceptional in what has been another very tough year. Two years of pandemic and now a cost-of-living crisis. Inflation has had a big impact on the partnership and sent our costs soaring - up almost £180m on last year. I am sorry that the loss means we won't be able to share a bonus this year or do as much as we would like on pay."
She noted that the group had made a £500 (pro rata) cost of living payment to its "partners" and provided free food over the winter.
The retail group said it fell to the full-year loss after customers bought less, with overall sales declining by 2 per cent to £12.25 billion for the year. Waitrose sales fell by 3 per cent to £7.3bn, though John Lewis recorded modest 0.2 per cent growth to £4.94bn. The partnership plans to triple its cost savings target from £300m to around £900m by January 2026. It said the increased savings are likely to include an extra £236m from further "simplification". Previous simplification efforts included changes to its head office, which resulted in 1,500 jobs being cut by 2021.
JLP said it has come under significant pressure from rocketing inflation over the past year, reporting £179m in extra operating costs as a result. The results came a day after the group appointed turnaround specialist Nish Kankiwala as its first chief executive, in a shake-up of the firm's leadership structure.
Susannah Streeter, head of money and markets at investment platform Hargreaves Lansdown, said the cost-of-living crisis has been "blowing a chill wind through the retail sector" and whipped up a "hurricane of problems" for John Lewis. She noted: "Although the high street has shown pockets of resilience among retailers offering value-for-money essentials, the nice-to-have items which are John Lewis' bread and butter have been dropping out of shopping baskets fast. Waitrose, in particular, has been sideswiped by the trend, with essentials rather than treats a priority. Although a big chunk of the losses were due to a write down in the value of Waitrose stores, if you strip out exceptional items, losses still came in at £78m, compared to a £181m profit last year.
"The wool rug has been pulled from underneath the prized annual bonus again, after it was restored last year, as losses have ballooned. The post-pandemic splurge of lockdown savings couldn't be maintained, as disposable budgets have been eaten up by rising bills. We may be spending more overall, as goods are more expensive, but in terms of volumes, retail sales are still below pre-pandemic times. With more money being taken out of the economy through tax increases, consumers are likely to continue to rein in expenditure."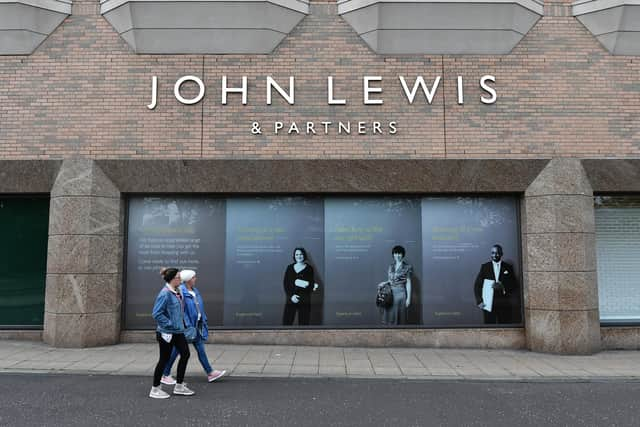 Streeter argued that with department store footfall dwindling as retail parks continue to draw shoppers away from the high street, John Lewis was "sensible" to be shrinking store footprints to find more diverse revenue streams from its property portfolio. She added: "It'll mean it will become less of a retail lynchpin but offers a greater chance that John Lewis will stay a feature on the high street and in shopping centres for many more years to come."
She said the appointment of Kankiwala as chief executive was designed to inject more energy into the pursuit of profits. The former Hovis boss will take on the newly created role, to support White with the day-to-day running of the retail giant. Kankiwala will take up the role on March 27, having joined the group as a non-executive director in April 2021. The leadership shake-up will see executive directors of John Lewis and Waitrose report to the new chief, who will then report to White.
JLP parted ways with previous John Lewis executive director Pippa Wicks last month. The changes come as the group continues an ambitious transformation plan which has seen it expand into new areas such as rental properties and shut a number of department stores, including its Aberdeen branch.
In her letter to staff accompanying the annual results, White added: "Looking ahead, the external environment is no less uncertain. Even as headline inflation is starting to fall, the partnership is still seeing costs rise. As we need to become more efficient and productive, that will have an impact on our number of partners. That's a massive regret to me personally. It would be difficult enough in any business. It's particularly tough in the partnership, when everything we do is with one goal in mind: 'happier people, happier business and happier world'. By seizing the opportunities to transform, we will secure the partnership's future for another 100 years."
Comments
 0 comments
Want to join the conversation? Please or to comment on this article.