Inverurie firms join forces to create leading architecture name
Two well-known firms have joined forces to create a dynamic new name in architecture and planning excellence.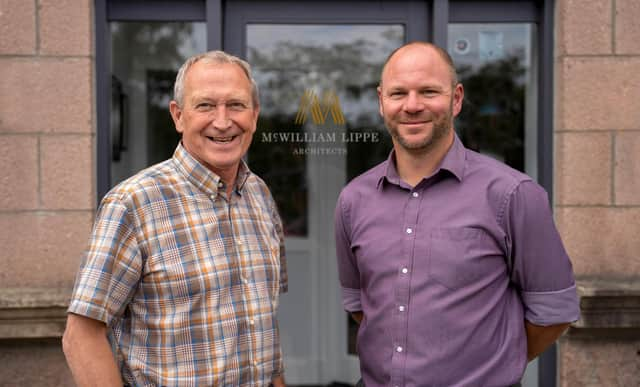 Willie Lippe (left) and Ross McWilliam (right)
Award-winning architectural practice and planning consultancy Lippe Architects + Planners has been bought by fellow thriving Inverurie-based business RJM Architectural Design for an undisclosed sum.
All staff will transfer to the newly created McWilliam Lippe Architects, which will employ a multidisciplinary team of 12 people including an in-house planning consultant and a conservation-accredited specialist.
It is anticipated that the current headcount will increase in coming months as the new company seeks to capitalise on additional opportunities in both traditional and emerging markets.
RJM Architectural Design has experienced rapid growth in recent years and is particularly well established in the self-build sector.
By adding capacity thanks to the acquisition of Lippe Architects + Planners, it is anticipated that the delivery of a comprehensive and diverse range of services will act as a vital springboard towards further growth.
Ross McWilliam of RJM Architectural Design said: "We are delighted to bring together two local businesses and successfully combine their resources for the benefit of all existing, returning and prospective clients.
"The team has a wide range of experience in all manner of residential and commercial work, and this will allow us to prosper in our chosen markets, from small domestic projects to large-scale developments and master planning with specific disciplines."
Lippe Architects + Planners' Director/Principal Architect Willie Lippe added: "This announcement represents an exciting new chapter in the evolution of the business and will create new opportunities which will foster future sustainability and success.
"The RJM Architectural Design ethos is perfectly aligned with our own founding principal and ongoing drive to provide services which meet customer needs and exceed expectations.
"We look forward to exploring the many benefits that coming together will reveal, for us and for our customers."