Inverness surge helps regional airports continue post-pandemic recovery
Passenger numbers at airports across the Highlands and islands are continuing to recover towards pre-pandemic levels, new figures suggest.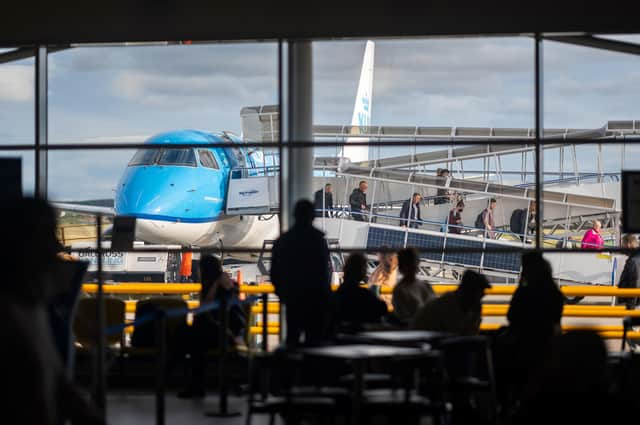 Regional airport operator Highlands and Islands Airports Limited (HIAL) has reported a 10.4 per cent year-on-year increase in passenger numbers for the first quarter of its 2023/24 financial year. During the three months from April to June, 425,222 people used the key airports in the HIAL network, up from 385,196 for the same period a year earlier. The latest total represents 87.3 per cent of the level the airports recorded in the equivalent period before Covid-19.
There were significant double-digit increases at Inverness (up by 17.6 per cent to 240,631 passengers), Campbeltown (+17.1 per cent to 2,071 passengers), Islay (+14.1 per cent to 8,747 passengers) and Tiree (+10 per cent to 3,802). Figures at Kirkwall were up by 7.1 per cent to 37,221 in the quarter, Barra rose by 4.7 per cent to 3,953 passengers, Benbecula was up 4.4 per cent to 8,280 and Wick John O' Groats jumped 29.5 per cent to 2,774. Both Stornoway (down 0.3 per cent to 26,788) and Sumburgh (which dipped 0.6 per cent to 81,262) recorded slight decreases during the three-month period, while Dundee Airport recorded a drop in numbers from 10,435 in the same period last year to 9,688 in the first quarter of 2023/24.
George Farquhar, director of airport operations for HIAL, said: "Leading into what is a hugely important 2023 tourist season, the new figures are encouraging and highlight the key role our people and airports continue to play to the Highland economy in providing vital connections to and from our iconic Highlands and islands destinations. With almost 1.5 million people having passed through our 11 airports across the Highlands and islands over the past 12 months, the economies in each of those areas will have benefited significantly from the added investment and spending they bring with them."
HIAL is a private limited company wholly owned by the Scottish Ministers and responsible for the management and operation of 11 airports: Barra, Benbecula, Campbeltown, Dundee, Inverness, Islay, Kirkwall, Stornoway, Sumburgh, Tiree and Wick John O'Groats. The airports connect the communities to the rest of the UK and international destinations via Amsterdam, London, Edinburgh, Glasgow and Manchester.
Comments
 0 comments
Want to join the conversation? Please or to comment on this article.