Interview: Jacqui McLaughlin, chief executive of workplace safety focused Reactec
Jacqui McLaughlin has for just under a decade led Reactec, which says it helps firms boost the health and safety of their staff with its workplace wearables and cloud-based analytics.
Milestones in the history of the company include last year being visited by the Princess Royal at its Edinburgh headquarters to meet the team behind its Covid-19 social distancing tech.
You're a Scottish tech business. Explain what you do and the history of the company...
We help our clients create healthier and safer work environments by giving them real world insight into the tangible risks faced by their workers every day.
We started as a spin-out from Edinburgh University in 2001, with an expertise in the human response to vibration and developed sensor technologies and data analytics. This provided an unprecedented view of the risk of developing Hand Arm Vibration Syndrome (HAVS or Vibration White Finger) for workers regularly using power tools.
Since that time, with the support of our major shareholder, Edinburgh-based [business angel investment syndicate] Archangels, we've further developed that expertise to create an ecosystem of wearable technologies and cloud-based analytics that focus on the connected worker concept. This means that employers, through the use of connected wearable technology, can help their people to stay safe, whether that's from being exposed to vibration, dust or noise or from having to work near potentially dangerous equipment such as forklift trucks.
You've just had what you say is your most successful first half of the year ever. What do you put that down to?
Without a doubt the step-change in sales has been driven by the release of our third generation workplace wearable and data management system, R-Link. It's a radical innovation, not just in wearable tech, but the supporting ecosystem for data management and analytics.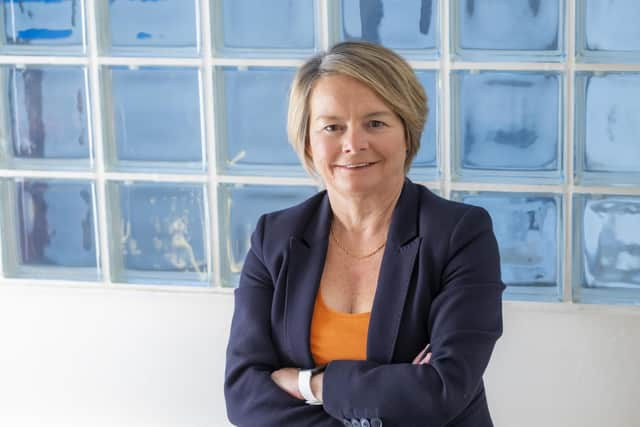 We've leveraged those decades of experience of developing tough workplace wearables for harsh environments and integrated some of the latest sensor and communication technologies in a single device. The result is a versatile device, principally worn on the wrist, with fantastic utility, greatly enhancing the value to the end client.
This tech was actually born out of the Covid-19 pandemic when we quickly adapted our HAVwear wrist-worn technology to identify when one wearer was closer than two metres from another, and send them a warning. This social distancing technology helped some companies to get their people back to work, within the rules at the time. But more than that, it gave confidence to the users not only that they were keeping what was seen as an appropriate distance from their colleagues, but that their employer cared sufficiently to help them do so.
Once the worst of the pandemic was over, we were able to develop that concept further to create the next generation of proximity detection technology.
You've been a campaigner for HAVS victims, but is your attention more on proximity detection now? Has HAVS gone away?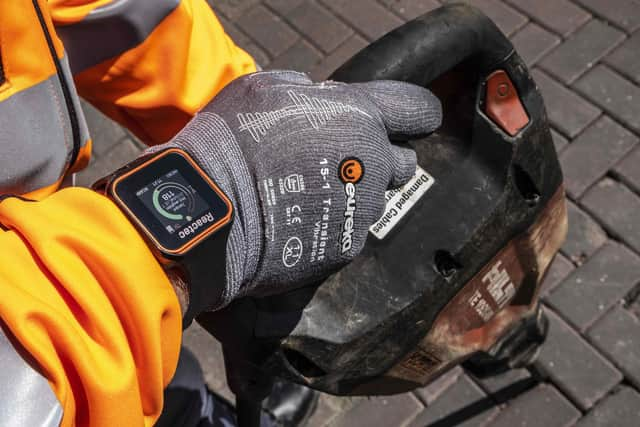 Firstly, HAVS has not gone away, and it remains one of the most debilitating of industrial conditions for those affected by it. But many of the workers who face this type of risk are also exposed to other dangers in the workplace, such as straying too close to hazards such as moving vehicles or machinery.
It was therefore a natural next step for us to tackle this and one of the first additional applications introduced when we launched R-Link was the ability for a worker to receive warnings from their R-Link watch when they came too close to a physical hazard such as moving vehicles or equipment. This is a risk that represents the second highest cause of fatalities in the workplace in the UK construction sector.
By providing a single device to manage multiple risks, we increase the likelihood of technology being adopted to manage either or both risks. In other words, the safer it makes the user, the more likely they are to wear it.
What other applications do you envisage for your technology. Will artificial intelligence (AI) play a role in the future?
We believe the R-Link eco-system is very versatile already. We plan to develop complex segregation applications for it, such as creating virtual fences and geofencing that transpose a digitally created area on a map into zones around physical devices.
There are several areas AI will play a role in within our technology. It could help create smart automated client support from ingesting all of our user guide and training materials, for example. Ultimately, with the support of machine learning, we could intelligently interrogate Reactec's database of more than 20 million records on the risk faced by front line construction and industry workers from their use of everyday power tools.
While some people are understandably cautious about AI, it definitely has a place in the future of technologies such as ours.
Do you think companies take health and safety seriously enough?
In the UK, I would say most companies take health and safety seriously and prioritise the well-being of their employees. Of course, there are legal requirements that employers must comply with, and there are heavy sanctions on those that don't look after their people, so, understandably perhaps, this is where most companies focus their energy.
However, with about 12,000 people dying every year from lung disease linked to past exposures at work I would challenge whether legal compliance is enough. Many workplace risks can be regularly monitored as opposed to managed through a sporadic risk assessment. Data on the actual risk experienced would enable safer and healthier workplaces to be achieved by design as opposed to guesswork. Real world exposure analytics support risk prevention as opposed to purely providing mitigation.
What do you think the next major step forward will be in the health and safety space?
Making the connected worker a reality. Linking remote managers with their at-risk employees with real time data delivered though emerging Internet of Things, connectivity, data management and analytics technologies.
Comments
 0 comments
Want to join the conversation? Please or to comment on this article.