Interview: Andrew McPherson, The Balmoral - From tomato chopping to running one of Scotland's most famous hotels
Andrew McPherson, recently appointed as the new general manager of Edinburgh's The Balmoral hotel, tells Scott Reid about his career to date and the challenges that lie ahead for one of Scotland's most prestigious and famous institutions.
Can you tell us a bit about how you got into the industry and your career to date
I started my career in hospitality during my teenage years on the Isle of Wight. I worked as a kitchen porter at the Countryman pub, where I learnt the art of how to run a kitchen and where I fell in love with hospitality. From there I was transferred to another pub where I was promoted to the position of "chef"; here I chopped tomatoes, fried scampi and dressed pigeons. After a few years working part-time while at school, I decided that this was the career path for me and made the big move to Bournemouth to study the trade at university. I went armed with much enthusiasm, unbelievable tomato chopping skills, and a dream of one day working as a general manager at one of the UK's most luxurious hotels.
My new role at The Balmoral is actually a return to the Forte family; after graduating from university, I completed a management trainee scheme as part of the Forte Group. I then went on to work at numerous properties throughout the UK and Europe including The Penina Golf Resort in the Algarve, The Beach Plaza in Monaco, Grosvenor House in London and The Bath Spa Hotel in Bath. From there I went on to work at luxury hotels such as Lucknam Park, Skibo Castle and Swinton Park Hotel before becoming general manager at Grantley Hall, which is located near the Yorkshire Dales.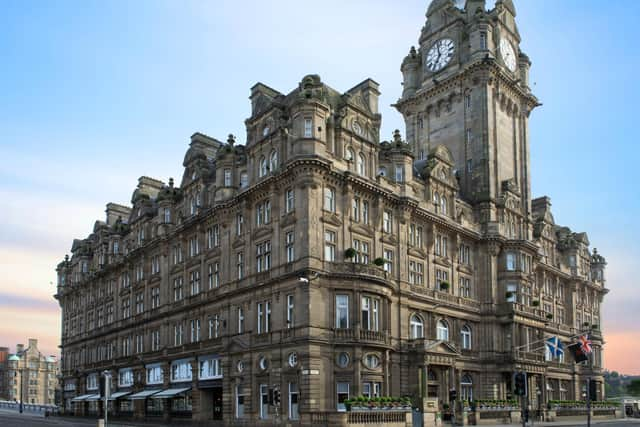 I oversaw Grantley Hall's development and debut during my time there and shaped it into the five-star hotel it is today.
After six years at Grantley Hall what are the main changes moving to Edinburgh's famous Balmoral?
The Balmoral is an iconic hotel which dates back to 1902 and is firmly established as an Edinburgh landmark and an important part of the city's skyline. My aim is to continue its legacy. I have loved seeing how many people hold a special place in their hearts for this hotel and I am honoured to now be in charge of so many cherished memories.
This has been the main difference for me, moving from a very newly opened hotel which is only now beginning to form its own history, to a very historical hotel which already has its own stories and memories. Another significant difference between the two is the location, Grantley is based in the country and appealed to those looking for a retreat surrounded by greenery. The Balmoral is in the heart of a busy Edinburgh city centre and provides a luxurious escape from the lively and energetic surroundings.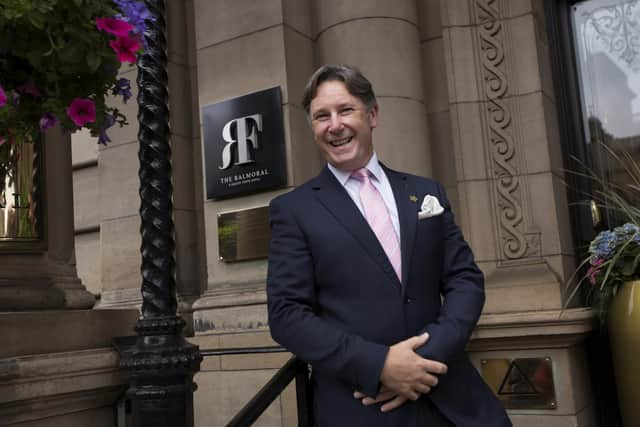 What are the main challenges you face in your new role?
The Balmoral is Scotland's only Forbes Five Star hotel and this is something I will continue working hard on, alongside our incredible team, to make sure we retain this prestigious award. This is very important to us and we take great pride in this achievement. It is also crucial for our international positioning and our efforts to continue attracting North American guests from our key feeder market. Additionally, I can speak on behalf of most of the hospitality industry when it comes to the recruitment struggle post Covid and Brexit. We are aware that this is an ongoing issue which is impacting the industry far and wide and we are continuing to work on creative recruitment solutions.
How is the cost-of-living crisis and soaring costs impacting the business and wider sector?
Like most businesses we have been impacted by the cost-of-living crisis and this is something we continue to deal with both as a business and on behalf of our employees. We are working on supporting our staff members as much as possible. In May of last year The Balmoral introduced an additional service charge which goes directly to all our employees to support their challenges with the cost-of-living crisis.
Furthermore, with the soaring prices comes higher expectations from guests and more demand on us to deliver. We want to always fulfil this and therefore we continue to work hard everyday to provide the best service we can, we take pride in what we do.
Do you feel Edinburgh has become a victim of its own success in recent years and the hotel market in the city is perhaps now saturated?
Our beautiful city continues to attract tourists from all over the world and this is evident when looking at the high occupancy rates across hotels in Edinburgh. There are also many new hotels opening from budget hotels to luxury international brands such as the W Edinburgh. The attractiveness of the city means we have tourists visiting all year round. Having a busy capital city with a renowned worldwide reputation can only benefit Scotland as a whole.
How do you keep the hotel at the top of its game?
The Balmoral is famed for its beautiful exterior and interior, from our mesmerising clocktower to our acclaimed culinary and bar experiences. My aim is to make sure we continue performing to the utmost standard and withhold our impressive position in the capital. The hotel continues to enjoy investments from the Rocco Forte family. We have renovated all bedrooms and suites over the last few years. Additionally, in 2018, our Brasserie Prince restaurant and Bar Prince opened which has been extremely popular.
In the last year we have renovated our swimming pool and gym area. Our gym's interior design is the creative work of Olga Polizzi, Rocco Forte Hotels' director of design, who has given an energetic and inviting feel to the space. Looking longer term, we are planning to renovate our spa area and our events spaces.
Comments
 0 comments
Want to join the conversation? Please or to comment on this article.