Interest rate headache: Record pay rises likely to trigger half-point hike within weeks
A holiday hangover could be on the cards for millions of borrowers next month amid the prospect of a further half-point hike in interest rates in a bid to break a vicious wage-price spiral.
Analysts believe the Bank of England (BoE) could match June's shock half-point increase in interest rates at August's meeting in a move that would take the base rate to 5.5 per cent and result in fresh mortgage and loan misery. It comes after official data showed that wages have increased at a record rate amid fears that inflation could remain stubbornly high.
The Office for National Statistics (ONS) revealed that average regular pay, not including bonuses, was 7.3 per cent higher in the three months to May compared with the same period last year. That matches the revised figure for the previous quarter and is the joint highest since records began in 2001.
UK government ministers have been calling for wage restraint in an effort to keep a lid on stubbornly high inflation rates as the cost-of-living crisis shows little sign of abating. The most recent figures show the annual rate of consumer price inflation sitting at 8.7 per cent though food inflation remains well into double digits.
Sterling pushed higher in the wake of the latest ONS data with the market pricing in a 70 per cent chance that the central bank's monetary policy committee (MPC) will vote for a half-point rate hike in just a few weeks time. The ONS also revealed that unemployment rose unexpectedly over the quarter. It said the UK jobless rate jumped to 4 per cent in the three months to May, from 3.8 per cent in the previous quarter.
Matthew Ryan, head of market strategy at global financial services firm Ebury, is forecasting a half-point rate increase in August, with a "real risk" that the bank base rate will top out above 6 per cent. He said: "[This] labour report will do little to allay fears surrounding the ongoing cost-of-living crisis in Britain. UK inflation is already running far hotter than policymakers had hoped, and price pressures will struggle to abate any time soon so long as earnings continue to grow at the current scorching pace. Financial markets are now pricing in a peak in UK rates of around 6.35 per cent in the first quarter of 2024, which would surely make the BoE the most hawkish major central bank in the world between now and then. We think that markets are slightly ahead of themselves, although we do expect another 50 basis-point hike from the MPC in August."
Pushpin Singh, an economist at the Centre for Economics and Business Research (CEBR), said the earnings data highlighted the risk of a wage-price spiral to inflation, adding: "Wage growth remains uncomfortably high for the Bank of England, as it prepares for its next interest rate hike in early August. The data show some early signs of a loosening in the labour market with the rate of unemployment increasing to 4 per cent, but this is unlikely to be enough to convince policymakers that sufficient progress has been made."
Employment levels also grew, according to the latest statistics, as the number of people recorded as economically inactive declined, with the number of those not working due to long-term sickness dipping for the first time since last year. Job vacancies fell by 85,000 to 1,034,000 in April to June, against the previous quarter. It was the 12th consecutive drop as hiring by firms comes under continued pressure.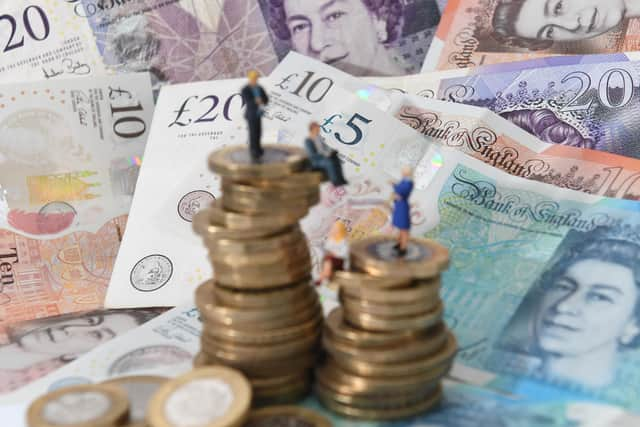 ONS director of economic statistics, Darren Morgan, said: "Total employment grew in the latest three months while the number of people actively looking for work also increased, both driven by men rejoining the labour market. Pay excluding bonuses has again risen at record levels in cash terms. Due to high inflation, however, the real value of weekly earnings are still falling, although now at its slowest rate since the end of 2021."
Think-tank the Resolution Foundation said the jobs market was normalising as men return to work but warned that the impact on still "abnormally high" pay growth would take time. Over the past three months, falling inactivity has fed equally into higher employment and higher unemployment, it noted, so there are more people in jobs but also a looser labour market. However, this loosening has not yet resulted in a weakening of nominal wage growth.
Charlie McCurdy, economist at the Resolution Foundation, said: "The latest labour market stats are likely to start further head-scratching for policy makers. Further falls in economic inactivity as the jobs market returns to its pre-pandemic state is unambiguously good news, with men in particular returning to work. But while there are signs that the jobs market is cooling, notably the continued fall in vacancies, it is yet to show up in the pay data. It will take time for wages to normalise."
The Bank of England uses base rate rises as a tool to try to subdue inflation and that base rate is currently sitting at 5 per cent, following 13 rises in a row. However, the bank, headed by governor Andrew Bailey, has faced criticism over its single-tool approach, particularly as the inflationary pressures have been exacerbated by global energy costs that are beyond its control. Inflation peaked at 11.1 per cent last October and many experts are now questioning whether Prime Minister Rishi Sunak can meet his pledge of halving double-digit inflation by the end of this year.
Comments
 0 comments
Want to join the conversation? Please or to comment on this article.