Industry bodies make plea to Scottish Government to reopen building sites
Pressure is building to gradually reopen non-essential construction sites in Scotland following moves to restart activity south of the Border.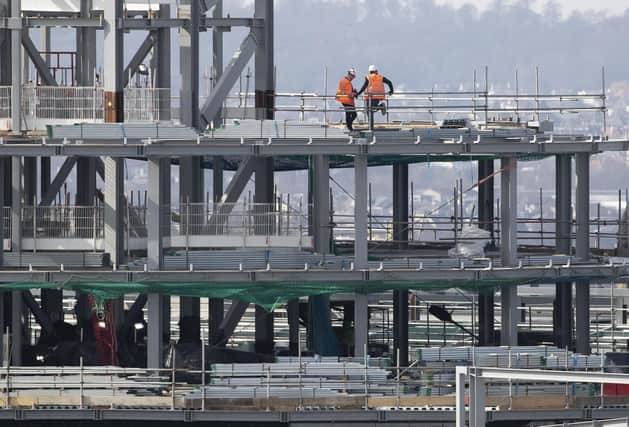 Bodies representing more than 13,000 skilled and trainee construction and property professionals in Scotland have called on the Scottish Government to implement a gradual re-opening of building sites "as soon as possible".
In a letter to local government and housing minister Kevin Stewart, the Royal Institution of Chartered Surveyors (Rics), Royal Incorporation of Architects Scotland (RIAS) and Chartered Institute of Building (CIOB) point out that "urgent action" is needed to avoid a long-term, detrimental impact on the construction sector and the wider economy.
The move comes as major housebuilders and construction businesses look to get up and running again.
Persimmon said today that it was looking to restart operations on its sites south of the Border. The Yorkshire-based firm said it will begin a "phased re-opening" of its sites from Monday to help complete new homes under construction. Its announcement came after rivals Vistry Group and Taylor Wimpey unveiled their own plans to return to work.
Signed by John Edwards, chair of Rics in Scotland; Gareth Williams, chair of CIOB Glasgow Hub; and Robin Webster, president of RIAS, the joint letter to the Scottish Government warns that many projects in Scotland are at significant risk.
The business leaders argue that unless measures are put in place now, outcomes will include long-term skills shortages, cost increases and reduced productivity.
"One of the biggest impacts of closed construction sites is that we are finding contractors and supply chains are now engaging in a comprehensive furlough of staff to the point that a state of paralysis is setting into the construction industry," the bodies state.
"Many projects are in jeopardy, even at pre-construction phase, because the supply chain cannot submit quotes and prices. Any delay in project planning and procurement will cause projects to be cancelled, and it could prolong the recovery."
They believe that the construction industry is well placed to police itself through relevant regulations, including additional Health and Safety Executive (HSE) enforcement.
In addition to the lifting of the lockdown on building sites, the bodies have called on ministers to introduce a VAT rebate fund for home repair and maintenance, and energy efficiency improvement measures, with parity between new build and existing properties. There is also a call for the prioritisation of preconstruction design and specification work leading to tenders, ensuring there is a "flow of activity".
Comments
 0 comments
Want to join the conversation? Please or to comment on this article.