Independence question dodges the coronavirus deep freeze: Business comment
With political bandwidth utterly dominated by Covid-19, this past year has seen countless pre-pandemic agendas and priorities consigned to the deep freeze. Some may not see the light of day again.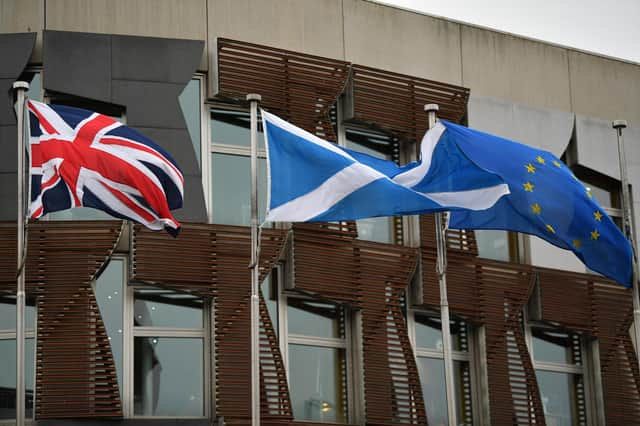 For those which are allowed to defrost, it remains unclear how palatable the priorities of "the before-times" will be when this crisis, which began as a public health emergency, has transitioned into a grinding economic slog which will last many years, if not decades.
That said, some political agendas have dodged the freezer and not only survived, but actively thrived through the pandemic.
Despite successive SNP wins at Holyrood and Westminster since the 2014 referendum, a brace of fundamentals rendered the prospects of Scottish independence low at the start of last year.
First, in the face of a sustained UK government mantra of "Now is not the time", no clear legal route towards a second vote appeared navigable. Second, even if another legal plebiscite were allowed to proceed, polls (though having narrowed slightly) continued to indicate a majority for No.
Pending some interesting (if under-reported) legal proceedings in the Court of Session, the first of these fundamentals remains largely unchanged. There is no indication that No 10 intends to grant a second referendum even in the event of a pro-independence majority being returned at May's Holyrood election. This poses the well-rehearsed conundrum of what "Plan B" should be pursued by supporters of independence in the event that futures requests are continually rebuffed.
The second fundamental has changed though. Since June, successive opinion polls have indicated a sustained majority in favour of Yes, by a margin roughly equivalent to that which won the day for No six years ago.
Setting aside any appraisal of the relative merits or risks of holding a second referendum, or indeed of independence or remaining part of the UK as a final outcome, the game is clearly changing.
Without going into the weeds of political calculations already well underway in Edinburgh and London as to how both sides will "game" the coming months and years, this public opinion shift will of course be the central driver of thinking for both No and Yes. Whereas the 2014 referendum was agreed to by a UK government which looked at the numbers and was confident of victory, the independence movement of the 2020s enjoys a newfound confidence from the same source.
Businesses operating in all sectors will watch with close interest as the issue gains further oxygen and activity intensifies from both sides, when the fog of coronavirus and Brexit begins to thin.
Still carrying the scars of (often at times inadvertent) forays into the political crossfire of two highly-polarised referenda in the UK, the voice of business is unlikely to be the loudest on the Scottish constitutional question in the near term. This is perhaps understandable, not least as the country is still only in the foothills of approaching a second referendum, the summit of which may of course never be reached.
Of course, if a second referendum does come into focus and if businesses gauge it necessary, then they will undoubtedly find a way to make their voices heard.
It is perhaps a function of the sheer scale of change that businesses are already weathering through the pandemic and Brexit, but there are indications that the potential for constitutional change in Scotland may not feature as highly on risk registers as it once did.
Ipsos Mori's annual "Captains of Industry" survey found recently that little over one fifth of Britain's biggest businesses perceive independence as posing a significant risk, and 95 per cent were confident of their company's ability to adapt to any consequences in the event of independence.
We remain a long way from another referendum being probable in the near term. Events, surprises and political upsets abound in this new era though, and businesses could do well to point some resource towards considering the potential impacts, opportunities and operational practicalities, that constitutional change in Scotland may entail.
- Andrew Henderson, director of public policy at Pinsent Masons
A message from the Editor:
Thank you for reading this article. We're more reliant on your support than ever as the shift in consumer habits brought about by coronavirus impacts our advertisers. If you haven't already, please consider supporting our trusted, fact-checked journalism by taking out a digital subscription: www.scotsman.com/subscriptions