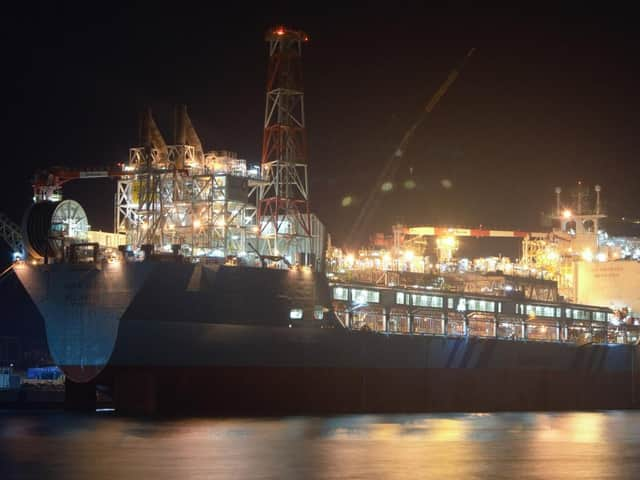 Hurricane's Aoka Mizu FPSO. Picture: Hurricane Energy
The original farm-out transaction for the Greater Warwick Area (GWA) was split into two phases with the first seeing significant investment in a three-well drilling campaign last year.
An investment decision has not yet been taken for the start of the second phase of work which was expected to follow on from a decision to connect the GWA to production facilities at the neighbouring Lancaster field.
In a statement yesterday, Hurricane said planning and negotiations are continuing with Spirit and that a new cost allocation has been agreed. An additional net cost to Hurricane of $20.5 million (£15.8m) is related to the tie-back to Lancaster.
Spirit had originally been due to pay the bulk of the costs of a plan to connect a floating production and storage vessel at Lancaster to the West of Shetland Pipeline System but if that did proceed, Hurricane will also pay the estimated £48m costs.
Hurricane's chief executive Robert Trice said he believed the renegotiation of the agreement was a positive development for the company.
"These amendments to our arrangements with Spirit give us greater optionality relating to gas export, whilst preserving the carry value of the Spirit farm-in in the event that the GWA joint venture partners proceed with a GWA tie-back in the future.
"In addition, the Lancaster EPS is currently producing at 20,000 barrels of oil per day."
Trice said Hurricane would provide an update at a capital markets day being held on 25 March.
Analysts at SP Angel said they believed the deal was good for both sides.
"Following a disappointing year with the drill-bit at the GWA in 2019, the update provides additional clarity on the forward plan for these assets," they said.
SP Angel said it was "no secret" that Centrica has put its 69 per cent stake in Spirit up for sale as it pursues a greener portfolio.
It added: "A reduction in committed capital clearly makes this deal more attractive to potential buyers. For Hurricane, this firmly places the destiny of the GWA development in their hands, whilst retaining the optionality of the original farm-out agreement if fully developed past phase 2."
SP Angel said the cash flows being generated at the Lancaster field means Hurricane can "comfortably meet the additional upfront costs, if required, without any dilution to shareholders".
Hurricane recently said output from its flagship Lancaster field had come in ahead of forecasts in the last three months of 2019.