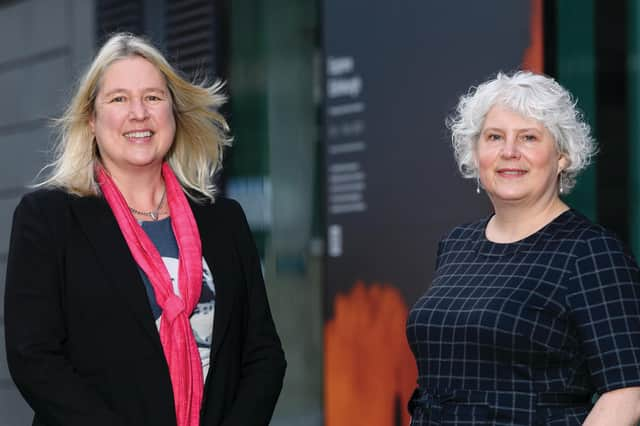 Professor Tina Harrison of the university's Business School, a leading authority on financial wellbeing and education, says: "The financial sector has really woken up to this and terms like 'vulnerable customers' and 'financial wellbeing' are much more prominent.
"This is coming into the academic domain too, although much of what l've done for years has been focused on helping empower and enable individuals to make better financial decisions. The Money and Pension Service launched a new UK-wide strategy for what used to be called financial capability, and is now financial wellbeing. That is driving a lot of activity."
Harrison adds that this is part of a "perfect storm" of change – increased pressure from regulators to do more; legislative changes; open banking and the heightened focus on financial technology solutions; and Covid-19.
"The pandemic shone a light on the financial precariousness of alot of people's situations. With all the other factors, it puts a spotlight on people's financial wellbeing," she says.
For the university, strong relationships with both large banks and young fintechs are crucial: "We've done various things with big banks and insurance companies, but also smaller fintechs, who have access to the same data as through open banking. One great example was the university's project with Salad Money."
This project examined the finances of almost 10,000 mainly lower-paid, younger NHS workers, and found almost a third – 30 per cent – were using five or more loan providers, many of them high-cost, such as payday and short-term loan firms. The findings raised serious concerns about financial resilience, and stated that the high level use of credit, loans and overdrafts was "not sustainable".
The findings have been discussed in the House of Lords. Alan Campbell, founder of Salad Money, says: "The conclusions reached by the University of Edinburgh should horrify anyone with a genuine interest in the financial and emotional wellbeing of the NHS workforce."
Harrison says future financial services research must include large numbers of people to have real impact.
"To have long-term impact, and embed positive changes widely and sustainably, you need to reach lots of people.
"There's great innovation happening with fintechs, but they don't always target a lot of people. To get a real impact, there has to be engagement through the main banks to reach those very large numbers."
ADDRESSING THE FUTURE SELF
How can a person's idea of their "future self" help improve their financial wellbeing? That's a topic being addressed by the university and pensions giant Aegon, in a two-year Knowledge Transfer Partnership project where personal finance meets neuroscience and anthropology.
The project examines how connecting with the future can help improve people's relationship with money now, and aims to develop tools to support improved financial wellbeing.
Visualising one's future self allows people to develop a fuller picture of the life they want not just financially, but also where they want to be, how they will spend their time and who with. The more meaningfully they connect to their future self, the more likely they are to adapt current behaviour.
"I find the idea of future self interesting," says Harrison. "It's evident in areas like healthcare planning and fitness but not as much in the financial space. Theoretically, and conceptually, it looks to have potential in terms of helping people think about their futures and translating that into planning for their financial future and saving towards retirement."
Harrison believes it's about thinking differently: "At the moment, we start from the point of getting people to think how much money they will need in retirement. This is about taking a more holistic view of their lifestyles, what they value and the role finances can play in helping to support and underpin that."
She hopes this will lead to new financial products which better reflect what people want to achieve and what they value, and how to balance future spending, saving, borrowing and investing: "It's about trying to identify a way to engage people in thinking about the future and planning for the future through pension savings and pension planning, in a way that suits their specific future life plans."
Andy Manson, marketing director at Aegon, says: "We're delighted to be working with the university, bringing new skills and the latest academic thinking to create better financial wellbeing. The aim of the project is to get people thinking about their relationship with money on a whole new level. Having a tool that helps customers picture their future selves will help them engage with their long-term savings."
Professor Gbenga Ibikunle, director for industry, economy and society at the university's Edinburgh Futures Institute, says: "Improving financial wellbeing is our focus area and we're excited to partner with Aegon to help create tools and interventions that will ultimately help millions of their customers better plan their financial futures.
"Professor Tina Harrison has collaborated extensively with many organisations in the sector on related topics. I've no doubt this partnership will bring some really innovative solutions to customers.''
The reasons why so many people leave the workplace early through ill health are varied and complex, and new research involving the university aims to understand where financial wellbeing fits in.
The three-year project sees the university look at older workers in financial services, care and manufacturing, an the self-employed.
Professor Wendy Loretto, Dean of the university's Business School and an expert in later-life employment, sees huge opportunities in bringing financial wellbeing into the conversation about older workers, alongside other areas that do not often get talked about, like menopause and cognitive decline.
"There's a dearth of research on older workers," she says. "We simply cannot afford for people to be leaving work at the ages they have been, because we do not have the replacement labour coming in.
"This feeds into the whole issue of productivity and economic performance. If you have skilled, experienced people leaving the workforce several years earlier than they need to, that impacts on specific businesses and the wider economy, as well as individuals."
Loretto says many workers leave employment in their early-mid 50 due to problems including muscular-skeletal conditions and mental health issues.
"Financial wellbeing feeds and weaves into every aspect ofpeople's lives and affects their physical and mental health and wellbeing," she says. "It gives people a choice, including how long they might be engaged in paid work and the balance between paid and unpaid work."
UK Research and Innovation (UKRI), the project funder, has set a challenge to create at least five more years of healthy life expectancy by 2035, and narrow the gap between rich and poor.
"UKRI identified financial wellbeing as a key factor and we picked up on it as it's a more hidden aspect of wellbeing," says Loretto. "We know more than 40 per cent of older workers worry about debt issues, but the focus tends to be on those who have some element of choice and control."
Loretto hopes the project can shed light on issues like the impact on women of raising the state pension age, and the effects of Covid-19 on the financial wellbeing of older workers.
"I say this cautiously, but we think Covid has made things worse. Anecdotally, data is coming in about people cashing in pensions early, and taking decisions to tackle short-term problems, potentially to the detriment of their longer-term financial wellbeing."
She stresses this is not about extending working lives, but about staying in work until people reach the state pension age: "We want to address the despair some people have when they don't think their health will allow them to stay and work to state pension age."
So what kind of interventions might this research lead to?
"We want to explore the use of apps. Many focus on the financially better-off and on managing current accounts or pensions. We need more apps thinking about that more holistic picture. We also see non-technical interventions – for example, financial training and wellbeing, events, workshops. These could be online or in-person.
"We want to build on what's out there, specifically in the context of the older workforce, test and evaluate those interventions, then scale them up and go into the wider market."
Edinburgh Futures Institute, part of the University of Edinburgh, connects practitioners and researchers from a range of disciplines to address major industry challenges in various sectors, including financial services. Any business or other organisation interested in collaboration should contact Ksenia Grant: [email protected]
This article first appeared in the October 2021 edition of The Scotsman's Fintech Focus supplement. A digital version can be viewed here.