How Scottish universities are leading medical device manufacturing
As health-tracking apps become more common and medical devices get ever-smaller, data is powering the next generation of breakthroughs.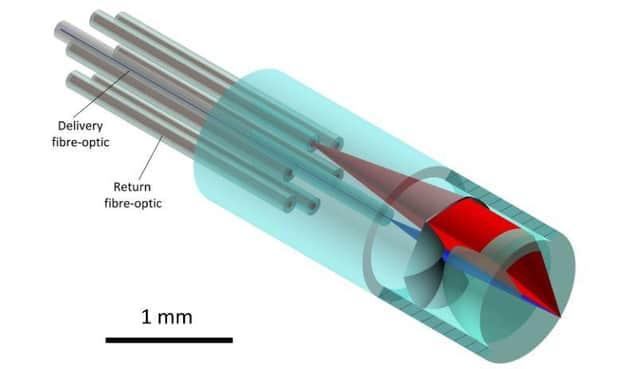 Laser fabricated fibre-optic probe for biomedical tissue optical biopsy applications (Credit: C. Ross)
"It's about using university expertise to help companies developing these devices to get from concept to commercialisation - from the idea to the market-place," says Professor Duncan Hand, of Heriot-Watt's School of Engineering and Physical Sciences, where the MDMC - a collaboration involving Heriot-Watt, and Edinburgh, Glasgow, and Robert Gordon universities - is based.
"We want to create practical and commercially viable devices; they might be sensors linked to mobile phone apps that deliver vital health information, right through to tiny devices that can be used by surgeons inside the body."
Data is vital to the process in two ways - in manufacturing devices and providing vital insights.
"Manufacturing is very data-driven, because the whole process needs to be controlled and extremely reliable," explains Prof Hand. "If you want a high-quality manufacturing process, you need to acquire data to monitor both the overall process and specific parts of it, and relate that back - so we can tell when things might be going wrong, to modify the process and make it better. This is particularly crucial when manufacturing low to medium volumes and bespoke (personalised) items to ensure they are 'right first time'.
"Data associated with that process control is very important.".
Data is also vital in deriving insights from health monitoring sensors, says Hand: "Sensors might monitor heart rate or oxygen levels, for example, and they are linked to a mobile phone app. Taking data outputs from various sensors and analysing this over a long period of time is a crucial indicator of change and can deliver real health insights."
The MDMC can also benefit from Heriot-Watt's expertise in laser technology.
"The laser is an exemplar, highly flexible manufacturing tool increasingly used in making very small and high-precision objects," says Hand. "This is where we will see crossover with medical devices - and again, data is really important in getting things right in manufacturing very small objects. In many ways, lasers are the ideal data-driven tool."
There are also close links to Heriot -Watt's world-leading work at the Edinburgh Centre of Robotics, the foundation of the new National Robotarium, due to open on the Heriot-Watt campus in 2022.
"When we look at medical devices, one key area is how we can manufacture and deploy miniature devices in the body to help surgeons to perform high-precision operations; the link with robotics is clearly important in developing such devices," says Hand.
The National Robotarium and the MDMC - and all of Heriot-Watt's work in these and related areas - have industry partnership at the heart of their mission. "We aim to translate research to support innovation and help to bring new products to market," says Hand. "At the MDMC, this means supporting better treatments and better health outcomes.
"The Centre is an extension of what we've been doing very well over many years. We want to build on existing relationships, bring in new companies and develop new partnerships."
One example is spin-out company IntelliPalp Dx, which aims to revolutionise prostate cancer screening by developing a system to provide more accurate early-stage testing, leading to reduced patient anxiety and more efficient diagnosis.
"The idea is to discern the relationship between changes in the structure and stiffness of the prostate and link this to the likelihood of cancer being present," says Heriot-Watt Professor of Materials Engineering, Bob Reuben.
"Essentially, we are aiming to emulate and enhance the human sense of touch [palpation] through a mechanical device to bring greater precision and objectivity."
Initial results have been successful and it is hoped the same principles could be applied to other forms of human tissue assessment.
Prof Hand says laser technology can help in areas like this by manufacturing 'miniaturised' devices: "It can readily reduce the current design down to 2-3 millimetres to allow use in other parts of the body, via the working channel of an endoscope. Data is also crucial in projects like this, to analyse results from the devices and make judgements on treatment."
The University's work also includes developing ultra-fast laser tools for surgeons to remove cancerous tissue, says Hand: "This includes neurosurgical work, to remove the edges of brain tumours, for example, and requires really high-precision instruments. That's one area where robotics, lasers and surgical tools can work together closely - and again, where data is needed to deliver the highest-possible precision in the instruments.".
The Medical Device Manufacturing Centre is jointly funded for three years (initially) by the European Regional Development Fund managed by Scottish Enterprise, Edinburgh & South East Scotland City Region Deal, and the four universities.