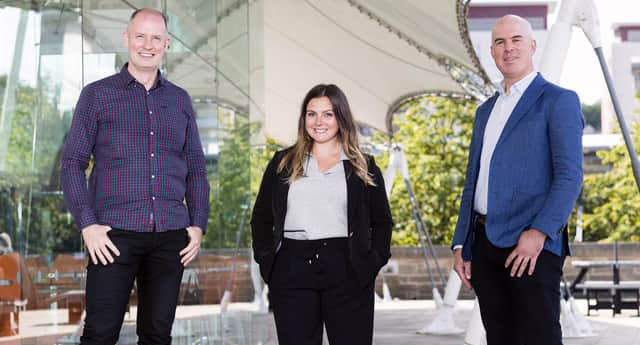 How did fintechs cope during the pandemic?
Callum Sinclair (CSi), head of technology and commercial: "It's been a really tough time, particularly for smaller businesses, and I think government support has been absolutely essential to help secure the ecosystem. It's not been easy, but the fintech ecosystem has held up well.
Anything technology-related is very investable and some fintechs are very well-positioned to take advantage of 'Build Back Better'.
"It feels like a defining moment – a bit like the global financial crisis, where the financial sector took a hard look at itself and became much more purpose and customer-led rather than profit-led. It repositioned its messaging and focus. The pandemic provided that circuit-breaker and in the year of COP26, the focus is firmly on ESG. I think there's a tremendous opportunity for fintechs now to take advantage of some of the offerings that will have a new attraction to customers, especially millennials."
What has been the impact of the pandemic on ESG goals?
David Goodbrand, technology and commercial partner: "Many worried the economic turmoil of the pandemic would result in climate change and ESG issues being put on the back burner. In fact, it's been the opposite, with businesses looking more at the social and human impacts of
their decisions. You could argue Covid-19 is actually accelerating the focus on ESG. In the fintech space, it's accelerated people's adoption of online technologies and investment tools."
Caroline Stevenson (CSt), head of financial services regulatory team: "I'm a big fan of fintech for good companies, particularly ones that promote financial inclusion or have new technologies that encourage access to banking.
"That agenda is already strong in Scotland, but I think the focus on ESG means there's bigger scope for more fintech for good companies; I can see much more innovation coming through. FinTech Scotland will have a big part to play working collaboratively with the Financial Conduct Authority (FCA) on initiatives to promote innovation.
So, I think Scotland will be a hotbed for new tech – again."
How are young fintechs grasping the ESG agenda in their own business?
DG: "More established players, the likes of abrdn (formerly Aberdeen Standard), Aegon and Nucleus, have big teams working on this area, and can afford the time and resources. If you're a young fintech with different challenges, it's difficult to know where to look, and I think there are varying attitudes towards ESG. However, fintechs realise it's an important topic for customers, and to grow and thrive, they need to attract new customers.
An important way to do that is to fly your ESG flag high."
CSi: "Some larger financial institutions have fairly welldeveloped ESG policies, and that will cascade through the supply chain. They will ask for equivalent policies or compliance with their own policies and that focuses the minds of smaller businesses.
"Sometimes, it's about what's most relevant to the business. Loveelectric, the new business from Steve Tigar formerly of Money Dashboard, is all about making electric vehicles more affordable, with a salary sacrifice scheme. That's very focused on the environment 'E', while Nude Finance is about the social 'S' – helping the next generation thinking about buying their first home. ESG is not some sort of addon for these businesses, it's their entire reason for being."
CSt: "One Nude product is a stocks and shares lifetime ISA, in which you invest in an ethical, sustainable and governance fund. ESG is clearly at the core of their business. But it can be difficult for small fintechs to focus on E, S and G in terms of bandwidth and resources. If you're a small company, there's only so much you can do, so it may be that strategically they choose to invest their time on one element and not ESG as a whole."
How close are we to government standards on ESG?
CSt: "The challenge is what's sustainable to one person is very different to someone else. Until we get a clear, government-mandated matrix to explain how to capture ESG data and report on it, it's going to be difficult to have a consistent view of this in the UK.
"There's a lot of pressure on the government to be at the forefront, with clear standards and matrices. The FCA is looking to understand how they can supervise ESG factors and are holding a hackathon to try to help solve their own problems. There is also a green digital sandbox focused on ESG issues. Any solution has to go hand-inhand with companies who have the ability to deliver meaningful data. I don't think it's going to be a short-term solution; it's a few years away."
What about consumer sentiment?
CSi: "Young people are increasingly focused on companies who show real interest in ESG issues. A recent survey found 64 per cent of millennials are likely to make investment decisions based on societal problems important to them. That number is only going to go up so it becomes not just a conscience and ethics issue, it becomes a fund performance issue."
DG: "I think investors understand customer preferences are shifting. That means a growing number of consumers will not buy products and services that aren't aligned with their values. There is also private equity pressure to take ESG seriously, partly driven by pension funds and other financiers who want to invest more in sustainable firms. So there's that push from the top, as well as from consumers, to invest in a greener way."
Who is leading the way in ESG in terms of financial services?
CSt: "One interesting example which we worked on was the recent deal where abrdn acquired Exo Investing, an app which makes it easier for people to access wealth management technology. We're seeing more companies with innovative products which can make access to financial services easier and cheaper – the social side of ESG."
CSi: "Legado – which is a great financial well-being proposition, effectively your online life filing cabinet – is working with a number of larger companies, including Prudential and Embark, to help people who are not always in control of their financial affairs."
DG: "Large financial services businesses who rely heavily on third party suppliers and partners can see their ESG footprint grow exponentially in size, reach and complexity. Careful on-boarding of suppliers and well-written supplier contracts (with KPIs) will be key in strengthening the supply chain and meeting ESG targets. On the other side, fintechs who embrace ESG are more likely to successfully partner with large FS businesses."
Are businesses embracing ESG because it's the right thing to do, and right for business - or because firms just think they should?
CSi: "It's mixed. abrdn's last annual statement had ESG at its core. It was clear they had done a lot of thinking about it and placed it at the heart of the organisation.
"Across the industry, there are elements of 'presentational' ESG, or rebadging work that was already happening as ESG. Green-washing is an inevitability and it will be necessary to get under the surface to understand what is really going on, though that could be tricky."
CSt: "Gazing into my crystal ball, I think green-washing could be the next PPI mis-selling scandal. The FCA has fired a warning shot, saying you must not mis-sell funds as green if they're not.
"The tricky part is the lack of clear infrastructure to define what is, and what isn't, green or sustainable.
"Once we have that, and if greenwashing is still quite prevalent, that's a potential basis for a misselling claim. In a few years' time there will potentially be a whole host of claims around mis-selling, and funds will be held to account on that."
Can you summarise which way the ESG wind is blowing?
CSi: "The regulator is seeking to drive change and the pension funds and asset management industry is driving corporate supply chains. Public awareness and pressure has increased and the climate emergency is obviously such a big topic. Millennials are using ESG as a basis for investment decisions and it's an issue in recruitment too; there is a generation of talent that wants to work with purpose-led organisations, and they won't align themselves with some of the more traditional businesses."
Where do you think we'll see more ESG growth in the fintech space?
CSt: "We're seeing quite a lot in electric vehicles (EVs), with the impending changes. Quite a few firms are looking to establish products to allow easier access to EVs. It's a hive of activity, with larger businesses like ScottishPower and newer companies like LoveElectric. New financial products which can facilitate the purchase of EVs – like salary sacrifice – can be applied to other sectors."
This article first appeared in the October 2021 edition of The Scotsman's Fintech Focus supplement. A digital version can be viewed here.