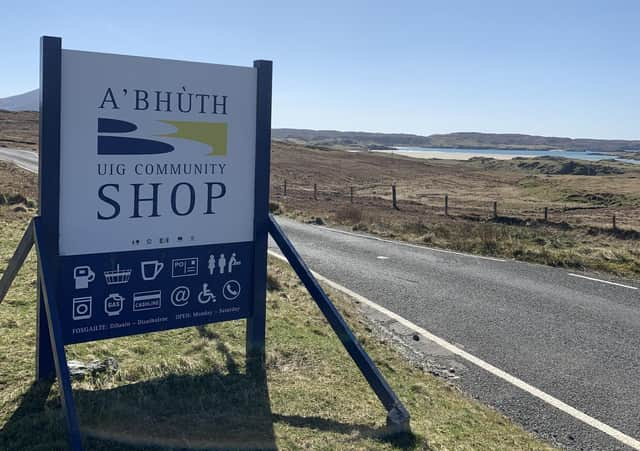 Community shops, like this one in Uig, are a sign of community spirit in places sometimes looked down upon for being 'remote'
The sun is shining and I am looking out towards St Kilda. If one has to self-isolate, the south-west tip of Lewis is not a bad place to be.
What the ill-informed look down on as "remoteness" becomes a great asset. So too does community self-help, essential even in normal times since nobody else does much for places like this.
So we have a great community-owned shop as well as excellent local delivery firms to sustain us. Working from home with limitless acres outside, each day is pretty much like normal – just more of them.
Social distancing is obviously easier than on the London tube or Glasgow buses. And therein lies an important truth – population density matters and points to one potential way out of this predicament.
Professor Hugh Pennington, who led the UK through the e-coli epidemic, has suggested the Western Isles and Orkney could be test-beds for resuming economic activity. To a layman (a vital caveat), that sounds sensible.
The numbers are small. Mass testing of a small mass is feasible. I hope the idea is given serious consideration and, if there is an argument against it, we are told what it is.
There is talk of "Scotland" taking a different approach but this is not about Scotland per se. It is about peripheral places which can act as models for other parts of the country – I don't care if it is Scotland or the UK – to follow.
That differentiation may distress Douglas Chapman, a Nationalist MP of whom I had never heard and hopefully never will again. He used his ten minutes of fame to crow that coronavirus deaths in England are at twice the rate as in Scotland.
1970s job creation schemes
Men in white coats belatedly advised him that this is due to population densities rather than innate superiorities. Indeed, that is precisely the factor which lends credibility to Professor Pennington's proposal to put islands in the forefront of recovery.
Meanwhile, thinking does not have to stop. We should be looking ahead to what happens next. That takes me back to one of my perambulations this week which led me up a peat road – a track into moorland where peat is cut for fuel.
It is surprising how well built these roads are and that dates back to a 1970s initiative called the Job Creation Programme. Unemployment had topped a million and the Labour government was desperate to create work particularly for young people.
The JCP was intended mainly for urban communities but the Western Isles Council latched onto the opportunity.
At one point, JCP was the biggest employer in the islands and a vast amount of useful work, much of it still with us, was undertaken.
For another example of that legacy, an invaluable network of local historical societies and museums which flourishes today throughout the islands owes its origins entirely to Job Creation.
In the 1980s, the weight of unemployment overwhelmed these "schemes" and they became discredited. However, the principle of otherwise unemployed people carrying out useful work in their own communities remains sound, if the safeguards are right.
When Labour came to government in 1997, we introduced the New Deal as a more sophisticated version of the approach, designed with support from employers and trade unions. It made a huge life difference for thousands of people at the time.
One of the biggest supporters in Scotland was Standard Life as I was reminded recently when I ran into Fiona Hyslop in the Ambassador's residence in Tokyo – we meet in all the best places. Fiona was in charge of the New Deal for Standard Life and made a great success of it.
Who better then to look ahead to our new age of high unemployment and initiate a similar programme which could leave great legacies for our communities and create useful work for those who otherwise will have none?
It is entirely within the Scottish Government's powers to take such an initiative which the rest of the UK might follow. That really would be devolution in action without a grievance in sight.