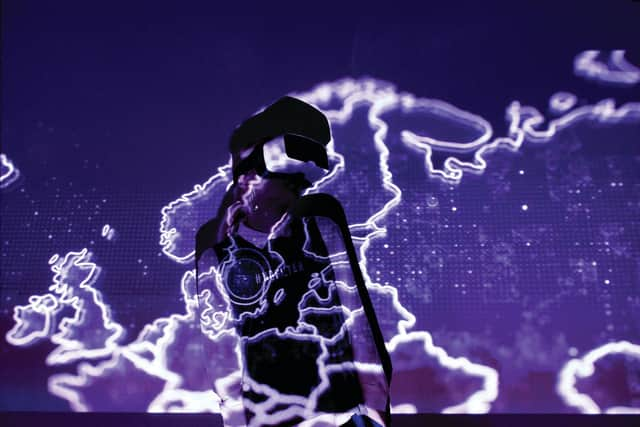 This is core to Accenture's work on Data-Driven Reinvention (DDR) - using data smartly and embedding it operationally to give your business a competitive advantage
But more than this, if executives are able to reinvent their businesses through data, it opens up a new world of business models, and possibilities to build a better future for us all.
Building the future through data
"Data is all-pervasive, it's generated en-masse - and as volumes of data explode, as society moves forward rapidly, as technological and non-technological disruption rises, businesses must remain relevant in a shifting world," says Byrne. "Data-Driven Reinvention allows them to make that shift to become genuinely data-driven organisations."
Part of the shift includes a deep understanding of changing customer expectations.
"Consumers have so much power at their fingertips," says Byrne. "The old captive audience has gone for many businesses; consumers compare products and services across the globe and solicit feedback from social channels. As an organisation, keeping on top of what consumers and competitors know about you is more challenging than it's ever been."
This is why Accenture sees DDR as vital to long-established businesses that were created in a different world.
Legacy banks, high street retailers and traditional media companies face enormous challenges , with the likes of Revolut, Amazon, Google, Apple and Tesla coming into play. Are they responding by grasping this agenda and undergoing Data-Driven Reinvention?
"It's mixed, but getting better," says Byrne. "A lot of organisations invested in data, because everyone told them it was the right thing to do. They invested in data warehouses and data engineering and building up a skill base. But very few organisations are getting the value from data that the truly data-native companies are."
​Research by Accenture in 2020 revealed only 17% of senior executives were confident in the insights they were getting from data investments, with just 32% saying they were realising benefits from that investment.
Beyond financials – realising the value of data
Byrne says it's about a mindset change: "For Accenture, DDR is about helping clients understand how to turn data from a cost into an asset, how to realise value. We want them to invest in data because they know it delivers tangible business benefits, not just because they think they should. That's the crux of data-driven reinvention from our perspective."
So how do businesses get that laser focus on data to deliver benefits? "There are some straightforward pillars: having that industry context and knowledge of what will make a difference; ensuring your organisation has the talent and skills to leverage data; and using the power and flexibility of the cloud to deliver insights quickly.
"From that, you can optimise business processes, and grow your business by knowing your customer. That allows you to build more intelligent products and services, and create something that differentiates you from what you were - and from your competitors.
"We have multiple conversations going on with CEOs about the data agenda and what they need to do to change. That's a marked shift and the conversation has changed. It's not 'Can I have an analytics programme to save money?' It's 'How can I use data analytics to add value, create new business models, drive us to the next level?'"
And what does 'creating a data mindset' in the business actually mean? "It's about giving people tools, and training and the knowledge to navigate those tools. Equip them and make it easy for them to get the information they need.
"Then there's the top-down reinforcement from leaders that this is how you want to work. That leads to behaviour change and moves the dial in terms of how an organisation operates."
The big picture: data in society and in Scotland
How well are business sectors in Scotland embracing Data-Driven Reinvention?
"Different industries are at different stages of maturity," says Byrne. "Banking has been forced to change, and is ahead of the game. There is more customer interaction, more personalised services. Data is being used to communicate much more effectively with customers. Telco (telecommunications) is also moving quite quickly.
"In areas like oil and gas, specific areas of the business, like mechanical operations, are highly monitored and very data-driven. But zoom out to the wider business perspective and they aren't always as mature. The energy sector will have to do much more with data to allow it to pivot quickly towards clean energy, while retaining jobs and profitability."
Byrne highlights life sciences as a great example of using DDR effectively: "The turnaround time for Covid vaccines was pretty incredible and largely down to the fact that many life sciences organisations are much better at how they manage data, and communicate digitally. They are increasing efficiency and speed of delivery, often with fewer resources.
"Where we see clients realising real benefits, it's often about scale of data. Historically, business relied on a small sample of people to make decisions, and did so with limited confidence. Now the cloud and availability of data, if harnessed right, offers the ability to test scenarios across an entire customer base or market, and run multiple scenarios before making decisions. And decisions don't need to be the end point; you continue to assess almost in real time how your decision is playing out and make further changes."
To make DDR work, talent is also crucial - and Scotland is well-placed.
"Scotland is really well-positioned when it comes to talent, and a real leader in digital data skills. We have some great thought leaders - like Mark Logan, Shannon Vallor, Ed Broussard, Gillian Docherty, great figures who lead by example. Add Scotland's trusted global brand as a financial centre and manager of much of the world's pension funds and it makes complete sense that the ethical use of data and AI resides in Scotland and generates a phenomenal talent pool. The key thing then is, how do you leverage that talent pool in the right way and get that applied to the right problems?"
The key to Data Driven Reinvention is people
Attracting, retaining, and developing talent is closely linked to the values of a business - and Byrne says successful DDR must understand the broader social purpose.
"The war for talent is so strong that people will move to be part of an organisation they believe in, one they feel that has the same values as them. Organisations must take more accountability when it comes to these societal issues, like sustainability, diversity and inclusion and a focus on 'no-one left behind' and levelling up.
"There is a need to think about the role data can play. Open data is really important. Obviously, a big business can afford to invest in very specialist skills and attract the best people, but your average small business or start-up doesn't always have that - so we need to make data more accessible and available to everyone.
"How can we connect people who genuinely want to have positive societal benefit with organisations that can benefit a lot from a little bit of help? Larger companies have the responsibility to build this so tech and platforms can be utilised for other businesses too as they get cheaper and commoditised."
Data-Driven Reinvention is a huge agenda which needs big investment and bold thinking. Are legacy businesses ready to make that leap?
"Some of them definitely are," says Byrne. "They are the ones having those high-level conversations and those who understand that it's not just about investing in data - it's about investing in a business strategy and knowing that data is what can transform and drive that."