Historic Scottish wholesaler JW Filshill welcomes full-year results and Renfrew relocation
JW Filshill, which says it is one of Scotland's oldest independent food and drink wholesalers and recently undertook a landmark relocation to new premises, has unwrapped a jump in sales and profits.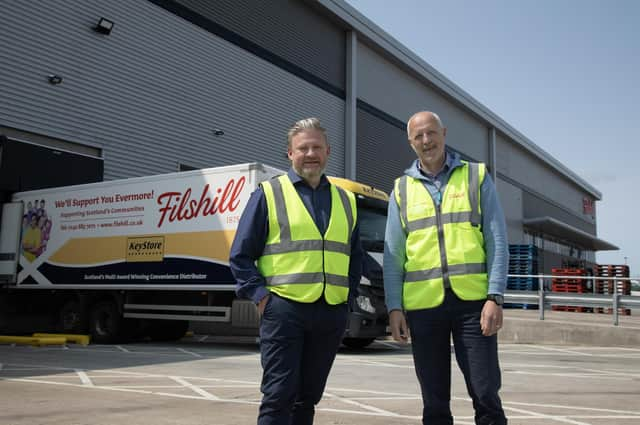 Turnover at the fifth-generation family business grew to £203 million in the 12 months to January 31, 2023, marking a 2 per cent year-on-year increase. Operating profit rose to £2.9m from £2.7m, and gross profit to £19.4m from £17m, while net assets increased to £18.9m from £17.1m.
The firm, which supplies the KeyStore convenience stores and independent retailers across Scotland and the north of England, and national accounts including the Scottish Prison Service, relocated from Hillington to new purpose-built premises at Westway Park at Renfrew near Glasgow Airport in March.
Chief financial and operating officer Keith Geddes said he was "particularly pleased with these results given that they were achieved against the context of the rebalancing of the economy in the aftermath of the Covid pandemic and also the significant delay in moving to our new facility, which had restricted the group's ability to grow revenue due to having reached maximum operational capacity in Hillington".
He also said "significant" resource was spent preparing for the move, deeming the latter "transformational for the efficient operation of the business and sets the foundations for our planned growth over coming years", while he also praised the integration of the Iain Hill business in 2022.
Addressing supply issues the business faced during the year, Mr Geddes said it continues to work on building "strong, partnership-based relationships" with customers and key suppliers, while it has also recently ordered two new 18-tonne electric vehicles "as a major step forward in the rollout of electric and hybrid vehicles and the drive to hit the group's carbon-reduction objectives".
Chief executive Simon Hannah said: "We invest in long-term return projects to protect future revenue streams, and this includes constantly updating our technology, equipment, and vehicle fleet."
JW Filshill was founded in Glasgow in 1875, starting out as a confectionery manufacturer before opening its first cash and carry operation, and then evolving into a delivered goods business. It now has about 235 staff, 1,600 independent delivered customers, and is member of Unitas Wholesale, billed as the largest wholesale services company in the UK with a buying power in excess of £8 billion.
Comments
Want to join the conversation? Please or to comment on this article.