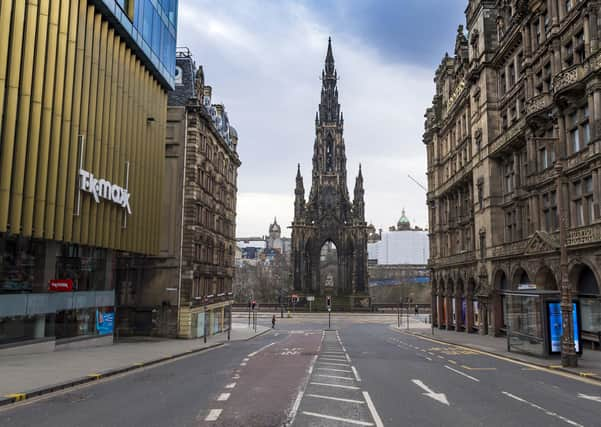 The capital's above average number of high-skilled financial, legal and tech jobs means that many businesses can keep running remotely with minimal disruption.
But labour market experts warn other cities that rely more heavily on retail and service jobs may struggle, as sales dry up as a result of the lockdown and a wider downturn - with the economy in some places having already "ground to a halt".
"Homeworking is more likely in places with highly-skilled information-based economies where face-to-face interaction is a benefit, but not a necessity, said Andrew Carter, chief executive of Centre for Cities.
"(We) estimate that over 40 per cent of workers in London or Edinburgh could work from home, while in Barnsley or Stoke just 20 per cent could, due to the dominance of retail and other lower-skilled service jobs.
"Unfortunately, many of these places were struggling prior to the pandemic and so the coronavirus will have a bigger and longer-term impact in places where the economy has now effectively ground to a halt.
"The larger proportions of low-skilled self-employed people in cities outside South East England will also make it harder for their economies to recover. Almost 90 per cent of self-employed people in Barnsley undertake low-paid work, compared to 58 per cent of those in Cambridge.
"Unfortunately for those working in Barnsley and similar places, the market for the low-skilled service economy has shrunk significantly during this pandemic, and the Government is finding it more difficult to effectively subsidise self-employed people's incomes to the level that it has already put in place for employees."
Edinburgh is already the economic centre of Scotland, with the number of people employed in the Capital rising by 23 per cent since 2010, compared to growth of six per cent across the country.
The number of registered enterprises in Edinburgh also increased by 18.2 per cent from 2012 to 2017, compared to 10.5 per cent national growth.
But fears have been raised the sharp drop in visitor numbers this year will hit businesses hard. Several high-profile annual events have already been cancelled or pushed back until later in the year, including the Edinburgh marathon.
Several different options on what shape the event may take are to be explored over the next few weeks as part of contingency planning for the festival, which has run continuously since 1947.