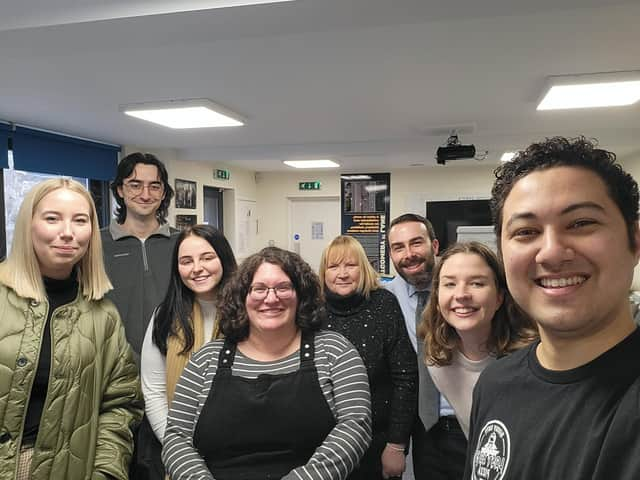 The site will allow charities in the region to register request for support in-kind from local suppliers in public sector supply chains – or any business wishing to undertake good deeds locally – whether that is a small firm donating to a grass-roots community group or a large firm wishing to organise volunteering days.
The new site has been supported through funding from the £1.3bn Edinburgh & South East Scotland City Region Deal – a joint investment between the UK and Scottish Governments.
UK Government Minister for Scotland Iain Stewart said: "The UK Government is investing £1.75 billion into regional projects across Scotland to level up communities and bring prosperity to everyone.
"Platforms like this new website are important to getting the most out of these initiatives, and I encourage organisations across the region to register."
Scottish Government Economy Secretary Kate Forbes said:
"The Scottish Government is investing £300 million through the Edinburgh and South East Scotland City Region Deal. The portal ensures we capitalise on this funding, by helping charities receive support from businesses involved in public sector projects which wish to undertake good deeds.
"We greatly welcome this initiative, which will help the Scottish Government create a fairer, more prosperous and productive economy for all."
As well as supporting the realisation of community benefits from many of the Deal's major developments, the portal will also promote the wider value of community benefits amongst businesses and third sector organisations in the region generally.
What are community benefits?
"Community benefits" are clauses which are now mandatory in the awarding of most public contracts – in other words companies involved in projects where public money is being spent sign up to give something back to the community in return for the contract. Examples include businesses committing to apprenticeships, engagement with schools and using local supply chains. It is hoped the new site can extend support to groups focusing on recreation, wellbeing, the environment and social enterprises.
Major projects supported by the City Deal include cutting edge new research and innovation facilities at the Universities of Edinburgh, Heriot Watt and Queen Margaret – as well as developing 41,000 new homes and improving transport links across the 6 local authority areas. The Deal will also deliver new industrial estate units across Fife and the Scottish Borders to support local businesses and create jobs.
Claire Pattullo, Chief Executive of Social Enterprise Edinburgh and Chair of the Regional Enterprise Council stated: "Community benefits can help people and communities to understand how they can positively benefit from public spending. I would encourage all community groups to visit the ESESCommuities.org portal to find out how they can register their request."
Transforming an old Infirmary - and giving mental health support
One project within the Deal will see the University of Edinburgh transform the historic old Royal Infirmary at Lauriston to house the Edinburgh Futures Institute – a major new centre for teaching, research and digital driven innovation (DDI). Commencing £70million of work on the project, construction firm Balfour Beatty have already set about delivering community benefits.
Naila Akram, Head of Social Impact for Balfour Beatty's regional business in Scotland, said: "At Balfour Beatty, we want to leave a lasting, positive legacy for communities, wherever we operate. We welcome the introduction of Edinburgh City and South Region City Deal's forward-thinking portal, which will further streamline our community benefit offer and deliver what local communities want and need.
Community benefits undertaken by Balfour Beatty through the Institute include facilitating mental health workshops, work placements, donating surplus IT equipment to local community groups and support for charities working with refugees and tackling local homelessness.
Open to all businesses – large or small
Whilst funded by the City Deal, the portal is open to use by all businesses in the region – including those in any public sector supply chains, as well as those who are not.
NSL Parking, a provider of parking enforcement services to local authorities Edinburgh, East Lothian and Midlothian, engaged with the portal having seen a request from Project Scotland – who support young people aged 16-30 to undertake volunteering. The charity had made a request to provide staff with mental health first aid training.
NSL kindly donated the time of an employee who happens to be a qualified first aid mental health trainer – putting 7 members of Project Scotland's team through their Level 5 qualification, with the company also paying for their certification
Whilst businesses can fulfil requests already on the portal, firms are also encouraged to reach out to the ESES Communities team with any offer of support to local causes – such as sponsorship, fulfilling staff volunteering days, donating excess resources or skilled services.
GMP Print Solutions, a signage and print manufacturer based in Midlothian, contacted the team with a pro-active offer of support in-kind through the free donation of small services, staff time and/or discounted rates to local causes. Several local community groups responded – including The Edinburgh Remakery – launching their new premises at Ocean Terminal. Edinburgh Remakery is an award-winning environmental social enterprise with a mission to reduce waste through circular economy practices and repair and reuse; providing local people with the skills and services needed for them to become more sustainable and GMP were able to work with them to make several items of signage and branding installing them free of charge.
The website will also host updates on City Deal projects. The portal will be open to all businesses within the region interested in supporting communities, regardless of they are currently in the public sector supply chain or unfamiliar with community benefits.