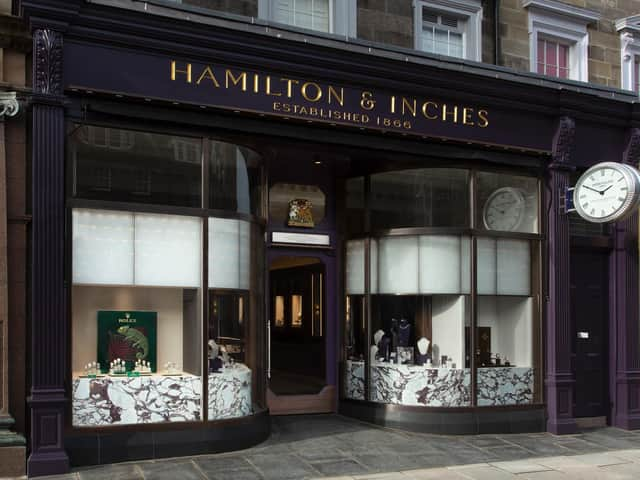 Picture: Hamilton & Inches
Hamilton & Inches on George Street has been closed since December to allow for an upgrade of the five-storey building made up of two showroom and three workshop levels.
A new Rolex Room has been built in the building's original courtyard with a new customer relaxation area and VIP consultation rooms also created.
New service desks have been installed throughout the showroom enabling same-day repairs.
Picture: Hamilton & Inches
Victoria Houghton, Hamilton & Inches CEO, said: "I'm thrilled to unveil the newly restored showroom. This has been an amazing journey, and everyone including local contractors SJS, local chartered quantity surveyors McLeod & Aitken and bespoke joinery and furniture specialists Laurence McIntosh have worked so hard to bring our vision to life.
"The customer experience has been at the forefront of this project since inception. We incorporated residential elements into a retail environment to achieve an inviting and comfortable atmosphere whilst creating a memorable luxury experience."
Hamilton & Inches was founded in Edinburgh in 1866 and has been occupying its current George Street base since 1952.
The company worked closely with Historic Environment Scotland on the plans, collaborated with conservation practice Simpson & Brown Architects and selected local suppliers and tradespeople throughout the project.
Picture: Hamilton & Inches
Customers approaching the revamped building will be met with a new curved glass store front complemented by Breccia Violetta marble and an antique bronze finish.
New interior features include restored marble pillars and detailing which accentuates the historic elements of the Georgian ceiling, alongside chandelier lighting which shines out into George Street.
The focal point of the newly restored showroom is a hand-crafted silver Ginkgo leaf installation fitted above the diamond bar which was created by Hamilton and Inches' master craftspeople.
The new showroom was created by design practice Waldo Works.
Tom Barlett, Waldo Works founder, said: "It has been a wonderful experience to work with Hamilton & Inches in creating what I believe is the most beautiful store in Scotland. It is rare to work with a client who's focus from the inception was to reflect the quality and design excellence of their product in the design and construction of this intricate showroom."