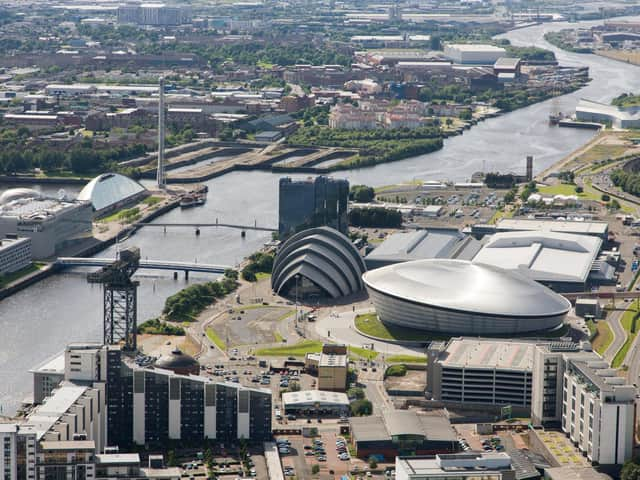 The firm has identified premises in Glasgow, above, and has already started recruiting ahead of officially opening the facility later this year. Picture: Contributed
GCEX (GC Exchange) will open a facility in Glasgow that will help support the global growth of the company.
A total of 26 jobs will be created as part of the plans, which have been supported by a £350,000 regional selective assistance grant award from Scottish Enterprise.
GCEX is part of the GC Group and was established in 2018 in response to demand for regulated and compliant exposure to the digital asset market. The business currently operates offices in London and Switzerland.
It provides funds, brokers, asset managers, professional traders and banks with a range of integrated financial technology products, including artificial intelligence (AI) applications.
The firm has identified premises in Glasgow and has already started recruiting ahead of officially opening the facility later this year.
Lars Holst, chief executive and founder of GCEX, said: "We are very pleased to have expanded our operations into Scotland. Our new service hub will allow us to improve upon our market leading operations and is testament to the continuing growth of GCEX.
"Scottish Enterprise was imperative in providing us with the tools and knowledge required in ensuring the process was swift and we very much appreciate their ongoing support."
Mark Hallan, director of global investment at Scottish Enterprise, said: "Scotland continues to go from strength to strength attracting high quality investors like GCEX who recognise the exceptional skills and business environment we have to offer young growing businesses.
"Our world-class workforce, combined with the 'Team Scotland' approach we've adopted between our public institutions, academia and the private sector, ensures that Scotland continues to punch above its weight when it comes to attracting foreign direct investment.
"Competition for inward investment is fierce, but Scottish Enterprise will continue to actively promote our international leading sectors as we bid to attract companies from across the world to Scotland."
Alongside Scottish Enterprise, the fintech firm has engaged with national skills body, Skills Development Scotland, to support the company accessing the talent it requires for its Glasgow operation.