Glasgow's Macfarlane cuts board members' pay and cancels dividend amid Covid-19 downturn
Macfarlane Group, the Glasgow packaging and labelling business, has cancelled its annual dividend and announced directors will take a pay cut to combat a predicted "marked slowdown" in market activity.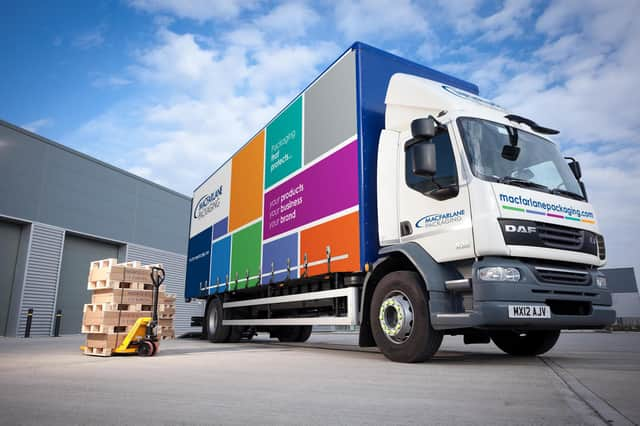 As part of moves to conserve cash while key markets are hit by Covid-19-related issues, the listed business will no longer propose a previously indicated 2019 final dividend of 1.76 pence per share. This will reduce cash outflows by £2.8 million in the second quarter.
The board will waive 25 per cent of its salaries and fees from April until September and executive directors have deferred payment of their 2019 bonuses.
All non-critical operational and capital spend has stopped while cashflow is being "carefully managed", said Macfarlane.
The company added that its strong start to the year, which had seen profitability "well ahead" of the opening two months in 2019, had continued during March.
However, it now expects a marked downturn in activity as a result of the UK government's Covid-19 response measures, which have impacted several of Macfarlane's markets. This includes "rapid declines" in demand among automotive and aerospace clients, as well as those in certain segments of the retail industry.
The business hailed strong ongoing demand from clients working across the hygiene, household essentials, medical and food industries.
In an update to the market, Macfarlane said: "As a key measure to conserve cash, the board has taken the decision not to propose the 2019 final dividend of 1.76 pence per share, detailed in the preliminary announcement.
"The company has been a regular dividend payer for a number of years and the board remains committed to providing dividend income to shareholders. Once trading has recovered in line with normal levels and uncertainty has decreased, the board's intention is to recommence dividend payments either by augmenting regular dividends or by declaring a special dividend."
The business pointed to a strong balance sheet and liquidity "headroom", with its principal bank facility of up to £30m with Lloyds Banking Group available until June 2022.
Macfarlane, which employs more than 925 people at 31 sites in the UK, Ireland and Sweden, said it is currently assessing financial support measures offered by the government.
As of the end of February the group had net bank debt of £9.6m, reduced from £12.7m two months earlier.
It encouraged shareholders not to attend the group's annual general meeting – due to be held in May – in person, but to instead submit proxy votes to prevent non-essential travel.
Following the trend of other listed companies in recent weeks, Macfarlane pulled its financial guidance for the year to December.
Comments
 0 comments
Want to join the conversation? Please or to comment on this article.