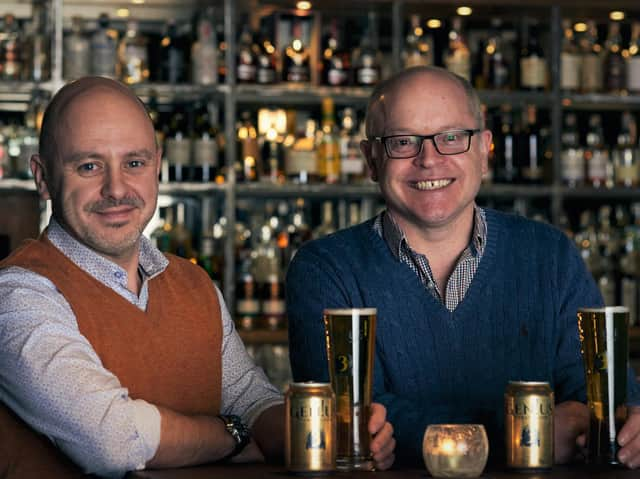 Genius Brewing co-founders Jason Clarke and Charlie Craig. Picture: Contributed
The craft brewer has secured a £60,000 loan from a £12 million fund that forms part of the Scottish Government's Scottish Growth Scheme.
Genius was established in 2016 and aims to "make healthier drinking a pleasure, not a compromise", launching its Gen!us light craft lager in April 2018.
The 3 per cent lager contains one unit of alcohol and 79 calories per can, fewer than an apple.
The financing deal will help Genius produce its next 150,000 cans and also scale up its marketing activities. In September the brewer took on its first employee, Murray Johnstone, as sales and account manager for Scotland.
Creative director Jason Clarke said: "The lightbulb moment for co-founder Charlie Craig and I was realising that the wider trend for healthier lifestyles would change people's drinking habits.
"The UK craft beer market is crowded but Gen!us is the UK's first light craft lager, with just 3 per cent ABV and only 79 calories per can.
"In the US, the three bestselling beers are all light beers - and where America leads, Britain often follows, so it's no surprise to us that UK sales of low and no alcohol beer went up 50 per cent last year."
He said that relying solely on organic growth can give competitors a chance to enter the market or "overtake" an emerging business, adding: "There's also something of a 'culture gap' in the UK, whereby we see debt or fundraising as risky or a weakness - but great ideas need capital investment."
Tom Brock, fund director at Umi Debt Finance Scotland, said: "The team at Genius are passionate about their product and are innovators in their sector. They understand their market and changing consumer tastes, and we are delighted to support their ambitious growth plans."