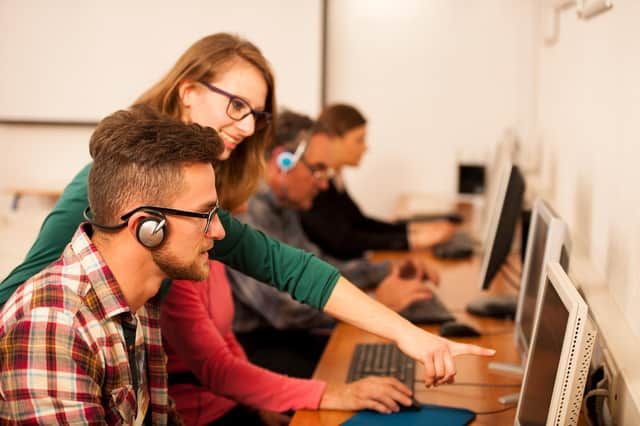 Anyone can sign up to take part in the 24 courses on offer, thanks to funding from the UK Government, with the first kicking off on Monday, January 17.
Topics range from bookkeeping, HR and social media to carbon management, commercial negotiation and procurement; training is also available in creating a business plan, stakeholder engagement, managing client -supplier relationships or writing a tender response.
"We are offering a fully funded series of training courses for everybody from students through to larger organisations," says Richard Cook from the college's Department of Enterprise and Business Innovation.
"This is a fantastic opportunity for anybody to gain training that suits their needs over the next few months – they can even sign up for every course we have."
The courses are being funded by the Community Renewal Fund, which has been developed to provide free training opportunities to support the economic recovery as we start to move on from the COVID-19 pandemic.
The aim is to support local economies by investing in skills training, supporting business growth and encouraging individuals to grow and develop, becoming more resilient and sustainable. This means equipping people with the skills they will need in the future, preparing them for an increasingly green and digital economy.
"There is a huge range of opportunities for upskilling to help Scots prosper with fully funded training," adds Richard.
"Our courses are ideal for everybody from school leavers who want to start their own businesses in the future to entrepreneurs and sole traders who may have a product they want to develop, and SMEs who have staff keen to add to their existing skills and boost their knowledge.
"The three carbon management training modules, for example, are the perfect starting point for a company wanting to know more about how to capture the data needed to measure their carbon footprint, and include training on the relevant software."
All courses are taught online and last half a day or a full day, with dates available from Monday, January 17, into springtime.
Participants will receive full certification from Borders College, where the Department of Enterprise and Business Innovation also offers an extensive range of 80 Modern Apprenticeship programmes in close partnership with businesses across the region.
So whether you are a business start-up, established organisation or an individual exploring new training and upskilling opportunities, set yourself up for future success by signing up for the fully funded courses at www.borderscollege.ac.uk/prosper
Simply click on the course link to find out more and book your spot today.