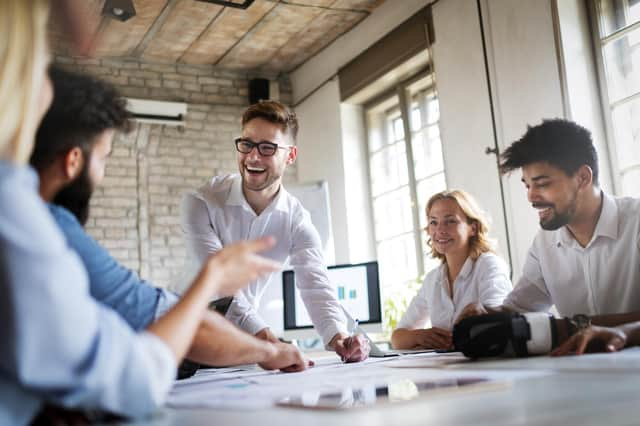 Sign up for the event on February 24 to help kick start your firm's post pandemic recovery
Every single business in Scotland is eagerly scanning the horizon and crossing fingers that faint signs of the beginning of the end of the pandemic do not signal a false dawn.
As the country's business community looks to pick up the pace of recovery, Productivity Club Scotland has lined up a stellar list of guest speakers for its annual conference, which is bigger and better than ever before.
This day-long free Productivity Matters conference has been designed specifically to address some of the complex issues facing the commercial sector following a difficult and demanding two years. The conference promises to provide support, practical advice and plenty of innovative ideas to aid business recovery and improved productivity, and with expert input will consider the challenges to productivity posed by Scotland's uniquegeography.
The impressive line-up of guest speakers includes Nico Simeone, award-winning founder of the Six by Nico restaurant chain, Sean Duffy, CEO of the Wise Group, and Kate Forbes MSP, cabinet secretary for Finance and the economy.
Conference speakers will outline their approach to and vision for the post-pandemic business landscape and their contribution will be complemented by a series of practical workshops and case study sessions.
Nico Simeone is pleased to be speaking at the conference: "I am delighted and humbled to share my business story at Productivity Matters 2022. The conference offers a great forum to share ideas and thoughts and to learn from business leaders on how they are adapting to new ways of working emerging from the pandemic."
"The hospitality sector has obviously suffered significantly though the last 2 years and the creative and entrepreneurial culture within Six by Nico has been essential to preserving the business. The conference offers a great forum to come together and share thoughts and ideas as we all look to capitalise on new opportunities and recover from the challenges and uncertainties of the last couple of years."
Productivity Club Scotland programme manager Eleonora Vanello sees the conference as the perfect opportunity for micro-small-medium enterprises to come together in-person or online to network and address business challenges as we emerge from the pandemic.
The Productivity Matters conference will be held online and in person at the Royal Bank of Scotland Conference Centre in Edinburgh for a limited number of places on Thursday, February 24, from 9am to 6pm.
Attendance at the conference is free and everyone who's interested in finding out more about the future of enterprise in Scotland is welcome to join, but Productivity Club Scotland urges early booking to avoid missing out. Sign up here.
Productivity Club Scotland is a partnership between the Scottish Council for Development and Industry and the Scottish Government and aims to support businesses to increase their individual productivity