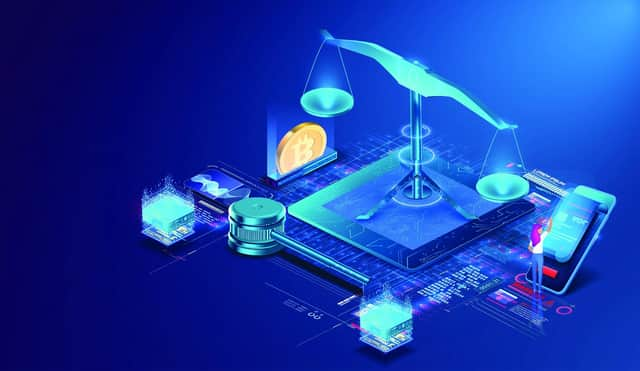 Scotland's fintech sector continues to grow despite economic and political headwinds ranging from conflict in Ukraine to looming recession in the UK. Experts at legal firm Burness Paull, a key player in the fintech ecosystem, share their views here on a range of factors affecting the sector. They cover the current challenges for businesses, the changing face of regulation and what is coming down the track.
Business environment and regulation
Callum Sinclair, partner and head of technology and commercial at Burness Paull, says: "While we remain upbeat about fintech, we have to recognise market reality. Fintech isn't immune to the tech crunch. Then there is the 'crypto winter' – with Luna and Terra crashing and the FTX exchange collapsing – and the macro-economic situation, including fast-rising inflation."
Increased competition is also having an impact. "It's been a big growth year for fintech in Scotland," he says. "We advise a lot of fintechs and established financial services firms, and we're seeing propositions starting to overlap. Firms are having to work hard to differentiate themselves. They need to look where they are generally adding value and define their outcomes."
Regulation is another factor presenting challenges to fintechs, according to Caroline Stevenson, partner and head of the financial services regulatory team at Burness Paull.
She says: "Regulatory timescales are hampering some businesses. Fintechs have to be regulated to provide certain activities, but this can take up to a year. Brexit has also caused regulatory difficulties for many fintechs as each jurisdiction has to be looked at separately, which adds complexity and cost."
She also says the Financial Conduct Authority's new consumer duty requirement is adding yet another dimension. This principle requires firms – including fintechs – to act to deliver good outcomes for retail customers. "This is now a rule rather than just a high-level aspiration. This means that many fintechs are having to re-evaluate their entire business to ensure customers are receiving good value and outcomes," says Stevenson.
More regulation and opportunities
David Goodbrand, head of data privacy at Burness Paull, believes regulatory change should be seen as a market opportunity. "We're likely to see some traditional banks retrench to focus on their key customers. This will leave space for challenger brands and fintechs that have a clear grasp of their regulatory responsibilities," he says.
And regulation is set to come even more to the fore for fintechs next year, according to Sinclair, particularly with 31 December, 2023, currently being the "sunset" date in the UK for any retained European Union laws. As the UK will not be part of the Markets in Crypto-Assets Regulation (MiCA) being introduced across the EU, there will be a need to shape new domestic rules in that area.
Sinclair believes the flip side is that there should be opportunities in regtech for the UK to automate regulatory compliance, which will become increasingly tricky to manage – particularly for firms in multiple geographies.
Stevenson says that a major project looking at the future UK regulatory framework has been launched, with the aim of designing a structure that works for firms – including fintechs – and attracts new businesses. She adds: "One of the biggest regulatory projects is the hotly-debated Financial Services and Markets Bill. There are big changes included in the Bill and in the financial services market generally, which will make some things easier for fintechs and some things harder."
In the area of data privacy, Goodbrand says the UK is now able to move away from the EU model. "However, the reality for most fintechs is they will not just want to service customers in the UK, but also further afield," he says. "If the UK has its own data protection laws, it increases the regulatory burden and the cost for fintechs."
Another area of opportunity for Scottish fintechs, according to Sinclair, is synthetic data which the Smart Data Foundry in Edinburgh is at the heart of. "We're moving away from relying on live customer datasets in financial services to realistic synthetic datasets. This helps when it comes to data privacy compliance and testing new propositions,"he says.
Goodbrand sees great promise for open finance in Scotland. "We haven't yet seen the true potential of open finance yet," he says.
"Open banking has been a great success, partly because it was mandated by regulators that the big banks allow customers to use their own personal data with other third-party providers.
"Open finance is broader, covering such products as insurance and mortgages but, without a regulatory driver, things are taking longer to come to fruition."
This view of where opportunities lie from Burness Paull chimes with the contents of FinTech Scotland's Research and Innovation Roadmap, published earlier this year. The four key areas it pinpoints are: open finance data; climate finance; financial regulation, and payments and transactions.
"The economic and social context in which fintech operates, including the widening wealth gap, macroeconomic headwinds and the climate crisis, gives an idea of future themes in fintech," says Sinclair.
"I can see opportunities in such areas as payment simplification and integration technologies, and auditable and transparent regtech automation," he concludes.