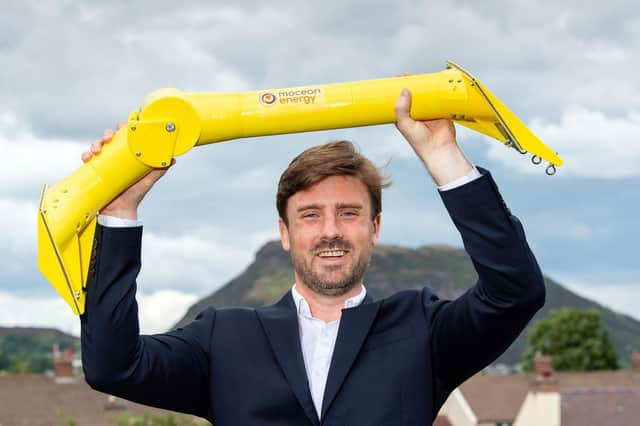 If wave energy is to play a significant part in Scotland's response to the global climate emergency, support is needed to develop the required technologies.
A successful wave energy sector in Scotland will also have wider economic benefits.
The Catapult Offshore Renewable Energy Tidal Stream Wave Energy Cost Reduction and Industrial Benefit report, published in 2018, calculated wave energy would have a net cumulative benefit to the UK by 2040 of £4 billion.Morag Watson, director of policy at Scottish Renewables, points out that Scotland and the UK have significant marine energy resource, with 35 per cent of Europe's wave energy.
She says: "Scotland is currently the world leader in marine energy, with more wave and tidal devices deployed in our waters than anywhere else in the world.
"Alongside developing technology and projects, we have created and retained world-leading expertise and research facilities aimed at progressing research into wave and tidal stream technologies."
The industry has been boosted by Wave Energy Scotland (WES), the organisation established in 2014 as a subsidiary of Scottish Government development body Highlands and Islands Enterprise (HIE) to lead the search for innovative solutions to sectoral challenges.
It runs the world's largest wave energy development initiative.
WES currently has five programmes to support the sector: Power Take-off; Novel Wave Energy Converter; Structural Materials; Control Systems and Quick Connection Systems.
David Langston, WES programme manager, says: "My remit is to look after these programmes – the need to develop reliable technology that is investable and gets the price of wave energy down underlies these programmes.
"WES being here has attracted knowledge transfer from other sectors, such as oil and gas, aviation and marine. This helps us unlock opportunities or produce step-changes in costs and this is what we need to do.
"Nobody is going to invest in building devices unless they have proven to be reliable and have shown they can produce electricity at a competitive rate."
As part of WES's Novel Wave Energy Converter programme, two Scottish firms, Mocean Energy and AWS Ocean Energy, received £7.7 million from WES to develop their technologies.
Both firms are at the third and final stage of the current programme.
Funding from WES has allowed AWS Ocean Energy to build a half-scale prototype of its Archimedes Wave Swing, a subsea wave-powered device that captures energy.
The wave energy converter concept is classed as a submerged point absorber device.
The company is about a third of the way through the build of the prototype and the plan is for it go into the sea in spring next year.
Simon Grey, chief executive of AWS Ocean Energy, says: "The theory is all very well, but until you have built one and placed it in the real environment, you don't really know if it's going to work or not. It's about making the device physically work in the sea."
Grey explains that the Archimedes Wave Swing technology originated in Holland, having been invented by Fred Gardner in the mid-1990s.
A lot of work was initially carried out in Holland before the money ran out.
In 2004, Grey set-up AWS Ocean Energy in Scotland to commercialise the technology.
He says: "We decided Scotland was a good environment for the engineering and the UK was a good place for raising venture capital."
On the role of WES in the technology's development, Grey says: "The programme has been transformational and was absolutely essential.
"At the point when WES was established, the wave energy industry was pretty much finished. There had been a lot of venture capital investment – probably £500m or so had gone into the sector. The investors didn't understand the technologies and weren't patient enough. As a result, companies were pressurised and failed and investors lost their money.
"That was the point at which the Scottish Government stepped in and the idea of WES was conceived. They decided that well-managed public sector funding was the only way to take the industry forward, and they were right.
"WES has given us a stable funding environment, while making it competitive so you have to be the best to get through the phases of the programme. It allows you to do the science and engineering properly and move forward as appropriate."
Looking at long-term plans, Grey describes AWS Ocean Energy as a small company that is good at coming up with bright ideas and solving problems. To get to a higher level, he says it will need a bigger partner organisation that can take the ideas forward, such as a company in the oil and gas supply chain.
He adds: "Our role would be to support that company with a licensing deal and technical back-up to deliver the product.
"Another mistake that some people have made is failing to understand that it would be a massive leap for a small company to deliver orders.
"We're fortunate to be working with some very good people already – we have Malin Group in Glasgow building the machine for us. We see them as the sort of company that might be interested in the longer term in rolling out lots of these machines."
Edinburgh-based Mocean Energy is progressing its Blue Horizon technology through the WES programme, which will be deployed off the coast with the aim of delivering grid-scale power.
The Mocean wave energy converter (WEC) is a hinged raft device.
The dynamic response of the raft's two bodies to wave forcing leads to a flexing motion about the hinge, which drives a power take-off mechanism that converts the kinetic energy into electricity.
The innovation of the Mocean WEC is in the design of the shapes of the bodies, which improves its dynamics and thus power absorption.
Dr Cameron McNatt, co-founder and managing director of Mocean Energy, originally came to Scotland from the US in 2012 to further his studies in wave energy.
He says: "There are many opportunities in wave energy in Scotland as lots of expertise is needed. In wave energy in Scotland we have the opportunity to develop technology to export to other countries."
He points to plenty of issues to overcome, as well as opportunities, in wave energy.
He says: "There are technical and engineering challenges in designing something that is moving in the sea and can survive in a challenging environment."
McNatt says that getting to the third stage of the WES programme, having been assessed by sector experts during each phase, has been a highlight.
"We're looking forward to putting the prototype in the water," he adds.
In terms of Scotland's position in wave power compared with other countries, Langston says: "It has always been argued that Scotland is in the lead, and I would say that it still is.
"The WES programme and the projects coming out of it are definitely world-beating. Scotland is number one in developing technologies."