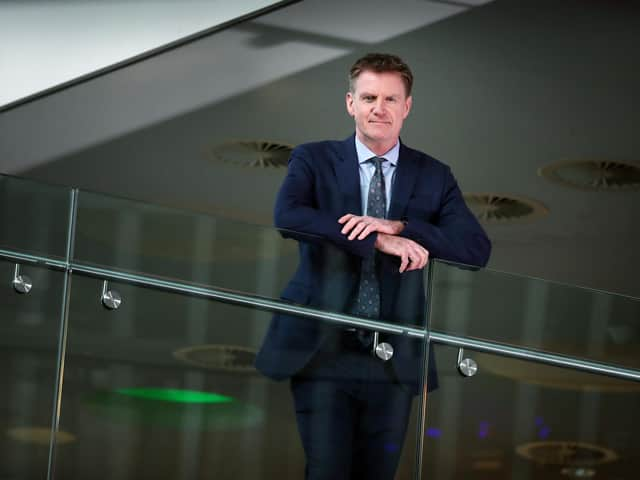 Every event at the EICC will now receive a detailed and bespoke event impact report, says Dallas. Picture: Stewart Attwood
Led by HRH the Duke of Sussex, Travalyst is a global sustainable tourism initiative, founded by Skyscanner, Booking.com, TripAdvisor, Trip.com and Visa, that aims to change the impact of travel for good. A bit like hosting TEDSummit here last year, it was a real coup to have Travalyst choose Edinburgh for its summit.
Some of the latest industry figures indicate that there were around 1.4 billion total international tourist arrivals in 2018, when worldwide tourism was valued at about £1.3 trillion and equated to roughly 2 per cent of global gross domestic product. The impact of all this travel is having a significant impact on our environment, our communities and our economies.
It was fitting that Travalyst came to the EICC at a time when, more than ever, we are looking for solutions to mitigate the inherent adverse impacts of running conferences which attract delegates from every corner of the planet. Increasingly, we consider it a moral imperative to place sustainability at the heart of everything we do.
Our newly refreshed sustainability programme, which builds on the work that we have already established at the EICC, is titled "Step Change" and focuses on three areas of interconnected impact: environment, society and economy.
In what we believe is a world first, every event at the EICC will now receive a detailed and bespoke event impact report which focuses on those three areas. In 2020, we know it makes commercial sense but we also think it's simply the right thing to do.
Protecting Scotland's nature
We want to give something back to the country from which we operate, and will shortly be announcing a partnership which will involve the EICC collaborating with a respected charity that helps to protect the wild nature of Scotland for future generations while tackling the mighty challenge that is carbon emissions.
As a keen open water swimmer, Scotland's wild environment has special meaning for me and particularly so as, during 2020, our nation marks the Year of Coasts and Waters. Climate change has already passed through certain tipping points and even greater tipping points lie ahead.
Back at the Travalyst Scotland Summit, VisitScotland chairman, Lord Thurso, used the term "responsible tourism" to describe what we need to collectively achieve as an industry. Lord Thurso said that when public opinion translates into political will, technological possibilities can lead us to the problem-solving that will be required to bring about effective and lasting change.
When The Duke of Sussex, or "Harry" as he asked us to call him, took to the stage he praised the work taking place in Scotland to identify sustainable tourism solutions. "There is a holistic ambition to Scotland's intent," he said, "that can be adopted across the UK and even around the world. Scotland is one of the fastest-growing tourism destinations worldwide and is at the forefront of a more sustainable approach."
Amsterdam-headquartered Booking.com, the metasearch site for travel accommodation, produced some hot-off-the press research showing that 88 per cent of people want to travel sustainably.
At the same time, the Booking.com team admitted that responsible travel is still a relatively new concept and that big travel groups need to do a better job at educating consumers about how they can travel in a more sustainable way.
Overall though, it was greatly encouraging to see global tourism being pointed in the right direction.
- Marshall Dallas, chief executive at Edinburgh International Conference Centre (EICC)