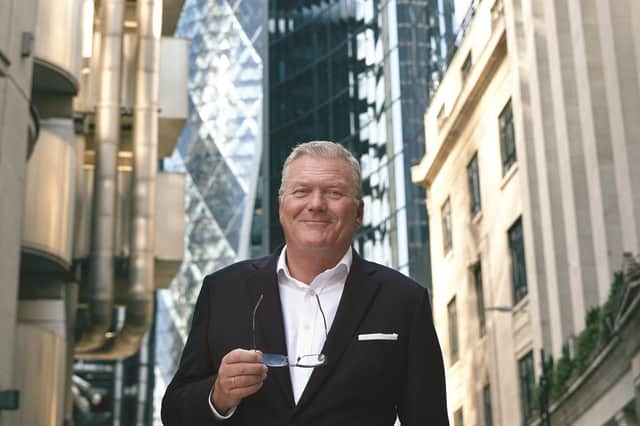 Nicki Bisgaard in the City of London, in August 2020. He says that EedenBull can make things simpler for businesses while also working with banks. Picture: Debra Hurford-Brown.
Rapid changes in how we spend were gathering pace well before Covid-19. These included ever-accelerating shifts from cash to card, and from face-to-face transactions to e-commerce.
However, the pandemic has turbo-charged those trends – and Nicki Bisgaard says there is no going back.
"Changes are coming about much quicker than before," says the chief executive of EedenBull, a card payment specialist with a technology hub in Edinburgh and major global expansion plans.
New technology, new regulation and new players are forever changing the way consumers and businesses think about payments – changing the way people pay and get paid
"There is far less cash being used, far fewer face-to-face transactions and contactless is the name of the game. Cash replacement by card payments is a lasting consequence of the pandemic.
"The changing balance between transactions in retail premises and online purchases has also speeded up, leading to increasing potential for fraud. We are also seeing account-to-account payments based on open banking standards accelerating and there will be long-lasting implications from a significant fall in business travel."
Long before Covid-19 overwhelmed our lives, Bisgaard was highlighting these changes with his mantra: "New technology, new regulation and new players are forever changing the way consumers and businesses think about payments – changing the way people pay and get paid."
With the acceleration of those changes, EedenBull looks well-placed to survive and thrive. Its core products – including spend management platform Q Business – track expenditure and prevent money "seeping out" of a business by using technology to manage an often messy money trail efficiently.
The system simplifies and controls the purchases employees make on behalf of their company, encompassing the likes of payment cards, a mobile app and the digitisation of receipts.
Bisgaard says processing payments efficiently is a real headache for businesses, especially small and medium-sized enterprises (SMEs), where he sees real market opportunity.
"Businesses everywhere face the same challenges and want solutions that make their everyday lives simpler, more secure and more profitable," he says.
"So much staff time is spent reimbursing employees for purchases and transactions, made on personal cards or in cash and reimbursed weeks later.
Senior managers have corporate cards, so there are different processes within even small firms. It's about streamlining processes, returning control and avoiding maverick spend.
"We can help track spending outside preferred suppliers because that can create compliance issues. We improve processes to show what is being spent by whom, where, when and why."
He summarises: "We help keep money in your business."
What EedenBull doesn't do is seek to bypass traditional banks, at a time when regulatory pressures are adding cost and complexity, and squeezing profits.
"We work with banks and other providers as an effective partner," Bisgaard says. "We partner with them in select markets to strengthen their competitiveness and provide state-of-the-art payment solutions to their customers – making them more relevant, innovative and competitive.
A large part of this is a tight focus on a bank's SME customers.
"Commercial payments are still under-served in terms of appropriate payments vehicles and accelerated service – the SME segment specifically. That's why EedenBull is partnering with banks and other providers to tap into that growth area."
EedenBull was only launched in 2018, by a team of payment experts from around the world, but already works with 65 banks in Norway, offering Q Business through those banks to several thousand SMEs.
It brought tech development and customer service staff to Edinburgh in September last year, extended its strategic partnership with Mastercard in June 2020 and has staff in London and Singapore as well as Edinburgh and Oslo.
For Bisgaard, that is just a start. He believes EedenBull has strong and globally relevant products and is ready for significant worldwide expansion.
Australia and New Zealand are high up on the list, with plans to have a programme up and running this year, followed by the United States, Latin America and Asia.
"What we do can be done anywhere in the world," says Bisgaard. "Expansion plans remain firmly in place. We have inevitably been delayed a little by Covid-19, but we've used our time well.
"Lots of senior figures in banking have been at home during the crisis and we had some great conversations.
"They are looking to the future, figuring out what needs to be done and how to reconfigure for that – and waiting for the time when they have the mandate to do it. We feel we have positioned ourselves very well for the recovery."
Bisgaard feels EedenBull's essential role is helping the banks to innovate at a time when they are under fierce market pressure.
"Many new players who understand the value of transactional data, like Google and Apple, have entered the payments world," he says. "Traditional providers, like banks, must show agility.
"They have the customers, the trust of those customers, and the marketplace – but they constantly need new ideas, new products and new services. EedenBull can offer that, we have creativity, experience and very specific payments knowledge. We can deliver innovative and exciting products and services.
"Banks can find it difficult to innovate and to take products to market. They need very specialist expertise to do that and to deliver economies of scale. Why wouldn't they bring someone in who is really good at that?"
EXPERIENCE, EXPERTISE, INNOVATION AND TECHNOLOGY: A WINNING COMBINATION
We think of ourselves as a very different fintech – we are equally "fin" and "tech". We understand payments and the infrastructure behind them and about liability and merchants, but we also fully understand the technology.
We are trying to combine experience and expertise in financial payments with new technology, new ideas, youthful curiosity and a modern way of doing things.
Some of the front-end development team are brilliant at the user interface, but very new to payments. We want to bring them together with the guys with 20 or 30 years' experience in payments, and for them to energise and inspire each other.
Business travel dropped around 95 per cent due to Covid-19 and it's unlikely to bounce back to the same place. If there is a huge shortfall, how do we fill the gap with more business elsewhere? What are the gaps in the market?
There are opportunities to do things more efficiently. We offer the agility to help card providers get there sooner rather than later. What we do is even more relevant than it already was.
No-one gets up in the morning excited about making payments. It's about the added value: what can you do with the data that comes with the payments? There is increasing awareness of the value of financial data.
There are new players in the payments space – big internet and social media organisations and phone companies, who are there to sell data to advertisers. It's not really about the payments but the data that goes with it. It gives details of where individuals spend their money rather than where they say they spend it. What better way than this to track behaviours and predict future behaviours? Then you can target people in all sorts of ways.