Jarmo Eskelinen, Executive Director of the Data Driven Innovation (DDI) initiative, tells the latest episode of The Scotsman's Data Capital podcast series that DDI has already created 1000 jobs and created 160 companies.
"The total DDI budget is over £600 million and with that amount of investment comes opportunities," he says in the episode, called What Has The Data Ever Done For Us?
"We have already created over 1000 jobs through construction projects and start-up activities; that's going to continue as that [initial] investment attracts more investment to the city region."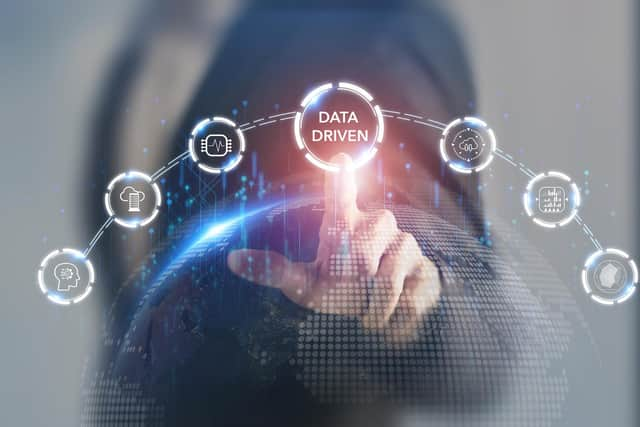 DDI has already helped to create 160 companies - with a final target of 400-plus.
"Companies coming to Edinburgh means jobs, and career opportunities for people of all ages," says Eskelinen. "But we are very conscious that data opportunities are not evenly distributed.
We want inclusive growth and work across the region, from Fife to the Scottish Borders, so local communities benefit from data [and from] The Data Skills Gateway for the whole region and for all ages, from school kids to reskilling and upskilling the existing workforce."
This includes everything from online courses in data science, data ethics and AI (artificial intelligence) which offer "low threshold dips into data", through schools and colleges to universities producing highly-skilled data scientists. Almost 20,000 people undertook some form of course or training with DDI in 2021-22 alone.
But it's not simply 1000 jobs, 160 companies or tens of thousands of people doing courses when it comes to judging DDI's achievements so far, says Eskelinen.
"It's not just numbers - when the pandemic happened, researchers at the University of Edinburgh, together with NHS, jumped at the opportunity to help and created at a very fast pace, a Covid-19 data operation that produced world-first research results which helped save lives.
"We were first in the world to prove vaccines help prevent serious and severe forms of disease, even if you get sick. And we proved, for example, that vaccines are safe for pregnant women, which was really critical because it's a vulnerable group seen as high-risk for Covid."
Eskelinen, who originally trained as an architect and describes himself as a "bridge-builder" making connections between university experts and external partners, says Covid-19 showed the power of data to address the biggest societal challenges.
"All aspects of our lives tend to have a digital element and that creates data - and data adds value and creates better insights of how things work," he says.
"Data can be used to address some of the really complex challenges we are facing. How do you tackle climate change? How do you battle cancer? That's an immense, immense power whichdata holds - and we've just seen a glimpse of the opportunities we have."
The DDI is addressing these challenges through its six hubs at the University of Edinburgh, and Heriot-Watt University. The Bayes Centre and National Robotarium are up and running, along with the Edinburgh International Data Facility - the "crunching power for academics and partners to work with the most complex data challenges".
The agritech hub at Easter Bush in Midlothian is getting a major DDI upgrade, and the Usher Institute (looking at all aspects of health data) and the Edinburgh Futures Institute (EFI) are due to open in 2023.
The EFI is opening in the distinctive old Royal Infirmary building, in Lauriston Place, Edinburgh.
It is by far the largest of the hubs - 30,000 square metres, roughly 50% of the DDI footprint.
"It's going to be such a visible and massive new hub for the city," says Eskelinen.
"Interestingly, the hospital was originally designed to prevent contagion by building separate wings. We are turning that around to maximise contagion! We want to ensure it's a place where external and internal partners, from different industries, academic disciplines and scientific domains, come together - to convene around the most critical issues like tackling climate change, and reducing health inequalities. "The approach is quite pragmatic - to connect the research work we do, to concrete, real-life challenges."
To succeed in addressing these challenges by bringing all the right people - and data – together is a big challenge which relies heavily on public trust, says Eskelinen.
"We must understand that data is neither good, nor bad. It can drive all kinds of phenomena, including oppressive governments and undermining our privacy.
"At the moment, we have the US-driven [approach] dominated by major tech players, like Apple and Google and Facebook - monopolies in their respective domains, who own our data and treat it as their data. It's their main source of income and commerce.
"The other option is the Chinese-driven data domain where the government owns the data and not the big companies."
Eskelinen says Edinburgh and the DDI initiative are at the heart of efforts to support a more balanced 'third way' - a European model balancing the rights and aspirations of individuals, companies and organisations which treats data as a public good so society can benefit from data innovation.
If this comes off, the sky's the limit for Edinburgh, Eskelinen believes: "This can make Edinburgh [more] prosperous and one of the best places to live and work in the UK - and position it permanently as one of the leading data hubs in the world. It will be seen as the place to be, the place to reach out to when you work in data innovation or want to invest in data - or want to build a new business based on data."
The Data-Driven Innovation initiative is part of the Edinburgh and South East Scotland City Region Deal, funded by the UK and Scottish Governments and local authorities across the region - City of Edinburgh, East Lothian, Fife, Midlothian, Scottish Borders and West Lothian.