Edinburgh taking to the cryptocurrency world stage: Jim Duffy comment
I do love when one gets a call from an excited friend or family member who just cannot wait to tell you something fabulous. And this week, I got one of those calls.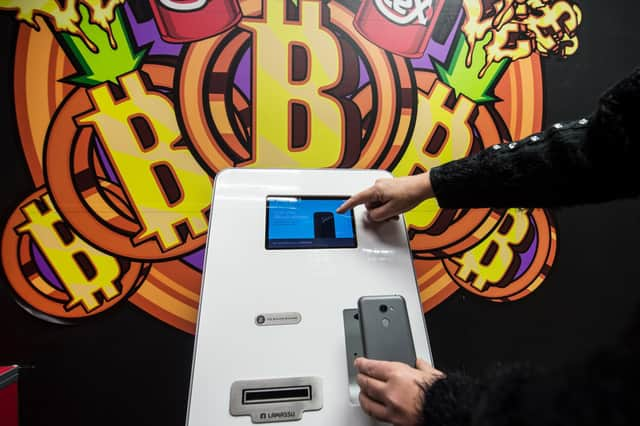 My friend Kris is a big cryptocurrency dude, who studies it, invests in it and listens to at least one podcast a day on Bitcoin or some other macroeconomic phenomenon associated with it. Only this week, he wasn't calling to tell me the latest news that the CEO of Microstrategy, Michael Saylor, had bought another $50 million of Bitcoin and was about to take in $400m of debt into his company buy even more. Pretty big in the scheme of things. No, this week he saw a Scottish company leading the way in cryptocurrency.
Strangely for my mate, his sighting of Scottish crypto was not on a computer screen, crypto exchange, blog or podcast, which is where he is glued eight hours a day. No, this time it was on a billboard in the nation's capital. He was ecstatic to say the last. "Bitcoin on a billboard in Edinburgh Jim!". I had to find out more.
And while it seems I have been infatuated with cryptocurrency, macro-trends and anorak style behaviour as it pertains to the main American advocates and companies, like Kraken, Coinbase and BlockFi, I have missed a rising star right under my nose here in Scotland. That company on the billboard was Zumo. And they quite rightly have their name up in lights as they are pioneering cryptographic tech from their base in Edinburgh. And as all anoraks do, I downloaded the Zumo app and gave them a call.
Seeing a series of billboards across Edinburgh for Zumo and Bitcoin may appear a bit weird for many, but it is just the next step in adoption of cryptocurrency. Think of it like this. Twenty five years ago, a thing called the web popped its head up. I recall buying my first real computer and learning "object oriented" programming. This while my mum and dad looked on perplexed at what the "internet" actually was and could do. Wind the clock forward and the web is now mainstream. We use it for almost everything: paying bills, ordering Christmas presents, searching for car insurance and finding love. Then cryptocurrency comes along.
And mums and dads are again looking on with discombobulated expressions on what this new money is. Well, that is why Zumo are billboarding Bitcoin. In their words, their "goal is to normalise cryptocurrency" in such a way that "your mum" can download the app and use it, all with voice in mind.
When I speak with my family members in their twenties, they already have crypto wallets on their phones. They understand the online application process, 12-word security phrases and the Google authenticator app. But, when I speak with my peers, they think it's all gobbledygook and they shy away from it.
And this is where education and trust comes in with new tech. And Zumo have built their app around this. They wanted it to be easy to understand and secure so they could bring "the benefits of crypto to everyone". I haven't seen this approach before and we should be impressed that a Scottish based tech outfit have this clarity of thinking. Billboards are just the first step in a joined up marketing strategy.
There is a lot more to come from Zumo with partnerships in retail, transport and travel. They are moving out of the virtual world to make crypto on their app real and give people choice on what we might call traditional money and the new "smart" money that is crypto. It will be an uphill battle for a while, I have no doubt. But, this is what makes it so exciting and relevant for Scotland.
Throughout the globe, there is quiet digital war going on. Companies, countries and individuals are coding and prepping for internet 3.0 - cryptographic finance. The USA and China want to win. Switzerland wants to bank it and Europe will have its own digital currency within five years. This is why it is vital that Scotland is on point on this one and doesn't get left behind. Zumo is one company striving to make crypto "normal" and the timing is spot on.
I know exactly why my mate Kris was excited to see Zumo Bitcoin on a billboard in Scotland. It's the next step in the normalisation of crypto. And means us – anoraks – can come out of hiding.- Jim Duffy MBE, Create Special
A message from the Editor:
Thank you for reading this article. We're more reliant on your support than ever as the shift in consumer habits brought about by coronavirus impacts our advertisers. If you haven't already, please consider supporting our trusted, fact-checked journalism by taking out a digital subscription: www.scotsman.com/subscriptions
Comments
 0 comments
Want to join the conversation? Please or to comment on this article.