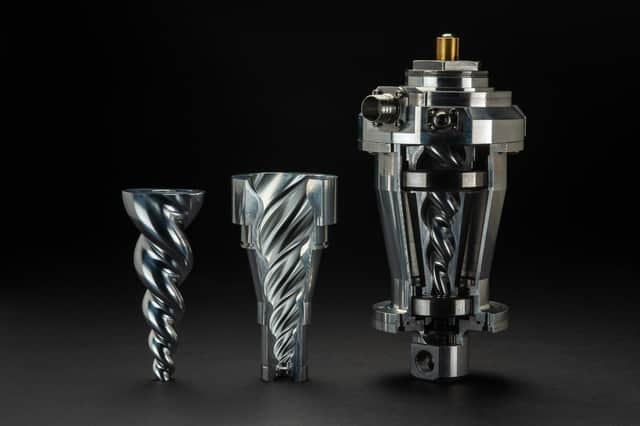 Edinburgh-based industry disruptor Vert Technologies is behind a conical rotary compressor that is fully proven and patented. Picture: Paul Bock Photography
Industry disruptor Vert Technologies is embarking on an equity funding process to accelerate the development of its technology in new markets. The firm is behind a conical rotary compressor (CRC) that is fully proven and patented.
The move towards volume production is driven by the CRC technology's traction with manufacturers, including those in the refrigeration and hand tool sectors, that are developing new designs that incorporate the air compressor technology.
Vert, formerly Vert Rotors, is already working with a raft of firms and the expectation is that several will reach volume sales or licensing stage by the end of 2021.
Chief executive Phil Harris said the investment would form a critical part of rapidly bringing original equipment manufacturer (OEM) designs with embedded CRC technology to the market.
"The longer-term value of the CRC technology will be driven by the strength of market pull from OEMs who want to embed the CRC technology in their own products," he said.
"This stage of funding will accelerate the delivery of the OEM specific designs we are already working on and allow us to develop low-cost, high volume manufacturing techniques that can produce the numbers of units that the OEMs require.
"For this reason, we believe Vert and its CRC technology is a highly attractive opportunity for investors looking for medium-term capital growth potential.
"The company combines patented and proven technology along with an experienced management team that is rapidly developing strong OEM relationships. This will lead to sales traction across a range of high value and volume sectors and the potential for an established stream of royalty income."
In comparison to traditional air compressor technology that uses rotating screws placed side by side to generate compressed air, the Vert technology places one conical rotor inside another.
The rotors turn in the same direction at different speeds compressing the air or gas as it travels down the conical screw to deliver a "low noise, low vibration compressed air solution" that is still capable of producing exceptionally high pressures.